Auch verfügbar in Deutsch: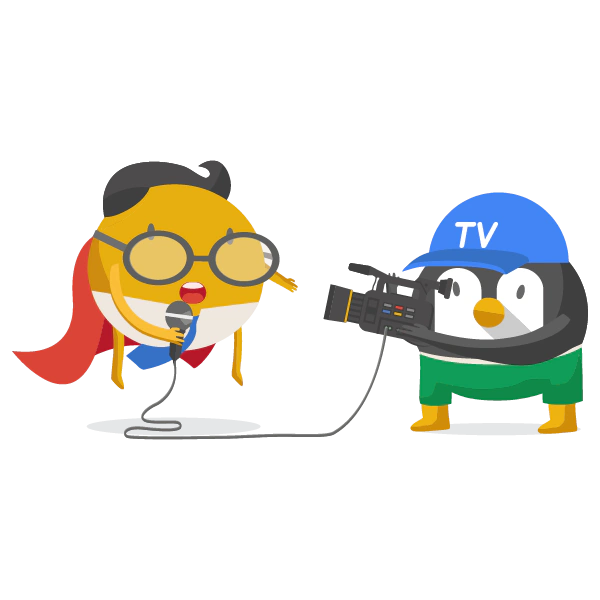 This is a post your competitors don't want you to read. You will learn about seven fairly unknown SEO tools that you most probably didn't know exist.
The SEO tools presented in this post will help you in all the aspects of your SEO work. If you start using them, you will be able to:
find all sorts of on-page and off page issues
assess if a link is powerful and trustworthy
understand the link velocity trends in your industry
see the number of keyword rankings a website has
get rich contact information for people sharing your content
see the number of backlinks your content gets
track a hacker website redirect
check your links after a website migration or redesign
Read on and learn more about all these secret SEO tools that can bring so much value to your day-to-day SEO work.
You will surely find a tool to solve at least one of the issues you're dealing with.
Enjoy and learn,
Christoph C. Cemper
1. Are you looking at the most advanced SEO metrics while you browse the Web? #
How many times did it happen that you looked at a page and wondered for how many keywords it ranks, how many links does it have, how many times has it been shared on social media, how engaging the content on it was?
Now you have all those answers right in front of your eyes, as you browse the web. In 2016, we launched the Link Research SEO Toolbar which allows you to customize your searches in Google, Bing and Yandex and enjoy looking at the advanced LinkResearchTools® SEO metrics on every page you open.
You get powerful SEO metrics for every search result:
LRT Power*Trust™ for domains
LRT Power*Trust for pages
Buzz - social media signals
Impact - long-term user engagement metrics
Keyword Ranking
Number of Backlinks
Backlinks, Power*Trust, keyword ranking, link trends, engagement metrics and social media shares. You have it all in your browser.
Download the Link Research SEO Toolbar for Chrome for FREE
With the Link Research SEO Toolbar, you can customize your searches in Google, Bing and Yandex.
It allows you to sort the Search Engine results by:
the number of keyword rankings a website has

domain and page LRT Power*Trust value

the number of backlinks acquired or lost (Link Velocity Trends)

social media popularity (Buzz)

long-term user engagement (Impact)
Apart from using it as a SERP overlay, you can also see the toolbar with all these SEO metrics on every page you browse. There is more than one template for it and you can drag and drop it wherever you want in your browser window.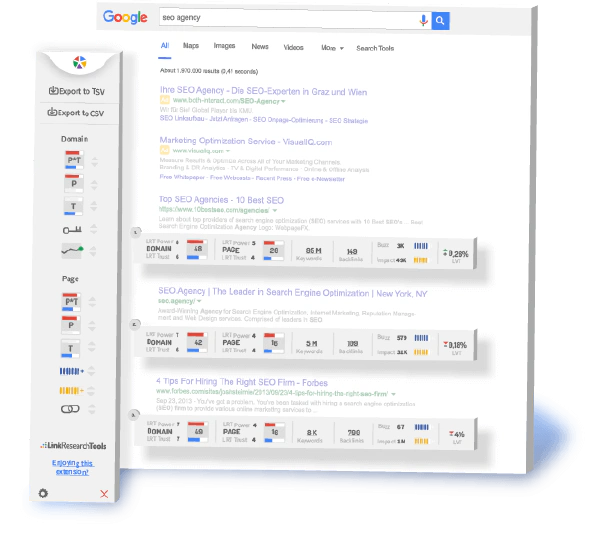 2. Are you ignoring Google PageRank and Moz DA/PA for link quality evaluation? #
Google Toolbar PageRank is dead, in case you missed the announcement by Google in 2016.
LRT Power*Trust is the perfect replacement. In fact, it's much more than a replacement. It does not only present the power of a link (link graph strength aka PageRank), but also the trust of a link and the domain it's coming from.
These two consistent metrics helped our users evaluate links since 2012 and also helped understand the first Penguin 1.0 penalty mid-2012 already.
It shows the Power, Trust, and Power*Trust for a domain or a page in your browser. Just like you used to stare at the ever constant, never updating PageRank.
The good news is – LRT Power*Trust updates on a daily basis and is much more reliable that the all so popular Moz DA and Moz PA. What's wrong with Moz DA and Moz PA? They are just too unprecise, update only every few weeks and have a hard time telling bad from good links. Even the worst PBN sites and penalized domains often have a Moz DA in the 30ies to 50ies.
Take this from someone who analyzed thousands of shady link networks. That's not usable for link analysis, but because of the inaccuracy, Moz DA is a popular metric with link sellers. So watch out and always double check with LRT Power*Trust. Users who still want to see the Moz metrics, we got you covered in the metrics package "Authority Metrics" where you can review the LRT Trust for the page, the domain and the root domain (topdom) vs. those two Moz DA and Moz PA and decide for yourself.
Here's why the Moz DA/PA metrics are not reliable.
Download the LRT Power*Trust Browser Extension for Firefox or Chrome for FREE
3. LRT Power*Trust Extension #
LRT Power*Trust browser extension is a great replacement for Google's Toolbar PageRank. In fact it's so much more than that.
LRT PowerTrust is a two-dimensional SEO metric that will help you quickly assess the power and trustworthiness of a website or page while you browse the web. Launched by LinkResearchTools shortly after the first Google Penguin update in 2012, LRT PowerTrust metric established itself as a reliable metric for judging the strength of a page or domain in no time.
By looking at the LRT Power*Trust metric, you can quickly answer the most important SEO questions:
is it ok to build this link on this site?
is this link worth keeping?
and which links should go to the disavow file?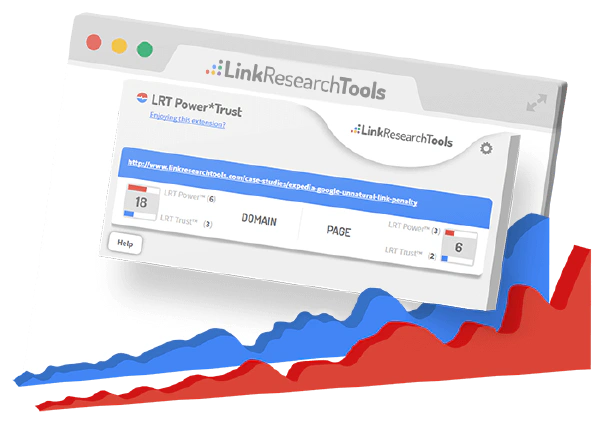 4. Are you still looking for the most in-depth link redirect data available? #
Your backlink profile can include redirects from other websites. Link redirection is a process where one URL gets forwarded to another URL. Do you need to look at redirects? If a strange domain is redirecting to you, you should check this in more detail and make sure it's not harming you.
Of course, you need to! Every SEO professional that knows what he's talking about, needs to check redirects. Make sure to check them, so that they do not harm you. Also, watch out not to lose valuable Link Power or Link Trust or pass on a penalty via the redirect of a domain that carries a penalty.
We've built this extension to replace all other "partial solution" extensions for redirects, canonicals, search engine indexation and HTTP header logging.
Download the Link Redirect™ Trace Browser Extension for Chrome for FREE
The Link Redirect Trace browser extension uses the power of the LinkResearchTools Link Redirect Trace metric to point out all sorts of on-page and off page issues for all the websites you browse.
Here's what the Link Redirect Trace Extension does for you
detects every link redirect hop
shows you the LRT Power*Trust per Link Redirect hop
analyzes robots.txt for every hop
analyzes HTML head NoIndex, No Follow per redirect hop
analyzes the HTTP header X-Robots Noindex, No Follow, NoArchive
shows cookies set for each redirect hop – understand those affiliate ad links.
…and more
Read more about the Link Redirect Trace Browser Extension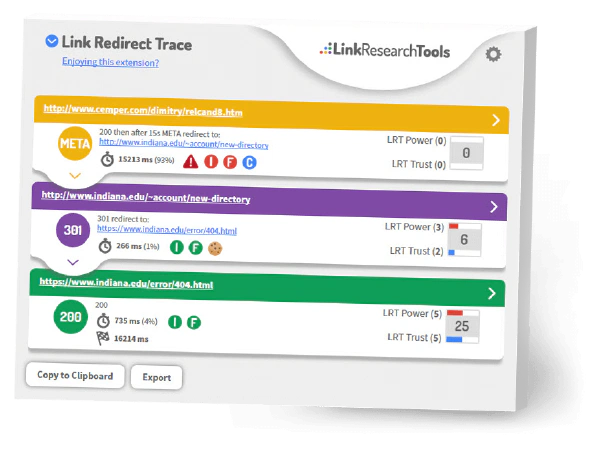 5. Are you searching for link prospects in an efficient way? #
We all know that best-linking source for keyword "XYZ" is the #1 ranking website for "XYZ." It's always been like that. The problem is – the first SERP positions are filled with results from Wikipedia, your competitors and, of course, sites where you as a proficient link builder already have a link.
No problem, we search with variation XYZ1, XYZ2, XYZ3, etc. and go to deeper SERP pages, too.
Now if you do that for a ton of keywords you get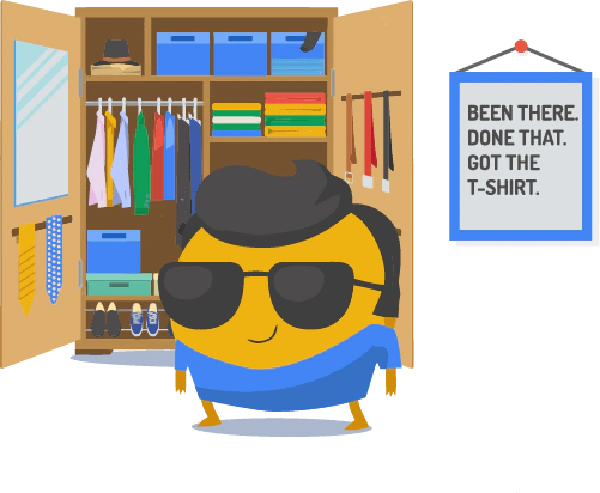 Many duplicates
Many fluctuations in your search results
Don't have SEO metrics to filter the result on
Don't have a link check done if you are already linked there.
Oh yes, there's cool and free browser plugins that allow you to fetch metrics and export to Excel. How we all love Excel, especially when we want to fetch 100s of metrics per SERP page and that for hundreds of SERP pages to get comprehensive results. Hello, Captcha and manual legwork.
Been there, done that, got the T-Shirt. In 2006.
The hassle above was the reason we started implementing the first functions of the back then internal LinkResearchTools (LRT) in the SERP tool.
The SERP tool:
Scrapes hundreds of results for dozens of keywords - I.e. 20 keywords x 200 results = 4000 sites
Combines, Deduplicates – reduces to often only a fraction - I.e. 745 sites
Combines the results with up to 97 SEO metrics
Checks for each result if you own site is already linked there
The above steps allow you to filter those 745 sites down to maybe another 100 targeted and relevant link prospects. These link prospects fulfill a set of criteria defined by you, like for example:
Not linking to my site yet
Having an LRT Power*Trust of at least 12
Having at least 7 backlinks to the source page
In the topical theme Sports
Having a positive Link Velocity Trend (LVT) - don't know what LVT that is? Read it here to improve your link building.
Having at least 100 keywords the domain ranks for - I.e. not penalized and well ranking content
Now THAT is what we call link prospecting in a convenient way.
If you would like to read and learn more about the SERP tool, you can read that here.
6. Are you checking the risk of potential new links? #
Building new links can increase the risk of your backlink profile. Did you know that's it is possible to simulate the potential link risk of a new link BEFORE you build it? Once you have a trustworthy and clean backlink profile you want to move on knowing exactly what your future backlink risk will be.
That's why we introduced Link Opportunity Audits to LinkResearchTools (LRT) in 2012 and the Link Opportunities Review Tool (LORT) in 2015.
Link Building Tip Number 1: Try to build strong and low-risk links of your competition.
Looking at backlink profiles of competitors is something we did in link building forever.
But which of those links do you want to build? The strongest ones? The most relevant ones? The cheapest ones? You want to build the links with the lowest risk, so you don't trip a link penalty. Do you want a button to see where your competitors are getting ALL their GOOD and Penguin-safe backlinks from?
Competitive Link Detox™ (CDTOX) is a "secret tool" that we introduced in 2013 that does just that! And if you missed it, you're missing out big time!
Not only does Competitive Link Detox (CDTOX) help you understand the specific risk levels of your niche, but it does all that at the push of one button.
The Competitive Link Detox (CDTOX) tool shows you all the strong, low-risk links for all your competitors. This "secret tool" uses DTOXRISK - a very powerful SEO metric that points out your competitor's best links, with the lowest risk.
The result is your own link wish list if you will.
Again, if you missed this tool you missed out big time. We highly recommend you check it out today.
7. Are you aware of your website's old links? #
A problem we often see in website relaunches and website re-designs is that old links are ignored.
Everyone gets all excited about the new design, the new logo, the new CMS.
But, when the site URL structure got changed nobody took care about redirects.
Great. Now those links you got in the late 90ies from universities citing you being the first site for X or Y are pointing to error pages.
The Link Recover Tool (LJR) also referred to as the "Website Relaunch Tool" helps you find all links pointing to error pages, not just 404s. It also generates a ".htaccess file" for you.
That file allows you to put in place hundreds if not thousands of redirects for missing pages in minutes, not days or weeks. How great is that?
We often hear "I didn't know that was possible."
Did YOU know this tool exists? Learn more about how you can use it to recover all the links you lost after doing a website redesign or migration.
Use your creativity, passion, love and gut feeling for SEO
Every link has to have a story.
If you cannot make up a good story behind a link to…
sell it to the person that should build the link
sell it to the Google spam engineer asking you why the link was there
sell it to your competitors why they should not report shady link tactics
…then you're doing it wrong.
SEO and link building is not a numbers game, although all the data might mislead you that way.
SEO is about ratios, backlink profiles and risk relative to each other. Our competitive research tools are an example of that – showing you how sites relate to each other. Google also only has ten results on the first page and has to rank in a relative way.
Link Building and SEO is an art fueled by passion, love, hate, creativity, seduction, diplomacy and politics.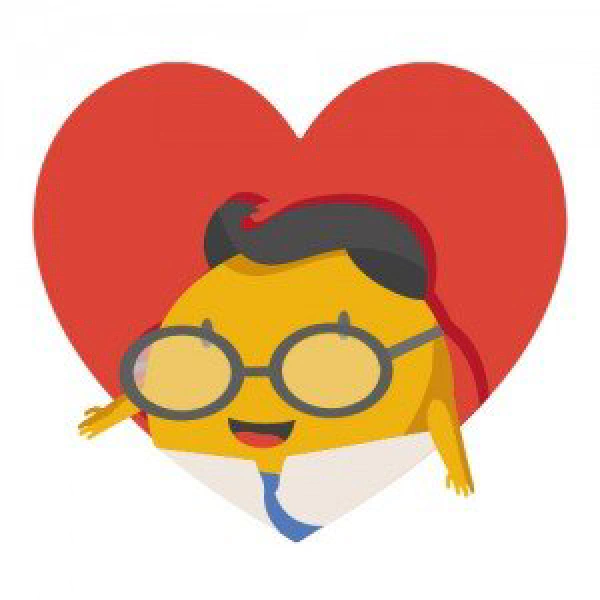 LinkResearchTools (LRT) brings you link data:
aggregated from many link data sources (including paid external services like Ahrefs);
cleaned up (some report a link 100 times);
recrawled for every new report you start (no more looking at links that are gone for weeks).
You as an SEO, just need to bring those artful skills and enter "the zone" of creativity without going nuts on Excel macros, incompatible download formats and such.
That's the reason we built LinkResearchTools (LRT).
That's why we love SEO and SEOs love LRT.