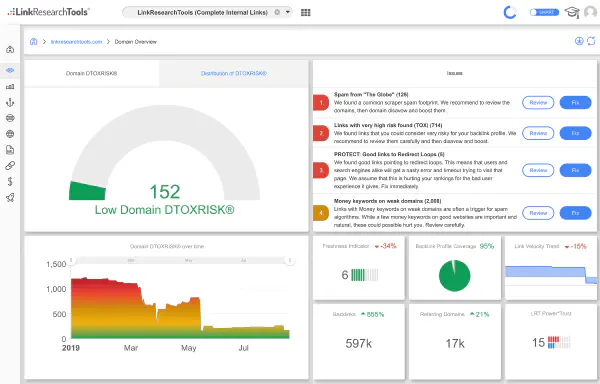 Get a quick SEO overview.
See all important metrics for your domain the LRT Smart Dashboard whenever you login.
Get a Quick Backlink report.
For a first impression of any backlink profile, the new Quick Backlinks 2.0 is even more helpful, now with LRT Risk for each link.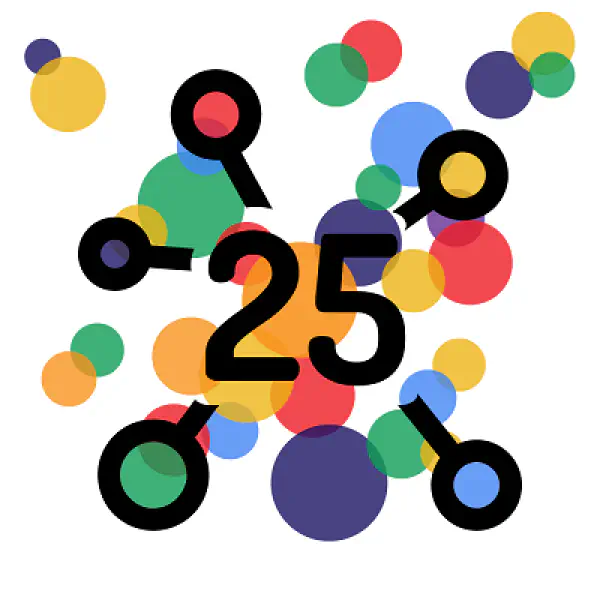 Link Data from 25+ Data Sources combined.
Get a complete picture of your backlink profile.
With LRT you get 25+ different link data sources combined, re-crawled, verified and combined with 150+ SEO metrics.
Precise SEO metrics for every link and domain.
Analyze link profiles like never before.
Over 150 SEO metrics available for every link leave no SEO question unanswered.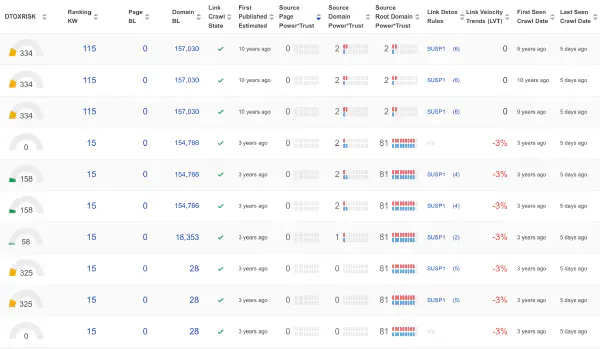 Trust, Power and Risk on every scope.
We provide you metrics for every link scope there is.
It is not enough to only look at "domain ratings", such as domain-wide visibility, when you need to evaluate links.
Link Trust matters.
Work with the "golden links", not all the automated nonsense links we can filter easily.
LRT gives you the full picture and an assessment for the trust, power and risk of every link.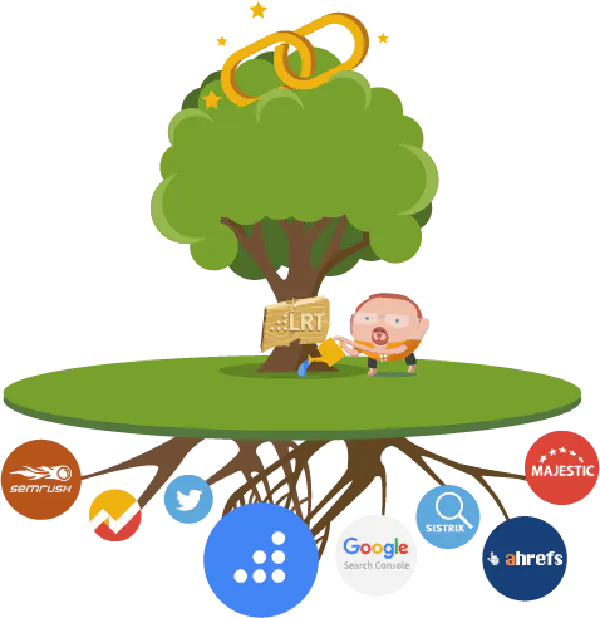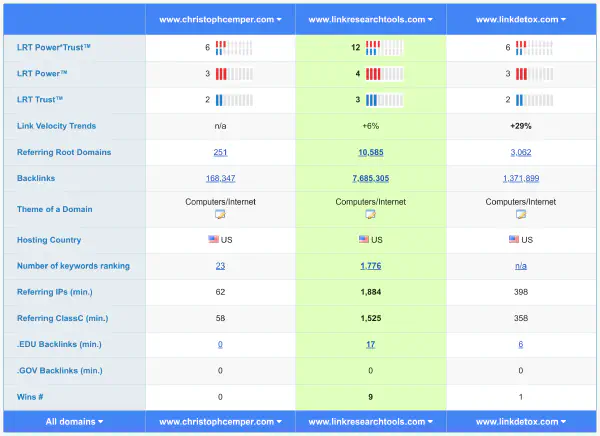 Quickly compare domains.
Perform a quick side-by-side comparison of domains.
Understand your competition.
Stop looking for "High DR" links. Look for trustworthy and healthy links your competition has scored, and you not.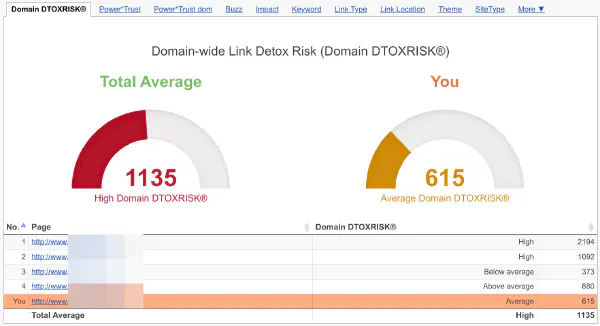 Link Profile for dozens of SEO metrics.
Review link profiles like you've never seen it before. Chart dozens of SEO metrics as histograms to see new SEO angles.
Review automated recommendations.
Based on your data and our experience you get help on how links and issues are grouped.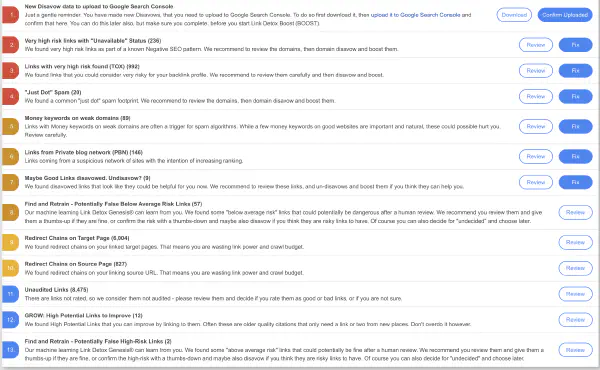 Protect from Negative SEO.
We help you protect your website from negative SEO.
Monitor your backlink profile risk.
Ongoing monitoring of the risk in your backprofile helps you make the right SEO decisions.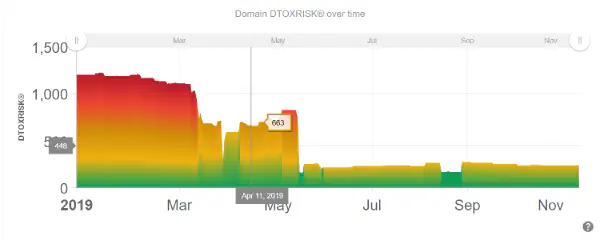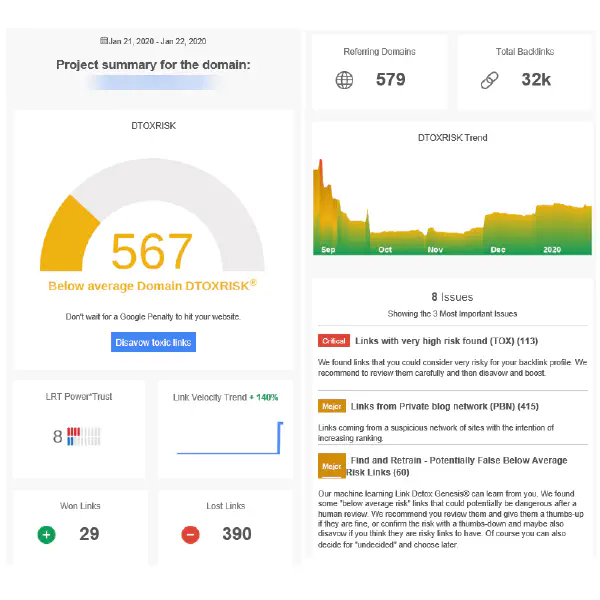 Get Useful Summary Emails
You can get useful summary emails for every website you monitor. No need to log in for a quick overview.
Spot SEO risks and negative SEO quick.
Link Detox Risk is a unique risk metric calculating the risk of any link and your domain. Judging on the link risk of any single link helps you decide which ones to disavow, delete or to keep.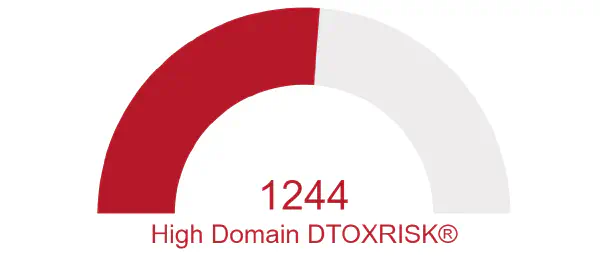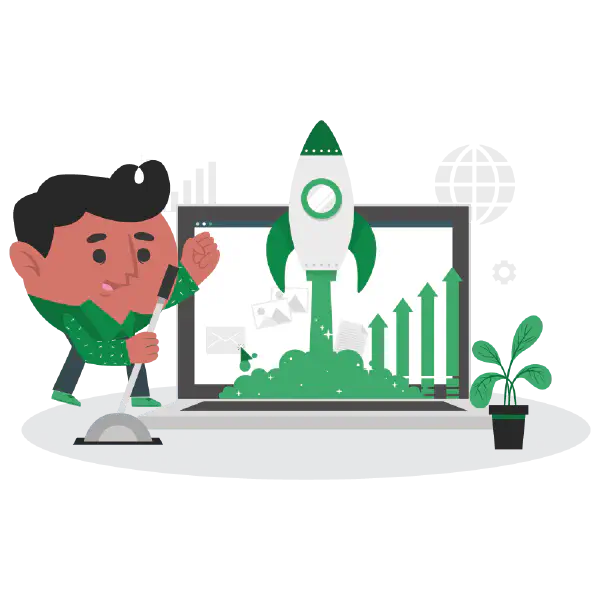 Speed Up Crawling of Links and Disavows
Using Link Detox Boost® you can speed up crawling of links and disavows. We also report exact crawling time stamps.
Scan the SERPs for best link opportunities.
Use the SERP Research Tool to perform dozens of Google queries in parallel, then look at the best unique only.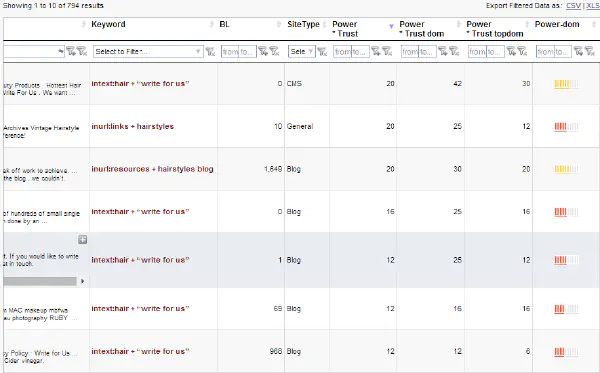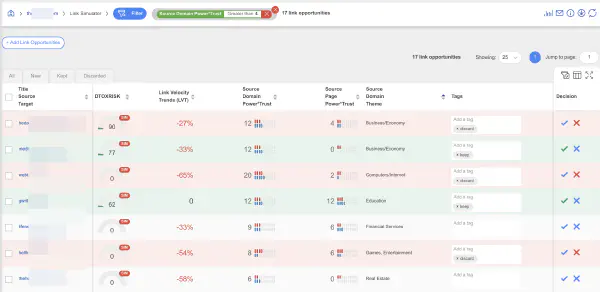 Simulate links before your build them.
Use the Link Simulator for the best possible estimate how much a link will help or hurt your rankings.
Understand backlink profile risk also for aged domains.
You can run Link Detox® also on expired or aged domains. Judge on what you may be getting if you win the bid. LRT gives you the edge. Set educated bids, not just by "High DA link" counts like your competition.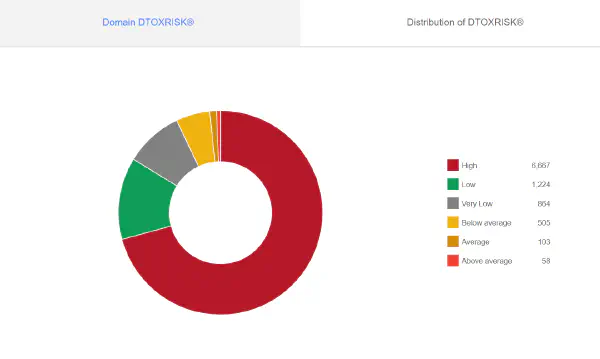 Analyze 1000s of expired domains to make your bid.
Use the Bulk URL Analyzer to get SEO metrics for 1000s of domains at once.
Bid only on the best domains.
Include your Own Backlink Data.
Connect Google Search Console.
We will import all link data automatically for you.
Upload Link Data.
You can upload any data you have, we will recrawl and verify it.
Upload from Ahrefs, Majestic, Semrush, Sistrix or your own custom URL lists.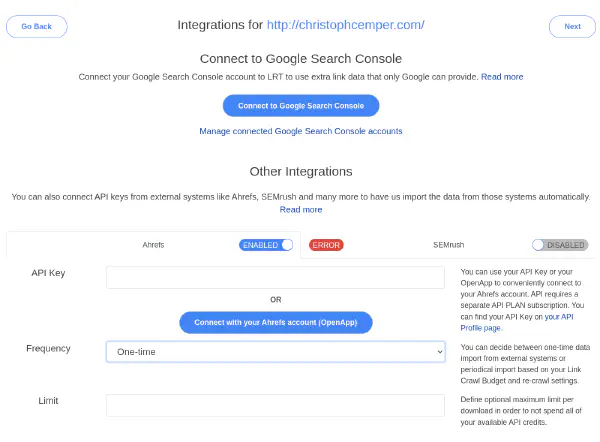 Separate the good from the bad links.
Using LRT you can also clean up backlink profiles from aged or expired domains you own, or are still bidding on.
You want to disavow any possible toxic links we find for you before starting a new project on that aged domain.
Recover backlinks with automated redirects.
Use the Link Recovery tool to generate redirect instructions (.htaccess) automatically for the strong links you missed.
This also works wonders after a website relaunch, in addition to expired domains.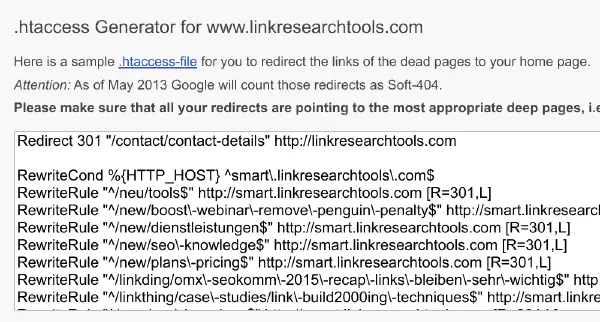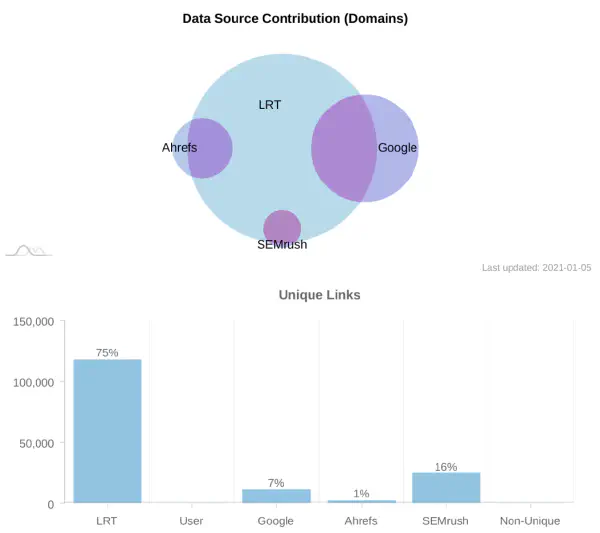 Understand which Data Sources contribute how much extra.
Using the contribution report you see exactly how much you get extra by connecting APIs from Ahrefs, Semrush or Google Search Console. LRT has a lot of link data already.
Export PDF Reports for every domain.
Export a full PDF report with all findings, details and explanations with 1 click.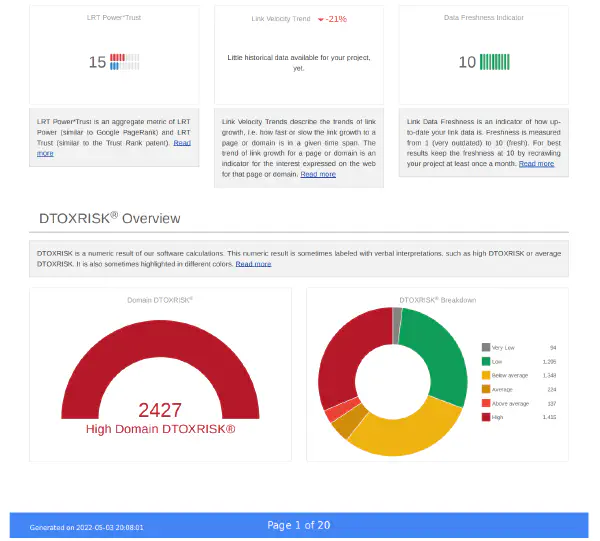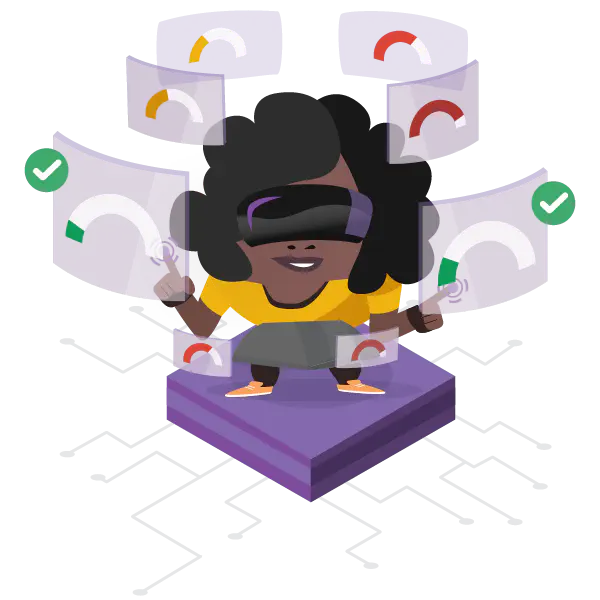 Look at the complete picture.
Why work with incomplete or old results?
LRT creates an up-to-date link index especially for you, with freshly crawled data.
Our Freshness KPI
We even have a KPI for the freshness of your data.
This is an indicator of how up-to-date your link data is for the current project. Start a recrawl with 1-click.

The best link data for you, every time.
Many years of experience and hard work went into our top priority:
To get you the best possible link profile and SEO metrics data for your SEO work.