Make sure you don't lose traffic in a site structure change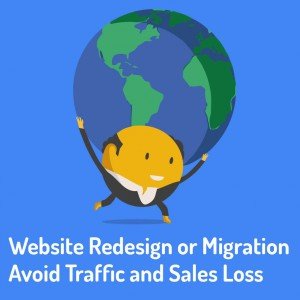 Is your website's design outdated?
Do you want to optimize your site structure or move to a different better CMS system?
Do you need to rebrand to another company domain, different product strucute?
What's the number one question that goes through your head when you think about the new design? Most marketers ask themselves:
"Am I going to lose traffic or sales?"
That's a good question, and traffic loss is something that should worry you.
Broken links can result in a bad user experience. But that's not all. You can also lose link juice, that's vital for having a good ranking in the search results.
To avoid ruining your online business after a website redesign or migration, it's essential to have a strong SEO strategy in place. This will help you avoid potentially devastating traffic drops. You can protect the online business that you worked so hard to build.
In this guide, you will learn how to plan your website redesign (relaunch) or migration to avoid losing sales & traffic and, at the same time, maximize your conversion rate.
Don't be afraid to redesign or migrate your website. That's the only way your business can move forward.
A more logical structure and clean design can guide the users through the sales funnel much faster.
Read on and learn how to do a painless website redesign or migration in 7 easy steps.
1.

Content Audit
When doing a website redesign or migration, you should take some time to look at the content you already have and improve on it. Both search engines and users love well written, relevant content.
Before you start working on a new content map, you must first understand what kind of content works and what doesn't work on your current site. This will ensure you make informed decisions.
How do you assess the value of your content and how can you find the strongest content on your website?
And what's the best content anyway? It's content that generated social media buzz but also received many comments or backlinks, making a real long-term impact, engaging your audience, beyond the likes and shares.
You can find that content by doing a quick search with the Impactana - content marketing, video marketing and influencer discovery tool.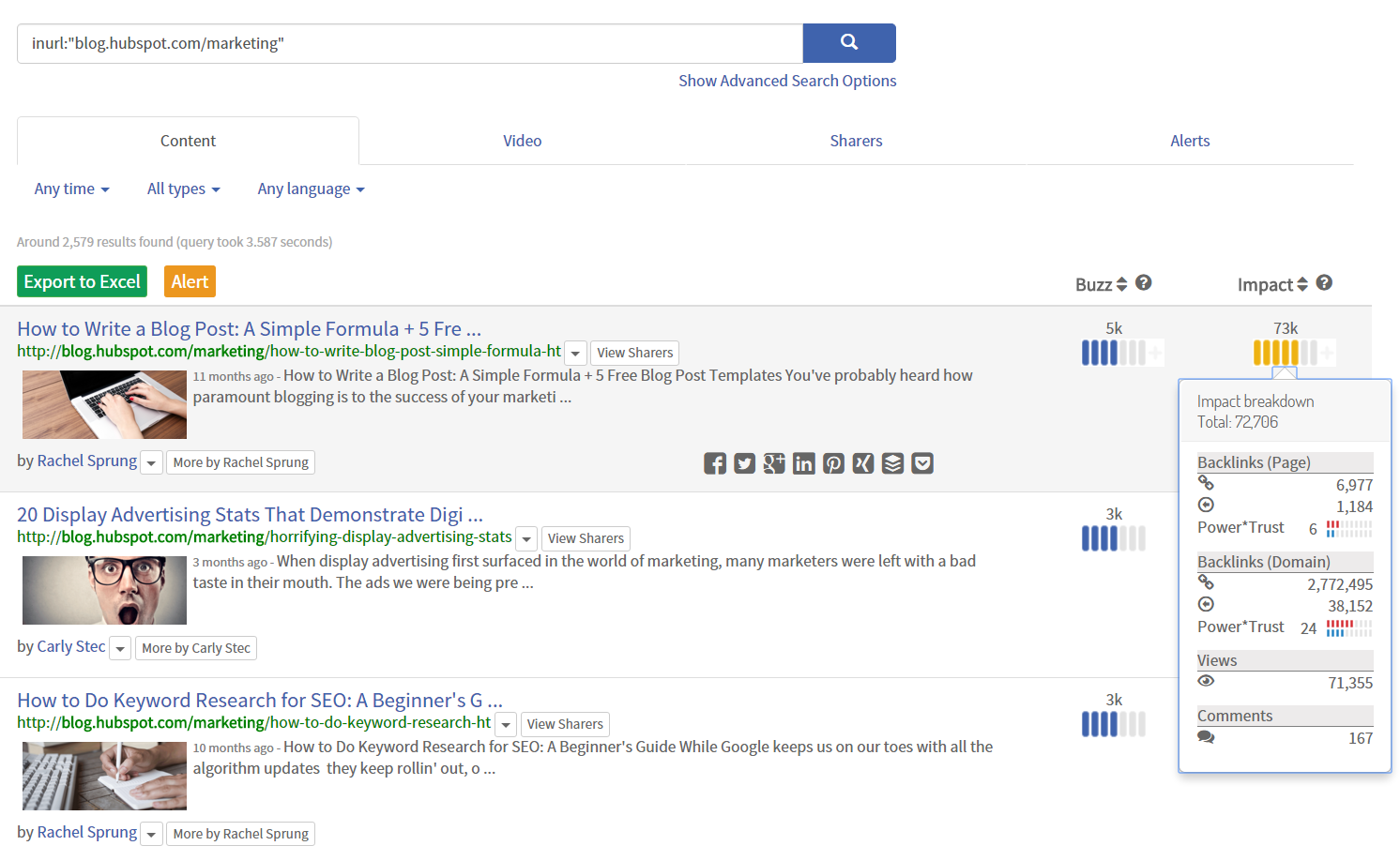 Looking at the rich metrics in Impactana you can quickly assess what kind of content works best for your audience and which posts and topics you could repurpose or convert to infographics, Slideshare presentations, videos. There's a world of possibilities out there when it comes to content marketing.
You can go beyond analyzing your own content. Your competitors and companies that have authority in your niche sure have their unique ways to engage their visitors with the content that they create.
Looking at what works best for your competitors can give you some great ideas. Not only content ideas, but you will also be able to look at the look and feel of their website's design and also at the way they structured the content.
Read this interesting blog post on how to get great content inspiration from your competitors.
2.

Backlinks Audit
A website redesign is a good opportunity to clean up your backlink profile and start fresh. You don't want any spammy links pointing to your new beautiful website do you? Even one spammy backlink can make the difference between a good ranking and a Google Penalty. The choice to keep your website safe is all yours.
Here's a step-by-step guide on how you can clean your website's backlink profile and get rid of all past crimes using Link Detox.
Make sure that you don't lose important backlinks
You're sure planning a different structure for your website when you plan to redesign or migrate it. With a new structure, the URLs will change.
Or you may choose to change the domain name, and that will result in all your URLs changing. You must handle these changes with care. If not handled properly, this can cause your website to lose visibility in search engines.
Pages that have a great number of high-quality backlinks to them are powerful and trusted by the search engines.
Google sees links as
"editorial votes given by choice, and the more useful content you have, the greater the chances someone else will find that content valuable to their readers and link to it."
Google's mission is to bring out the best content out there for the users to read and engage with. If you have an interesting article that gained thousands of relevant links over the years, this article sure has authority in Google's eyes.
You don't want to lose what took you years to build only by changing a URL in a wrong way.
But you must change those URLs, right?
Then you'd better do it in a smart way. All you have to do is inform the search engines of these URL changes. All the pages that changed URL have to be rerouted with a permanent 301 redirect.
Start by creating a list of all the URLs on your old website. You can use any crawler (XENU or Screaming Frog) to get a list of all of the indexable URLs within your website.
As an alternative, if you are 100% sure that your Sitemap is accurate, you can export the URLs from the Sitemap. You can use the Scrapebox Sitemap Scraper or any other solution to export the URLs from the sitemap.
Once you have a list of all the URLs, you have to see which pages on your website have the most link juice.
You can use the Bulk URL Analyzer (Juice Tool)to analyze all the URLs. You can copy paste thousands of URLs in the Link Juice tool either from a .txt file or even from Excel.
Let's look at a practical example. What if you would need to redesign or migrate Hubspot's blog?
I imported sitemap URLs I extracted for Hubspot's blog into the Juice Tool.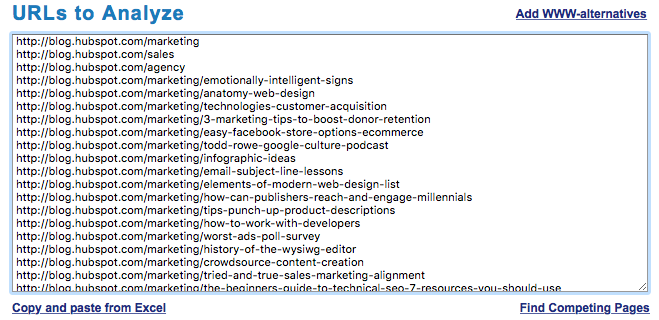 Then, I sorted the URLs by the number of backlinks per page. Below you can see the results for the strongest pages on the Hubspot blog, according to the number of Backlinks.
As an SEO, doing the redesign and restructuring of this blog, you surely don't want to lose the 30k links to this great blog post: 19 Reasons You Should Include Visual Content in Your Marketing.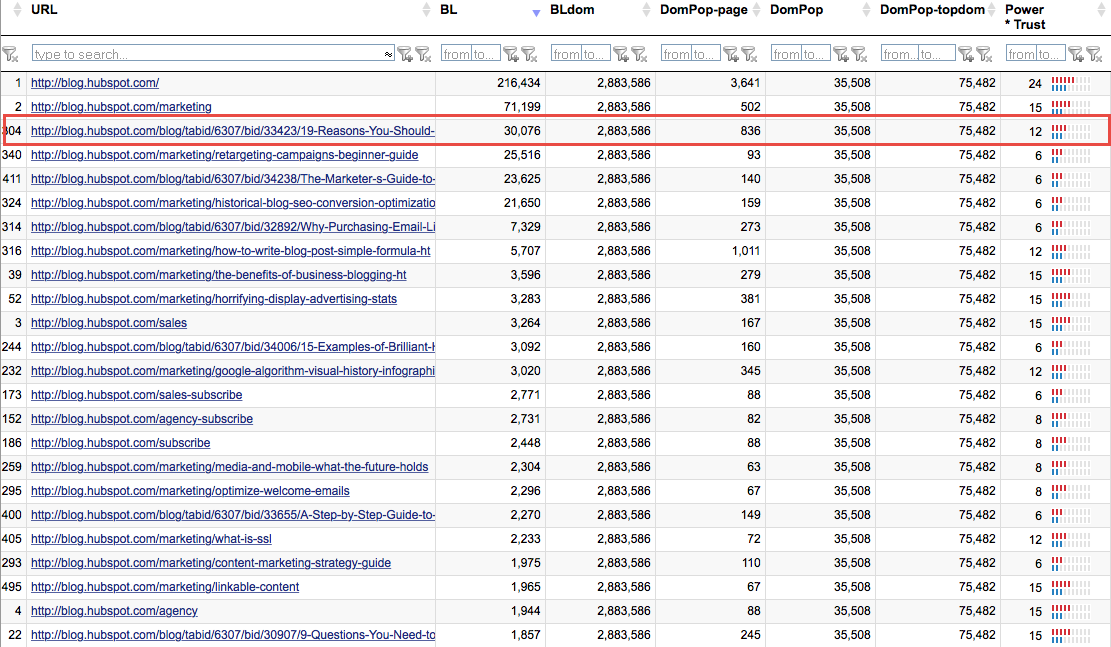 Apart from the number of backlinks, there is another metric you should look at to determine the strength of a page. That is the LRT Power*Trust metric.
LRT Power*Trust will help you quickly assess the overall impact of your links. The LRT Power*Trust is calculated by analyzing data in real time from over 24 sources including Google, Moz, SEMRush, Majestic®, Sistrix, and many more.
Now also available in a free browser plugin for Chrome and Firefox, this metric is the perfect replacement for the Google Toolbar PageRank.
Here's a quick preview of the strongest pages on the Hubspot blog according to the Power and Trust metric.
As you can see below, not all these pages have many links, but these links are strong and come from trustworthy sources. If you start a backlink profile report from the Juice tool, you will be able to look at all the links pointing to a single page. Then you will understand why the page has a high LRT Power Trust score.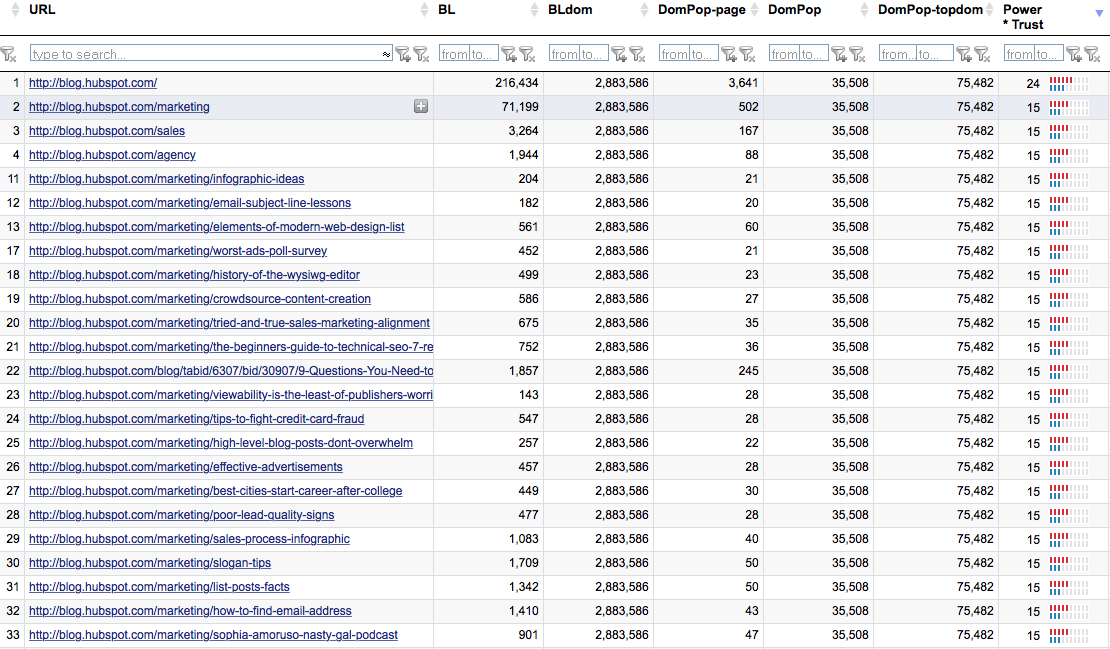 Apart from the LRT Power*Trust, there is another set of metrics that you can look at when assessing the strength of a link.
It's Impactana's BUZZ and IMPACT metrics, also part of LinkResearchTools. BUZZ measures the social media signals and IMPACT brings together a bunch of user engagement metrics, such as backlinks, comments, views and downloads.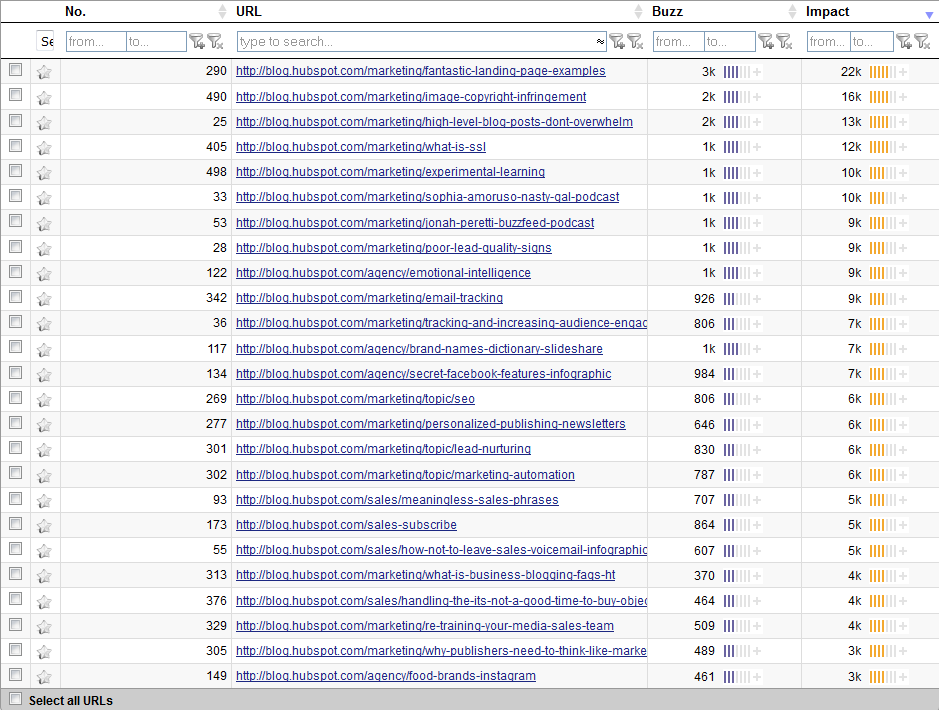 3. Work on proper 301 redirects
When you plan the 301 permanent redirects, you must pay special attention to the strongest pages, but don't overlook the weaker ones. These URLs can provide some value as well when it comes to internal linking.
Planning for a 1:1 page redirect that matches pages from your old site to corresponding pages on the new site can involve a lot of work, but it's all worth it. This work will give your future visitors a more consistent browsing experience.
Imagine a user clicking on a backlink about "website redesign" and landing on the home page of a complex website. It will be hard for him to find that information he was looking for and will feel lost.
That visit will only result in a 100% Bounce Rate in your Google Analytics report, and that's it. There is no relevancy for the user and no value for the search and Google will figure that out very quick.
If you don't put work into making your 301 permanent redirects properly, you will lose traffic, and you will lose sales.
4. Re-implement tracking code
"If you cannot measure it, you cannot improve it."

Lord Kelvin
You want to track what your visitors are doing using Google Analytics, Statcounter or other tracking tools. For that, you want to make sure that the tracking code is set-up correctly on your new website.
If you don't have any data on your website's visitors, you will never be able to improve their experience and guide then through the sales funnel smoothly.
5. Remove all indexing restrictions (robots.txt)
While you were working on your new website on a test domain or otherwise, you may have instructed the robots not to crawl your website. You want to make sure that you remove all indexing restrictions before you set your new website live. Otherwise, you will be the only one visiting it.
Actions that you have to take immediately after the relaunch
You've put a lot of work into redesigning your website and you finally managed to launch it and show it to the world. Don't stop here! There are a couple of things you still have to do in order to insure that you have no broken links and that your users are happy with you new design, calls to actions etc.
6. Set-up A/B testing for your most important pages
A/B testing is very important when you're doing a website redesign. Understanding whether it's better to place a button on the left or the right, whether to make it green or orange, can make a significant difference to the results you get in sales.
The pages where you need to implement A/B tests without a doubt are your home page, your plans and prices and sign-up page.
You can use the Visual Website Optimiser to set-up and easily track your A/B tests.
7. Use a website relaunch tool to make sure you

're not losing any link juice
The Link Juice Recovery Tool is the perfect website relaunch tool. It helps you find the backlinks that your site has that are linking to a non-existent page (HTTP-code 404). You should then try and recover this link juice either by recreating the page, or redirecting the link to another existing page.
It doesn't only detect HTTP-code 404 errors, it also detects timeout errors (504) or invalid access errors (403) for example. When re-launching your website, you want to look at all these errors, find the root problem and fix it before you get in trouble.
The Link Juice Recovery Tool is very simple to use; just pop in your URL there and run the report.
The results will bring up all the 404 errors on your domain and subdomains.
You will also be able to see how many backlinks that page has.
If you want to check the quality of these links, you can click on the plus sign, which opens up this tools dashboard where you can find out more about the backlinks. You might, for example, like to run a Link Detox just for that page.

The Link Juice Recovery Tool produces the code for the .htaccess file. This will help you easily create 301 redirects and pass all the good link juice to a better page.
By default, this .htaccess file will redirect to the homepage, but now it is much better to redirect to the more appropriate subpage. So you might want to edit this code before adding it to your .htaccess file. This is how you recover your Link Juice.

Conclusion
There are many important factors to take into consideration when redesigning a website, but you shouldn't be afraid to try. Change is an important step towards increasing your conversion rate and keeping both your visitors and the search engines with a clean website structure, great content and a clean backlink profile.
User experience is one of the most important factors you should have in mind when making a website redesign.
Make sure that when you relaunch your website is all great in terms of content, colors and load times. Make sure that it has no broken links, that it has no bad links pointing to it, that it inspires trust and is HTML5 compliant.
The Link Juice Recovery Tool is part of the LinkResearchTools offpage SEO toolkit, along with other strong tools that can help you protect your website against Google penalties and negative SEO attacks, build strong, healthy links, monitor your backlink profile and so much more.