Find great links in your disavow file. It's time to win them back.
Audit a disavow file to reverse wrong disavows of good links and upload the corrected disavow file to Google to get credit for your good links.
Features
Recover strong low-risk links by reviewing your disavow file.

Websites that recovered from a Google Penalty an re-avow a LOT of links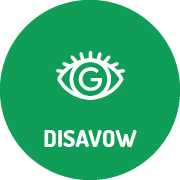 Benefits
Automatic suggestions which links to undisavow

Analyze 150+ SEO metrics for each link

Disavow History
What can you do with the Disavow File Audit feature ?
Clean your disavow file and get some great links back
Since Google published the first Google Penguin algorithm in 2012, thousands of websites all around the world received a penalty. These drastic changes on the Web forced many webmasters to start disavowing bad backlinks. In order to recover or protect their website, many of them made wrong decisions and disavowed a lot of good backlinks by mistake.
To help you win back some good links you may have in your disavow file, Link Detox has a built-in Disavow File Audit mode.
This mode allows webmasters to review their Disavow file by providing the potential link risk of backlinks that were already disavowed. If you find a good backlink on your disavow list, you can easily un-disavow it!
Undisavow backlinks and let Google know about it
Right in your Link Detox report, you can see the potential link risk of your disavowed links.
This will give you the chance to fix mistakes from the past. All you have to do is undisavow the good links on your Disavow file, export a new corrected version of it and upload it to Google's Disavow Tool.
Make Google take notice of your updated disavow file faster by using Link Detox Boost.
Disavow History – an audit log for your disavow file
See and track all changes to your disavow file on a file and domain level with our new Disavow History feature. Best of all, for existing customers it tracks your disavow history all the way back to when you first started using Link Detox.
When you perform ongoing Link Risk Management, do disavow reviews and tune your disavow file. Sometimes it's necessarily when a domain was disavowed or even un-disavowed.
Disavow History answers that in minutes. You just have to pull up a handy log that shows you when and where (in which report) you did that change. Going back to the original report also allows you to see how you tagged that link. Yes, it is super super-useful because who has the mega-brain to remember all those little changes over months of doing Link Risk Management?
How to access the audit log for your disavowed links
You can access the Disavow History feature in your Settings under "Disavowed Links or Ignored Links".

Using the disavow file audit log helps you track all those changes, even when they're later undone or made by a colleague.
As you can see below, the domain "the-globe.com" was disavowed on January 18 (we're using the international ISO notation YYYY-MM-DD in our app) by uploading a disavow file. If a link is disavowed or un-disavowed in a report, you will be able to see a link to that specific report in the history log.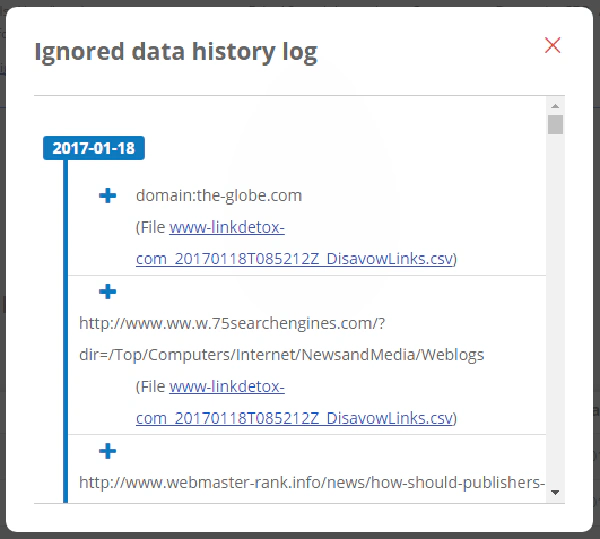 Past Disavow File download
By clicking the file link for the old disavow file, you can retrieve that original disavow file for audit purposes.
Please note that this is a partial download and will not retrieve your most current disavow file.
Full Disavow File download
By pressing the green download button, you can always download the full and most current disavow file.

These results are the same as clicking "Export Google Disavow File" in your report.
Removing all Disavow information
By clicking the red X you can remove all disavowed files and links for a domain from LinkResearchTools® and Link Detox. This means any new reports will behave as if no links were disavowed. Please keep in mind though that this change doesn't affect the actual upload in Google Search Console, so Google might still have a disavow file that you want to remove.
Disavow Comments
Adding comments to the disavow file is something that Google has always said is possible, but it doesn't help. The disavow file is not being read by a human.
However, many webmasters do practice annotating their disavow file with comments, and so we added this feature as well.
If you click on the disavow checkbox, you now have a small "comment" icon next to it that you can click to enter a comment that will annotate that disavow for the domain or page.
Again, Google will not read it, so don't expect any impact from doing this, but since many of you asked, we added it – enjoy!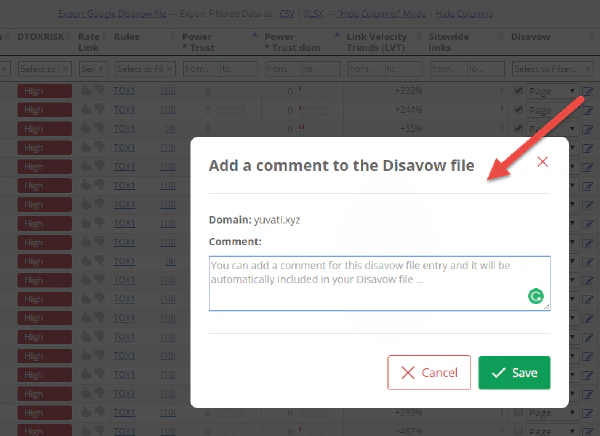 How to perform a disavow file audit – step by step
The following steps lead you through the full process of running a disavow file audit on your domain:
Run Link Detox in Disavow File Audit mode Upload the disavow file you want to review. If you had previously uploaded a disavow file to Link Detox, this upload will overwrite it.

Review all disavowed links You can easily find and filter disavowed links by their purple highlight. Those links are shown with the theoretical risk next to them. If that disavow file was uploaded to Google, and you successfully used Link Detox Boost on it, then those links won't do any harm.

The display of the Link Detox Risk score (DTOXRISK®) allows you to judge the risk of the actually disavowed link.

Un-disavow the good links If you find good and natural links in your review, then you can easily un-disavow them by unchecking the disavow column. This will remove the disavow command in our central disavow database, so when you next download the full Google disavow file, these links will not be included anymore. Your action will also be logged in the "Disavow History" – another feature explained below.

Download the corrected disavow file from Link Detox You can download the new disavow file by clicking "Export Google Disavow file" in your Link Detox report as usual.

Upload the corrected disavow to Google Search Console Make sure you receive a confirmation from Google Search Console about the number of domains and links included and compare those to the numbers we show you about included number of domains and links in the Disavow History dashboard. Make sure Google received all domains and links that you wanted to disavow.

Run Link Detox Boost After approximately 48 hours you need to run Link Detox Boost. This will include your disavowed but now also un-disavowed links and domains. Link Detox Boost forces the GoogleBot to crawl those pages and domains and process the disavow command – or lack thereof – for the Google algorithm.
Helpful resources on Disavow File Audit and Undisavowing
https://www.linkresearchtools.com/case-studies/perform-disavow-file-audit/ https://www.linkresearchtools.com/case-studies/undisavow-backlinks
Unique SEO Technique
This Link Building Method is not available in any other SEO tool.
25+ Link Data Sources
Link Data from 25+ Data Sources combined.
Full and Rich Exports
You get full XLS exports and rich PDF exports, while competitors cripple their data exports at sometimes 10k rows already.
Link Brain
We can assist you with decades of experience in SEO and links. This is not a matter of course with every SEO software provider.
Dynamic Filters
Filter your results by up to 150+ SEO metrics.
No Trash Data
The links that we DO NOT deliver to you matter! We take pride in filtering out as much nonsense data from other sources as possible.
Learn more about Disavow File Audit