Link Juice Thief (LJT)
Get indirect links from your competitors
Find out where your competitors link to, get links there, so your competitors will indirectly link to you.
What you can do
Get your competitors to link to you (indirectly)
Compare your competitors' outgoing links
Find pages with strong authority in your niche
And there's more…
Compare outgoing links of up to 50 domains
Benefit from a little-known link building tactic
Put yourself in the hotspot of the link graph
Use this little-known SEO strategy
Get indirect links from your competitors or from authority pages and improve your website's rankings.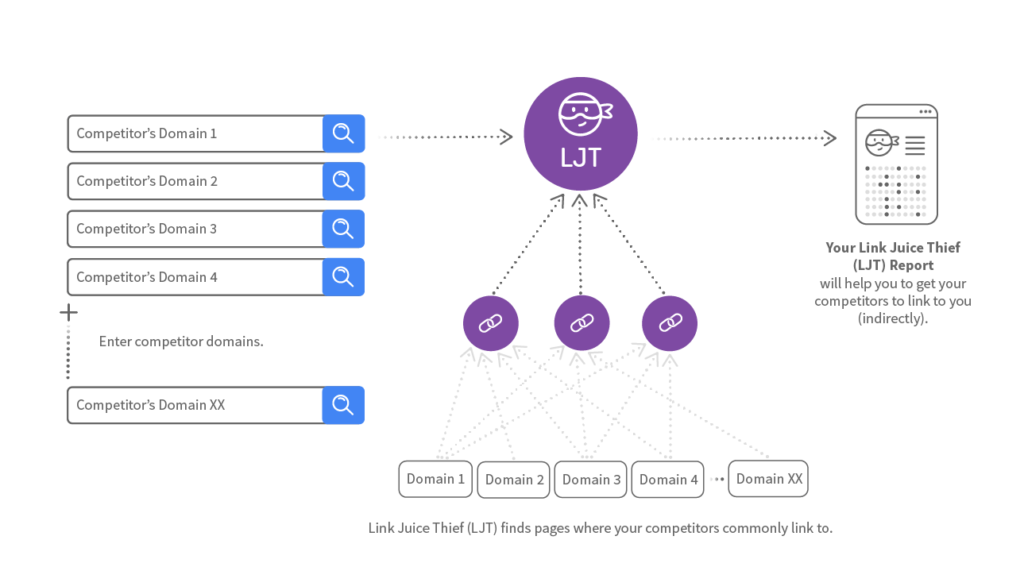 How You Benefit From the Link Juice Thief (LJT)
The Link Juice Thief is a backlink building tool that exploits a little-known SEO technique that looks at the outgoing links of your competitors and then looks for common places that they are linking to. If you can find these link targets and get a link there, this means that competitors are indirectly linking to you.
You can begin by entering your competitor's URLs into the Link Juice Thief (LJT) tool, or you can use the 'Find Competing Pages' feature. The more domains you enter, the more likely you are to find to find common link targets. You can enter up to 50 domains.
The Link Juice Thief will show you a list of sites that your competitors link to. The most interesting column is the commonality one. For example, 13 competitors link to bbc.co.uk – if you could get a link on this website it would mean that 13 of these competitors are indirectly linking to you.
The Link Juice Thief can give you a lot of ideas about acquiring links. Quite often you might find domains that you would never have thought of. In the results grid of the LJT, you can click any of the 'points' to launch a QBL, which will show you more information about that link relationship.
Link Juice Thief Features
You can use a little-known linking strategy
The Link Juice Thief helps you find common links of up to 50 predefined competitors. This feature provides a different way of searching for link sources by comparing the outgoing links of your competitors.
The tool finds places where your competitors commonly link to. If you can get a link on one of those websites, you can get your competitor to indirectly link to you.
The Link Juice Thief tool helps you get backlinks from high authority pages in your niche.
Easy visualization for an overview of common backlinks
The histogram shows the common backlinks of your competition and groups them according to the strength of the commonality and the chosen metrics. You can switch between the tabs to view other metrics.
Quickly spot commonality with the results matrix
The Link Juice Thief has a similar results matrix to the Common Backlinks Tool. Here you can click on any of the points in the matrix to launch a QBL and find out more about your potential link sources. In many cases, you will find that the places linked to are authoritative sites relating to the niche.
It can be difficult or easy to get a link on such authorities, we've seen it all. But if you can make it happen, you will reap the benefits in your rankings. The above example shows UK car insurance sites with seven domains linking to bbc.co.uk, for any reputable UK car insurance company it should be possible to get a link here.
Our clients speak for LinkResearchTools
Eugen Platon | Head of Search at OLA Mobile
"I've used LinkResearchTools almost 1 year. During this time with the help of DTOX – Link Detox Tool and BOOST – Link Detox Boost we have removed at OLAMobile, a Google manual penalty in just 14 days. Amazing! LRT It's a set of tools, that any professional SEO need to possess in his day-to-day toolbox set "
Maximilian Euler, Owner of Ayudo Online Marketing
"We love to work with LinkResearchTools. It's our favorite software for link analysis. We also love the detox tool very much with all the rules which help us monitor the health of our clients link profiles. Keep up the great work guys!"
Marc Kenigsberg, Tradeopus
"We started using LRT for the Detox function after a negative SEO attack on our site. Not only was LRT instrumental in helping us clean up the links and recover the site but it has become critical to the way we do all of our marketing efforts. Most of our processes today are built around LRT and its tools and everything that we have learned from the LRT team. A must have tool for anyone serious about traffic"
Case Studies Featuring the Link Juice Thief (LJT)

The Link Juice Thief tool is a perfect tool to use with the PitchBox integration. This case study shows just how to do that. There is also a section about finding sites that your competitors link to.
In this case study by Wojtek Mazur you can see how to use the Link Juice Thief to find link prospects in the hair styling niche.
Want to Learn everything about Links, SEO and LinkResearchTools (LRT)?
Get your competitors to link to you
Use the LinkResearchTools® Superhero account to build strong links.