SEO Software for Link Analysis and Link Building
What is LinkResearchTools?
Search Engine Optimization Software.
Link Monitoring, Competitor Research, Link Building and Link Audits
LRT is a SEO software that helps companies improve their organic rankings in the results of search engines like Google, which are basing their ranking algorithms heavily on backlinks.
Users of LinkResearchTools want to get their website listed higher up in the search results than their competitors. So that if a user searches for a specific word, the likelihood of the client website getting shown by the search engine and the
user clicking on it increases.
Increase in Organic Search Traffic
Such an increase in the number of visits from qualified leads and the number clicks received from them often goes hand-in-hand with an increase in the conversion rates.
This in turn can lead to an exponential growth in revenue and thus profit for a company.
Even if website traffic dropped, as shown, LRT can help. LRT has the biggest experience in fixing Google penalties thanks to it's own Link Detox®.
Full Circle SEO
LRT covers the full SEO circle to
How is search engine optimization (SEO) with links possible?
Search Engines Analyze Links
The web is built by only two major elements. Content and Links.
Search Engines like Google read the website content and try to figure out, which is the best document for a specified search query. While there are many text retrieval methods available, the strongest signal has and always will be the number of
links from other websites (or citations in the academic world).
Over the years, the understanding of how backlinks to a website need to be and need to develop over time to help and not hurt it's so called "organic rankings" has improvement tremendously on both sides of the field.
One one hand savvy web marketers and SEOs try to understand and exploit all possible ways to increase their organic traffic.
On the other hand there's Google and other search engines who will never confirm that manipulation of their organic search results is possible, and being done by whole industry for decades.
Most Advanced Link Building and Link Analysis Software
LinkResearchTools (LRT) is the most advanced link intelligence software that combines data from 25 link data sources and over 100 SEO metrics per link in a consistent, reliable way to provide functionality to recover from technical and link
penalties, protect your website traffic against Negative SEO and technical issues in your external and internal links, learn about your competitors with cutting edge competitor research and link analysis and grow your website traffic
with strong and healthy backlinks that you can simulate towards your backlink profile before you place them.
Unlike ad-hoc SEO tools, LRT® provides data that users can trust due to "just-in-time" recrawling and industry-leading custom technologies and metrics like LRT Power*Trust™, Link Detox
Risk®, Link Velocity Trends™, Link Detox Genesis®, Link Redirect Trace™,
TitleRank™ and Keyword Intelligence™ to name but a few. These unique SEO metrics and technologies only LinkResearchTools provides are combined with data
aggregated from Google, Bing, Moz, SEMRush, MajesticSEO, Ahrefs, Sistrix and many more.
LinkResearchTools provides industry-leading tools for link audits, SEO competitive research, link prospecting, link building, on page audits, link building, and outreach.
LinkResearchTools supports all countries and languages.
SEO Training
LRT Certified Program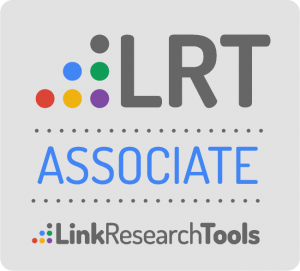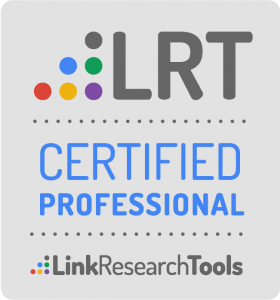 Links are Important
Google confirms importance of links
Google keeps confirming, that links are important for the search engine rankings, over and over again.
Links are still the #1 ranking factor, says Google
Ranking without links is really, really hard.
Yes, the external links.
said Gary Illyes, Chief of Sunshine and Happiness at Google, October - November 2016.
Links in particular are really important to Google
... because that's how we discover the rest of your website.
said John Mueller, Webmaster Trends Analyst at Google, September 2016..
LRT = SEO Software for Link Analysis
LinkResearchTools bridges the gap between official information and practical use cases when it comes to all things links.
Many SEO products
While there is a huge number of ways and products to build great websites, engage people on a website, only very few and quite limited solutions are available for the part of links and the purpose to understand and try to reverse engineer the Google algorithms when it comes to links.
not for Links - this is where LinkResearchTools comes in.
The SEO Software LinkResearchTools specializes all sorts of links, redirects, rel canonicals and whatever else is described and understand as a "Connection from A to B".
Two New Extra Link Scopes
Specific to links between pages, LRT today analyzes four link scopes
internal links

from one page of a website to another page of a website

subdomain links

from parts like a separated blog of a company to a website

network backlinks

from related websites of the same company, network of companies or partners and finally

external links

or simply backlinks from random parts of the web to a website.
Customers of LinkResearchTools
For small to super-large.
We are happy and honored because so many small and big companies use and trust our services.
What LinkResearchTools Users say
They are everywhere. Just ask around.
William Sears - Growth & SEO at LinkedIn
A huge part of SEO success is your backlink portfolio.
Not only do you need to understand where your links are coming from, you need to be able to take action to manage those links. LinkResearchTools is an indispensable collection of powerful tools to do just that. I'm a long-time customer of LinkResearchTools and highly recommend it to anyone who is serious about crushing it with links.
Reviews of LinkResearchTools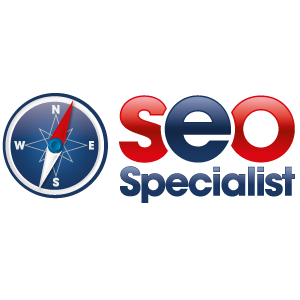 LinkResearchTools Regains Lead as the Best Link Building Tool
After Majestic SEO latest addition of trust metrics, LinkResearchTools decided to add additional features helping to classify backlinks. The latest update of LinkResearchTools include both power and trust metrics, which in combination can be very useful to help decide if certain links are worth going for or not. After all, link builders need to know how relevant certain links are and Cemper's graphic tools certainly helps.
By using the new link quality factors from LinkResearchTools, webmasters and search engine optimisers can easier determine a site's strength and trust, in a similar manner to how search engines tries to break down the quality of backlinks.
One of the most useful additional additions include the anchor text cloud, which are more helpful than ever after Google's latest anchor text focused updates.
Partners
We combine and improve all the data we can get.
LinkResearchTools (LRT) helps you solve the link data puzzle
...and gives a 360-degree view of your backlink profile by aggregating and re-crawling link data from 25 sources.
Combined knowledge - more than 100 SEO metrics - 25 link data sources
Combined knowledge - 97 SEO metrics - 25 link sources
Complete, refined and accurate link data!
Competitor research, site audits and link quality checks
Google Penalty recovery with Link Detox®
Apart from our internal sources, we also have external link sources from our partners to help increase the quality of the report results.
We want to thank our partners for the cooperation!
Majestic offers SEO tools and services and the company's main aim is to provide Competitive Link Intelligence to their customers. The company comes from Birmingham, UK, and the Majestic SEO Core Team only consists of three people. The main focus of the Majestic SEO Tools lie on backlink search and backlink reports.
SEMRush started as a small group of SEO and IT specialists and is now a big data international company. Their goal is to make online competition fair and transparent. Originated as an in-house toolkit, they now offer a large set of analytics which we use as a data source too, to make your reports even better!
Sistrix is a German company, originally providing SEO and SEM consulting and informing about trends and developments in the industry in their SEO Blog. Today, Sistrix provides a toolbox with various SEO metrics and offers a big amount of data on domains, keyword and backlinks, which we are happy to use for further enrichment in our reports.
LinkResearchTools has an integration with the Google Search Console. We automatically download a couple percent extra links and include them in your report. This integration really saves you a lot of time.
We also get data about links and traffic from Google Analytics to enrich our backlink profile data and algorithms.
Ahrefs is a multinational company with roots from Ukraine and headquarters in Singapore. Their most popular tool is the Site Explorer, an SEO tool that's both a backlink checker tool as well as an organic and paid traffic research tool.
Pitchbox is an outreach and prospecting automation platform that allows users to build relationships with targeted marketing and PR opportunities, bloggers, and influencers.
Intellifluence for Brands is an influencer marketing platform that gives brands access to tens of thousands of reputable influencers. Intellifluence for Influencers is a network comprised of trusted influencers who are looking to try out new products and services and get rewarded for doing so.
SEO Tools for Excel is an Excel plugin for working with online marketing tools. You can easily create SEO reports and dashboards. With Connectors you can extend the functionality of SeoTools and easily integrate APIs into Excel. SeoTools provides the separate values for the Power and Trust which helps you understand why a page is awarded a high or low PowerTrust score. You can evaluate the Power, Trust, PowerTrust and Link Velocity Trend of your Domain, Pages or Subfolder. See more info in this Excel integration manual.
Press Kit
Want to write about LinkResearchTools? Need more detail information, a demo account of client references?
We are happy to help with any inquiry.
On this page you also find our founder's bio and the standard logos to use.
---
---
Founder & CEO Christoph C. Cemper
Entrepreneur, Marketer and Data Geek
Christoph C. Cemper started working in online marketing in 2003 providing SEO consulting and link building services with his agency. Out of the need for reliable and accurate SEO software, he developed LinkResearchTools and launched to the public in 2009 as a SaaS product with only four tools. Today LinkResearchTools is the undisputed leader when it comes to link data quality, backlink profile coverage, and accuracy of link risk assessment thanks to dozens of link data sources and methods that undergo ongoing development.
When the famous Google Penguin update changed the rules of SEO in 2012, Christoph launched Link Detox®, software built for finding toxic links in a website's backlink profile. Christoph has introduced the technology and formal process for ongoing link audits in 2012 as well as pro-active removal and disavow of toxic backlinks since 2011. In 2019 a much higher degree of automation and accuracy was introduced to the public with the Smart product line of LinkResearchTools and Link Detox, providing the user with advisory and SEO knowledge patterns applied for the user automatically on the data.
Christoph also teaches at different universities about online marketing, SEO, link building or business process management.
More about Christoph can be found on his personal website.
Google about Christoph's work
You do a great job reminding people about the importance of links
...said Gary Illyes, Chief of Sunshine and Happiness at Google, October - September 2017, to Christoph.

LinkResearchTools Logos
Only use these logos please.
Got Questions?
---
---