Automatically generated spam links often in enormous numbers, built not necessarily with intention to harm. Easy to spot and disavow (or ignore).
What are Scraper Links? #
Scraper links are a special category of spam links that appear in huge numbers, but are easy to disavow.
These are links automatically generated by blackhat software on spammy software with the purpose of attracting (little) organic traffic. The intention is often only to get a few percent of their scraper site to rank.
Due to the footprints such scraper websites have, they are easy to spot and disavow.
Most famous example are "TheGlobe" which run a network of scraper websites just republishing the list of websites ordered by Alexa Rank.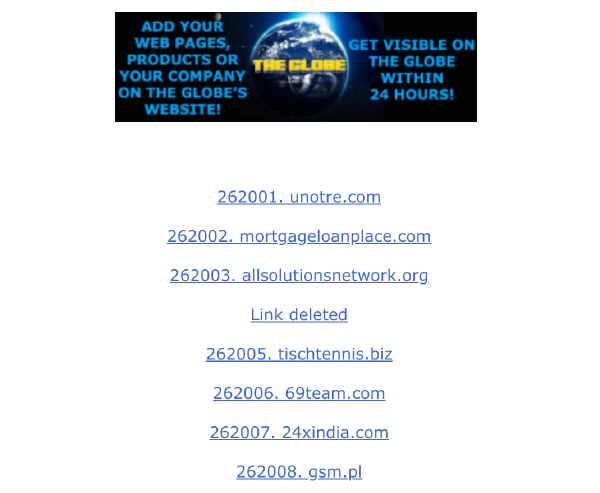 Depending on the actual domain, they either offer
link removal for a fee, which seems to be their main business model since Google Penguin
paid links purchase, which seems irrelevant if every domain known to mankind is listed on one of their millions of pages automatically created.
Scraper Links are not the only Toxic Links #
Trivial scraper spam links like TheGlobe are sometimes used as an explanation about how easy it is to find toxic links.
That is not correct. In fact those scraper links are usually nothing to worry about and can be disavowed really easy. For example in Link Detox® disavowing 10000s of such links works with the click of 1 button.
There were reports in the past tough, where scraper links posed a problem for very young websites.
Should I disavow scraper links?

Google state that they can spot such trivial link spam as scraper links, so some SEOs do simply ignore them. In Link Detox® you can find and disavow such automated, well-known spam link patterns with one click and disavow them pro-actively, to be better safe than sorry.