What are Paid Links in SEO and What are the Risks?
Paid links can be a double-edged sword in Search Engine Optimization (SEO). On one hand, they can be incredibly beneficial for your website's organic search visibility. On the other, paid links can be detrimental to your SEO efforts as well as expose your website as a spammy source in organic search. In this article, we'll discuss what paid links are, how they can improve your SEO and the risks of incorporating paid links into your SEO strategy.
Search Engine Optimization (SEO) is a game of numbers. And the numbers are critical to your success in achieving higher rankings. One of the most important numbers on your website is the number of backlinks pointing to your domain.
Good Backlinks are a sign of trust and authority, which is why they're such an important part of SEO.
There are several different types of links you can earn for your site, including natural, earned, and paid. Natural links are links your site earns from other websites through the growth of relationships and the process of sharing content with others. Earned links are links that you get in a free fashion, unsolicited and without money involved.
Paid links are links that you pay other websites to place on your site. These can come in many different forms, including advertising, sponsored links, and paid product placements.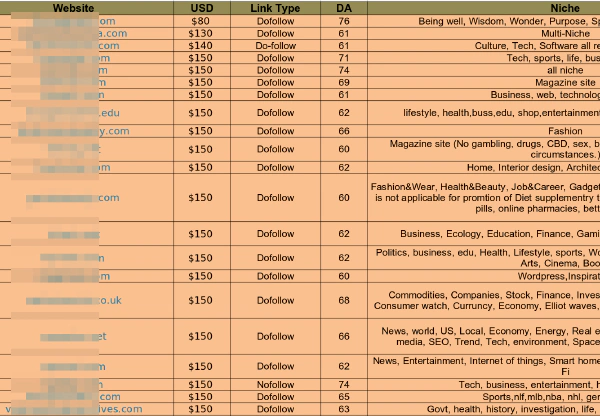 Paid links are often offered in long Excel lists on social media.
There's a lot of debate over whether or not paid links actually improve your SEO.
What Google promotes, and becomes a more and more general consensus is that paid links won't improve your organic search rankings, because Google "gets better" at ignoring them.
However every SEO who works in a high margin industry pays for links. That's simply because nobody links to such businesses, for free. Everyone is aware of the fact that for example Casinos make a lot of money from their players, and so have very large marketing budgets.
This has always been the case, and hasn't changed since early 2000s when Google became the dominant, link-based search engine. Often high margin industries have organic SEO and paid links as the only way to do on-line marketing, because their industry is banned from advertising on Facebook, Linkedin or other channels.
Like any other tactic in your SEO strategy, the risks of paid links should be weighed against the benefits. On one hand, paid links can be an incredibly effective way to boost your SEO. Your link profile will be filled with links from trusted websites, increasing your overall authority and trust.
Paid links are also generally just more visible than natural links. They often use criteria like money anchor texts in their links.
Link Detox specialized in trying to detect such manipulative links, just like Google tries.
Paid links are not without their risks. It's important to understand the process of purchasing links and the various links types available.
Buying from publicly known paid link lists as above, gets your rankings in danger real quick.
There are several different ways to use paid links in your SEO strategy. Firstly, you can choose to purchase high-quality backlinks from relevant websites and make them "appear natural". But for Google of course that is still a violation of their guidelines.
Many SEOs are using Link Detox "off-label", which means they analyze which links are flagged with especially high Link Detox Risk, and then avoid building those links in the first place.
Other SEOs are very up-to-date with their link audits and disavow those links that are flagged as high risk. Yes, indeed paid links are often disavowed after a certain time-frame, pro-actively, to avoid a Google Penalty.
Paid links are risky. There's always a balance between risk and reward.
If you are in a high margin industry, you most likely still depend on paid links, like thousands others. In such industries you "blend in" better with paid links.
If you are in an industry with fewer or no paid link uses, you need to be even more careful with paid links, as you may stick out like a red flag if you suddenly get all sorts of links from "well known link sellers".