Penalized by Google?
Recover and protect your site from Google Penalties by cleaning up your backlink profile.
If your site is not ranking properly, chances are you have received a Manual Action or an algorithmic Google Penalty. In such case, Google believes your backlink profile may include unnatural links and will thus down-rank your site. A loss in rankings is likely to result in a loss in traffic, and could thus harm your business significantly. Therefore, you should try to get rid of your Google Penalty as quickly as possible.
With Link Detox® you can find the bad links that harm your site, create a disavow file automatically, and win your ranking back.
You need Link Detox for
Manual Action recovery
Penguin Penalty recovery
Google Penalty protection
Winning back your rankings
Finding strong link opportunities
Your benefits of using Link Detox
Find bad links at a glance
Works in any language and for all countries
Review risky links easily
Create your disavow file automatically
You get these features
You can use the following integrations
Unique data-driven and self-learning algorithm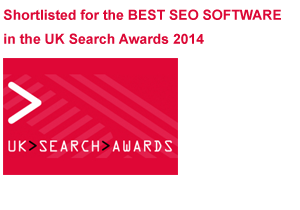 Link Detox calculations are based on a unique data-driven and self-learning algorithm referred to as Link Detox Genesis®. This algorithm does not only include technical data to the calculation, but also feedback from users, thus imitating what we believe is seen as risky backlinks by Google.
Read more about Link Detox Genesis
Link risk calculations
Link Detox was made to help you recover from Google Penalties. The tool is based on Link Detox Genesis that calculates link risks according to rules that we have developed.
For each backlink, Link Detox will provide you with a DTOXRISK score. This score depends on which type of Link Detox Rules is triggered in a link. Each rule (TOX, SUP) has its own risk level that sums up in the overall DTOXRISK.
Before Link Detox
After Link Detox
Central maintenance of disavow file
You can use Link Detox to automatically create and maintain your disavow file. The file will be generated in the exact format required by Google. Forget about confusing separate files with Link Detox you can easily maintain and update your disavow file automatically.
Read more about Round Trip Google Disavow Support
Guided review of your backlinks
Link Detox Screener™ allows you to quickly browse and review links manually from inside the LRT toolkit. While you check the links, you can quickly decide if you want to keep the link or not. You can simply use your keyboard hotkeys to take quick actions like "disavow", "good link", "clear disavow", and many more.
To access The Link Detox Screener™ click on "Link Detox Screener™"

This tool shows you important link data at the top of the screen and provides action buttons to quickly make decisions like "disavow" to the page or domain but also allows for convenient navigation.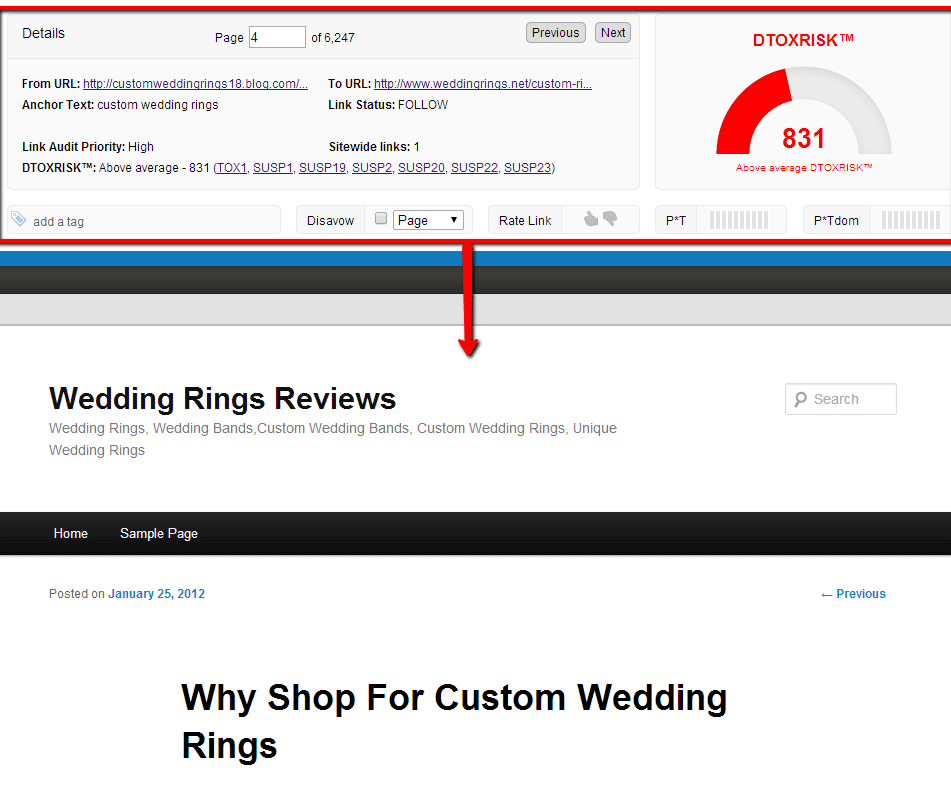 Link Detox Screener™ HotKeys
We have also added some Hotkeys to make disavowing pages and domains much faster. This Link Detox Pro version will make link audits feel like arcade gaming :).
A= Disavow Whole Domain ("A for ALL here is spam")
D = Disavow Individual Link ("D for Disavow individual link")
W = Clear disavow ("W for wipe the disavow flag on this")
Left Arrow = ("Left Arrow to go to the previous Link")
Right Arrow = ("Right Arrow to go to the next Link")
G = Good Link ("G for letting us know if you think this is a good link")
B = Bad Link ("B for letting us know if you think this is a bad link")
S = Skip Sitewide Links
J = Jump to Page

Read more about Link Detox Screener
Link Opportunity Audit
Link Detox allows you to run your reports in various modes. You can process reports for a classic audit of your link profile.
Also you can check link opportunities if you want to see how your link profile would change in case you would get new backlinks.
Keyword cloud measured by risk
Link Detox provides you with the option to see your risky keywords at one sight. Check these keywords carefully and try to build up quality backlinks instead for this anchor text.

Tune your personal Link Detox algorithm
DTOXTUNE™ allows you adjust the Link Detox Genesis algorithm according to your individual needs. Customize the importance of each Link Detox rule according to your market, country and language based on your opinion and experience.
Save time with bulk operations
Save time by applying multiple operations at a time. Filter links according to the criteria that is relevant to you, and use bulk operations to quickly rate, disavow or tag all thousands of links at once.
Learn here how to work more efficiently with bulk operations
Deep integration with Link Detox Boost
Within Link Detox, you can run Link Detox Boost with just one click.
Boost can speed up the recovery process with Google significantly.
Deep integration with Pitchbox
The deep integration with Pitchbox make outreach even easier for you. It allows you to contact webmasters easily for link building or link removal.
Learn more about LRT and the Pitchbox integration
Deep integration with Google Webmaster Tools
Link Detox analyzes data from 24 different sources. The more data and links are provided, the more precise your report evaluation. Therefore, Link Detox allows you to connect your Google Webmaster Tools account with our toolkit. This way, you can add yet another source and get the most of Link Detox.
Learn how you get even more links with the Google Webmaster Tools integration
Custom data integration
With Link Detox you can analyze up to 5,000,000 backlinks. It aims at giving you a better understanding of the full picture of your backlink profile. This is why Link Detox allows you to upload existing backlink lists or disavow files if you have them.
Become one of 1,000s Success Stories
Read in our Case Studies how SEOs recoved from a Google Penalty with Link Detox
Stefano Romeo
WebPromoter Snc, @StefanoRomeo
"LRT has been precious in analyzing the backlinks of one of our money websites that had been severely hit by Google Penguin. After several months, and using mainly Link Detox we were able to fully recover and we now use LRT to keep the backlink profile under control in case some more bad link show up."