Your All-in-One-Kit to quickly detect bad links
Locate all "risky" links with our automated detection rules, and get rid of the bad ones!
Domain-wide Link Detox Risk (Domain DTOXRISK™)
When you run a Link Detox® report on a specific domain, you will instantly notice the new Domain-wide Link Detox Risk (Domain DTOXRISK™) shown. The report can display any of these below ratings depending on your average Domain DTOXRISK™. It is important to know what it is, so you can get the insights you need to make specific changes and to monitor improvements of your Domain DTOXRISK™ over time.
Link Detox Risk Score (DTOXRISK™)
The DTOXRISK™ displays a pie chart on the left. You can visually see what risk level and rating has the highest risk out of all your backlinks. On the right, you will be able to see an itemized breakdown of all the different risk levels with the number of links and percentages. This tab also gives you the ability to export as a CSV or XLS.
Get rid of your "unnatural links"
Link Detox is a stand-alone tool that classifies a domain's backlinks into 3 categories (high, medium, or low link audit priority) and supports you in cleaning up your link profile. The interface of Link Detox is so easy to handle that you can discover all the risky links to your site with a single click.
We analyze your link profile based on a variety of SEO metrics and known problematic contexts. We then provide recommendations for your links.
This allows you to see at first glance which links are particularly risky, and which links you should check more closely.
Multiple Risk Detection for Every Link
The Link Detox tool gives you the ability to see what risk rules have been detected for each link. Simply hover your mouse over the DTOXRISK™ level like in the screenshot below.
This great feature helps you understand why a specific link has been marked at a specific DTOXRISK™ level. You will also notice in the screenshot below that the rule column will always display the higher DTOXRISK™ rating as a default. To better understand what each rule means, you can find a full explanation here http://www.linkdetox.com/faq/.
Link Detox Rules
The Link Detox Tool analyzes up to 5 million links, each with 93 different SEO metrics, on a set of rules!
Our advanced SEO metrics will save you a lot of time.
We analyze…
Link Location Problems
PageRank™ Punishments
Links Directory Links
Article Directory Links
Link Networks
and much more…
Please find more details about our various rules at our knowledge base.
Importing your own backlinks in Link Detox
Run Mode: Classic
Use this mode when you want to take advantage of LinkResearchTools' large data sources, and want to generate a qualitative analysis of your backlink profile.
Run mode: What-if
Use this mode to check links that you could get, and want to verify that they are not risky in the context of your domain. Keep in mind, a link can be a good addition to one site, but hurt another site. This is because network patterns and other factors could make the link a high link audit priority for your site.
This mode is ideal for link builders who want to verify that new links will be okay to build.
Run mode: Review
This mode allows you to quickly inspect your uploaded links as high, medium, or low link audit priority.
It does not consider your existing link profile. It's a somewhat quick review mode for the most common and dominant problems we can find. For example, if a domain has a High DTOXRISK™ because it contains a Malware/Virus on it, it will have a High DTOXRISK™ regardless of your existing links.
This is a quick expert mode. We recommend link builders to always use the "What-If" mode to make sure the links they create have a low link audit priority.
The number of uploaded backlinks depends on your LinkResearchTools account level.
Contact, Filter and Functionality
The integration of contacts allows you to send e-mails to the relevant webmaster or domain owner directly from the tool.
Do you want to see specific inbound links? You can combine any number of queries directly in your report.
Google's Disavow Links Integration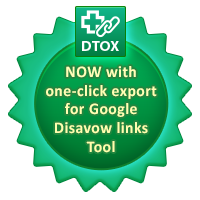 Are you already tired of contacting thousands of webmasters? After the latest release of Google's Disavow Links Tool, you are finally able to disavow a certain set of unwanted links, and get rid of your bad links.
We still recommend using our integrated contact function to get those links completely removed from the web because you don't want other search engines to see those spammy links to your site.
Keep in mind that we use very common spam link rules to identify bad links. Due to this automated process, there can still be wrong results in certain edge cases. Make sure you review all links you want Google to ignore so they won't hurt your site's rankings.
Link Detox Screener™
Link Detox Screener™ allows you to quickly review by browsing website after website from inside the LRT toolkit. While you browse the websites, you can quickly review the Link Detox stats and set actions (like Disavow) with the click of a button and jump to the next suspect.
To access The Link Detox Screener™ click on "Link Detox Screener™"

This new tool shows you important link data at the top of the screen and provides action buttons to quickly make decisions like "disavow" to the page or domain but also allows for convenient navigation.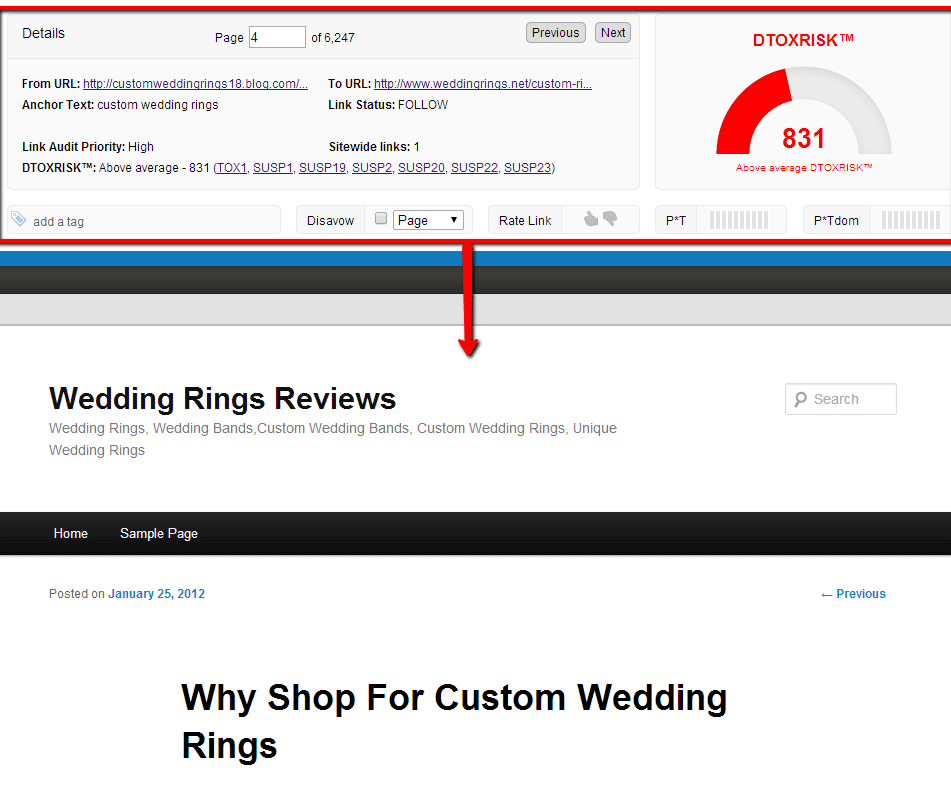 Link Detox Screener™ HotKeys
We have also added some Hotkeys to make disavowing pages and domains much faster. This new Link Detox Pro version will make link audits feel like arcade gaming :).
A= Disavow Whole Domain ("A for ALL here is spam")
D = Disavow Individual Link ("D for Disavow individual link")
W = Clear disavow ("W for wipe the disavow flag on this")
Left Arrow = ("Left Arrow to go to the previous Link")
Right Arrow = ("Right Arrow to go to the next Link")
G = Good Link ("G for letting us know if you think this is a good link")
B = Bad Link ("B for letting us know if you think this is a bad link")
S = Skip Sitewide Links
J = Jump to Page

Watch a quick introduction to the Link Detox Screener™