24 Comments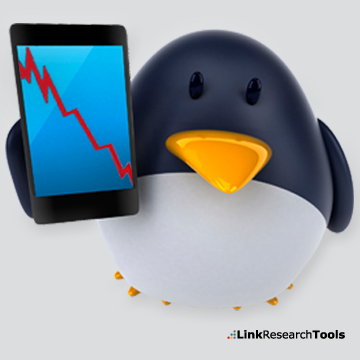 IphoneFixed hit hard by Penguin 2.0 and 2.1
You have to feel sorry for IphoneFixed.co.uk. Since May 2013, their search traffic has plummeted. Though the site and its backlinks look fake, they're a real business. Even the BBC and O2 recommend and use them. They could use some RCS.
But, looking generic is the least of their worries. Rick Lomas takes us through a deep dive of their site, and why this unfortunate site's traffic was gutted by Penguin 2.0 and 2.1.
We look forward to your feedback and always appreciate you sharing the work of our Certified LRT Professionals.
- Enjoy & Learn!
Christoph C. Cemper
Bonus: You can download a PDF version for Easy Offline Reading. Get it FOR A TWEET HERE
Table of Contents
IphoneFixed.co.uk
The Business
In November 2013, I created a Google+ Community to help people recover from Google Penalties. I also intended to get a lot of experience using the LRT tools, in particular Link Detox Genesis. The next month, the owner of IphoneFixed.co.uk contacted me. This is a real business based in Cardiff, Wales, UK, that repairs iPhones and iPads.
He told me that before May 2013 he had been enjoying plenty of traffic and was actually having to turn down some repair work because they were just too busy. But between May and October 2013, he saw significant drops in traffic. He was convinced that he had been hit by Penguin 2.0 and Penguin 2.1. He gave me access to his Google Analytics account, which has data all the way back to July 2010.
The Drops
Looking at the overall history of the site you can see that IphoneFixed.co.uk enjoyed some excellent traffic until May 2013.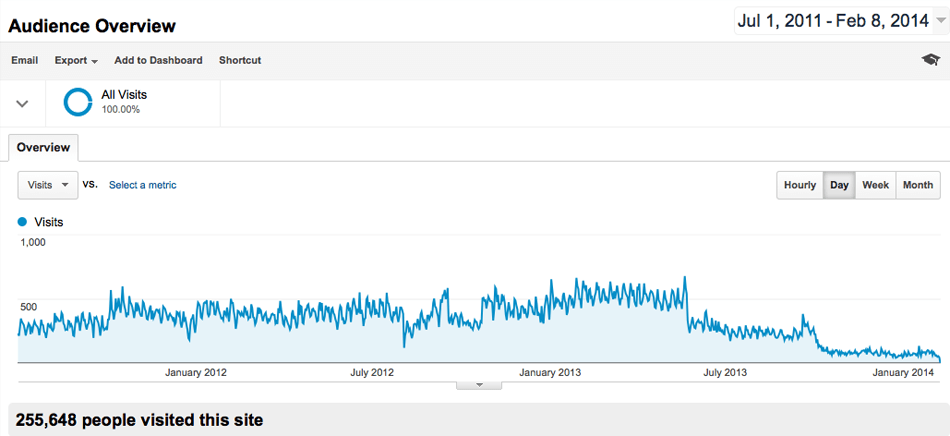 Let's look at the drops in more detail. The data is from Google Analytics so I'm going to select Unique Visitors and look at the time around Penguin 2.0.
This were the biggest drops around Penguin 2.0:
May 20th 2013 – 637 Unique Visitors
May 25th 2013 – 206 Unique Visitors
And, of course, the final nail in the coffin for Penguin 2.0 victims was Penguin 2.1…

September 19th – 364 Unique Visitors
October 19th – 59 Unique Visitors
This seems to be a classic "hit by Penguin 2.0 and then killed off by Penguin 2.1" scenario. However, the drops aren't quite as severe as some Penguin victims I have seen. In my experience, this is usually because the site is still ranking for a lot of longtail keyphrases as well as local keyphrases.
Main Keyphrase Losers
Before Penguin 2.0, this site had number 1 rankings in Google.co.uk for the two major keyphrases: 'iphone repair' and 'iphone repairs'.
During 2013, 'iphone repair' suffered badly:
I looked for this manually today (February 8th, 2014) in Google using Firefox with the Global SEO add on. I wasn't having much luck so I set Google's number of results per page to 100 and then eventually found it at position 901.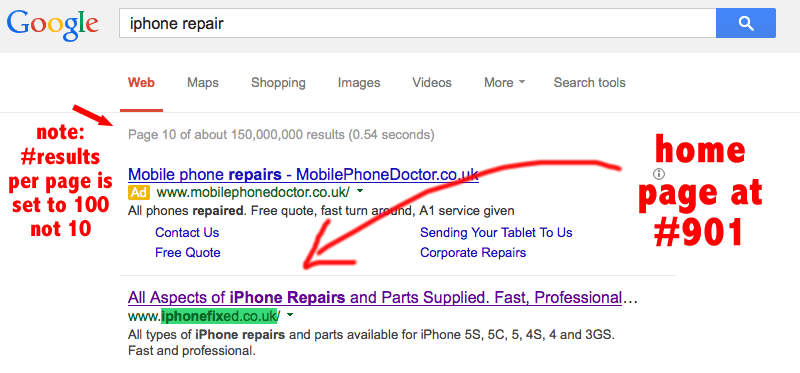 The phrase 'iphone repairs' is not quite so popular, but had a rough time in 2013 too.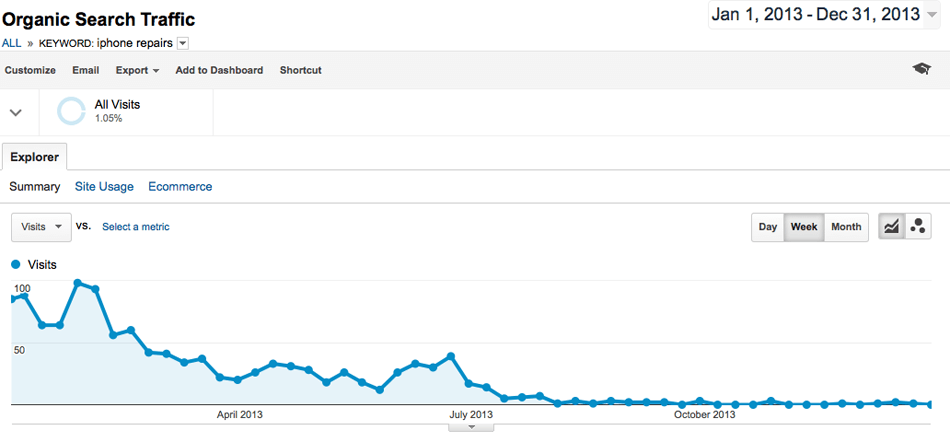 Looking at Google again, I found a subpage ranking at position 127. That's better, but it's still pretty much invisible to anyone searching for 'iphone repairs'.

So what SEO had been done to this site?
I talked to the owner of IphoneFixed.co.uk to find out what he had been doing to promote his site since 2011. Initially, he had paid for some SEO services to help get his site ranked, which worked fine. He merrily sailed by Penguin 1.0 in April 2012. But when Penguin 2.0 hit in May 2013, he realized what had happened and stopped using the SEO service. A typical link built by the SEO company looked like this: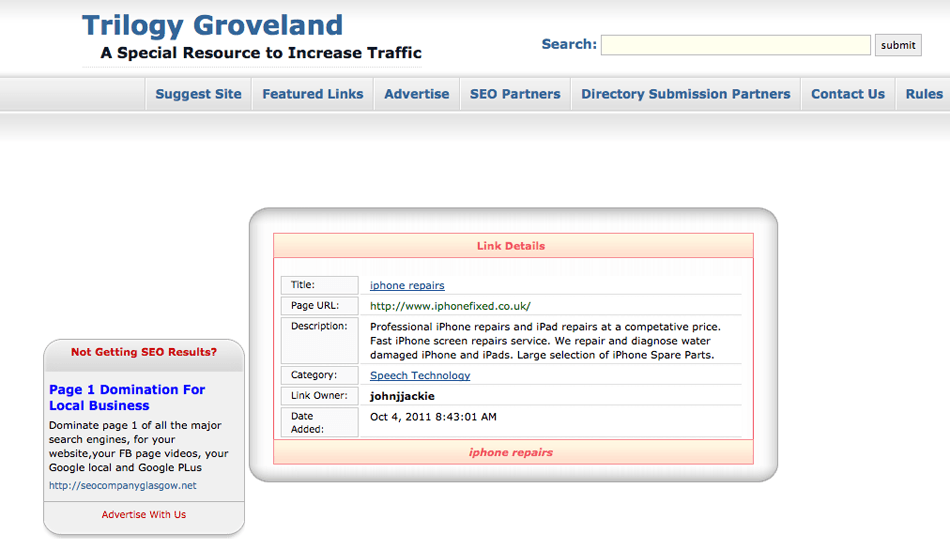 After the first drop, IphoneFixed.co.uk toned down their SEO work and decided to only work with SEO companies that were 'Penguin Friendly' – Really? A disavow file was produced which contained 1,235 disavowed pages and 722 disavowed domains. I believe this was uploaded on October 13th, 2013.
Just before I started working with IphoneFixed.co.uk, they had employed someone who advertised himself as 'White Hat SEO Service'. Here's an example of one of his 'white hat PR9 links':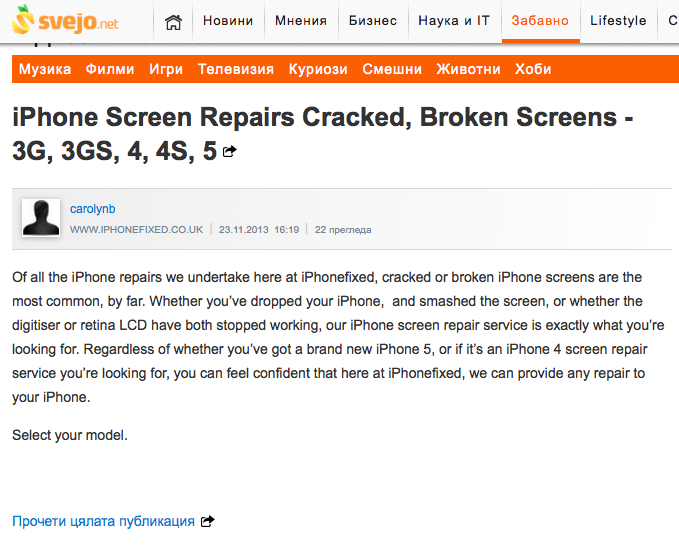 As you can see, this is clearly not a white hat PR9 link. It was actually a Deadly Risk TOX3 Toxic Link! There were hundreds of these.
Luckily, IphoneFixed.co.uk had been very good at keeping all the lists of links built and had a copy of the disavow file, too. I was able to use these for the next step.
Let's open up Link Research Tools
I will now show you some results from my first run of Link Detox on December 21st 2013. Now, I must stress at this point that I did not have a Superhero Plan, just the stand-alone Link Detox with 10 extra credits, so I could not use all the tools that I would do today.
Rather than beginning with the QBL tool, I went straight in with the Link Detox. I don't have a full set of screenshots here, because I did not think it would become an LRT Case Study. However, I did make 5 videos of myself going through the whole detox process if you have a spare hour or so: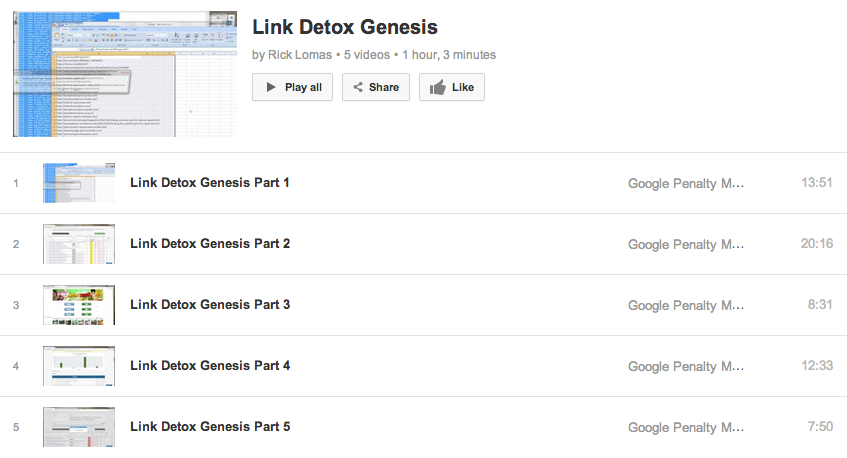 First of all, I combined all the lists I had been given into a very long csv file, which I uploaded into Link Detox. I also uploaded the latest links from Google Webmaster Tools and the current disavow file. Classification of the keyphrases was fairly easy as they were all things like 'iphone broken screen replacement', 'iphone color change', etc. After reprocessing, the results were quite horrific:

And this was after classifying all the keyphrases!
As you can see here, the money keyphrases have been very overdone: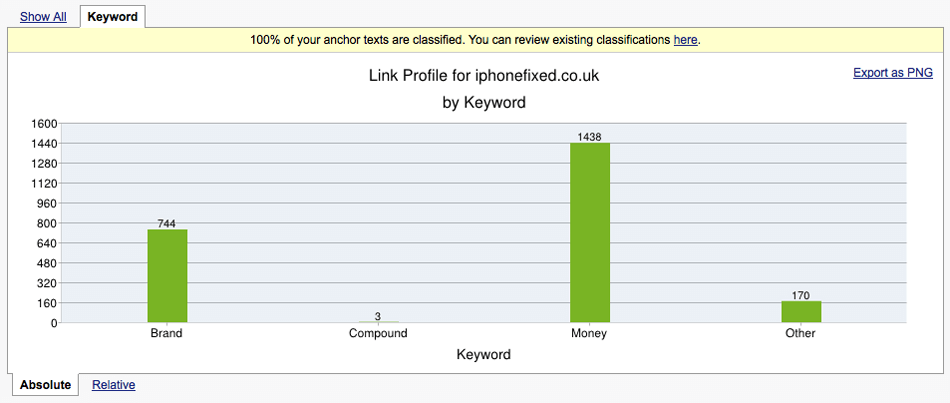 And the link breakdown doesn't look good either. This is taking into account the previous disavow file.

I decided to disavow all the links that were toxic and then worked my way through the suspicious ones. Most were fairly obvious spammy links, but some were not quite so obvious. My client had been quite busy on some forums, offering genuine advice to people with iPhone problems.
From Link Detox Genesis I created a disavow file, mostly disavowing by domain rather than page. This file was uploaded on December 21st, 2013.
Enter the Superhero!
In January 2014 I got my LTR Superhero account so I was able to look at this in more detail. We hadn't seen any improvement in rankings yet so it was time to go deeper.
QBL Quick Back Links Report
The QBL tool quickly found 13,907 links and, as I suspected, the anchor text is overdone: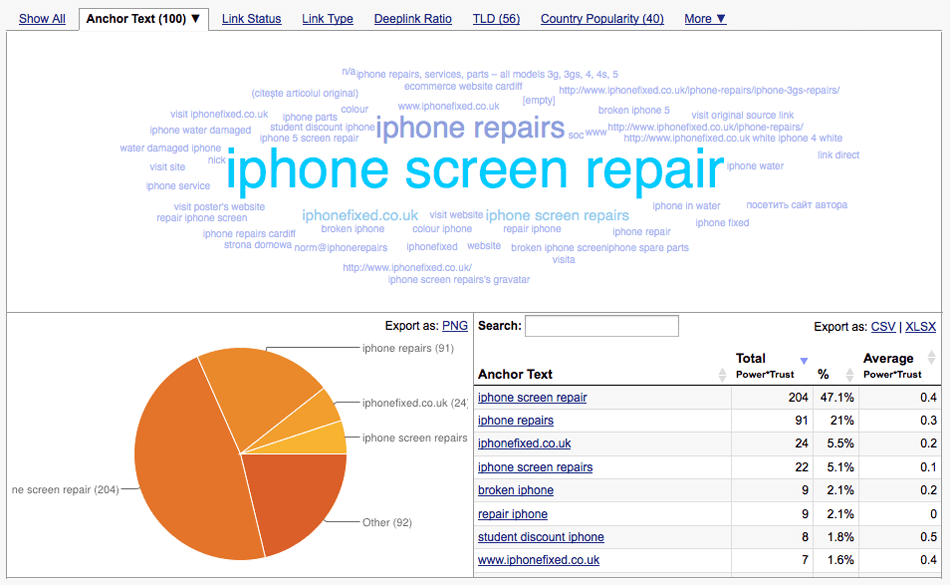 I checked a few of the links and couldn't actually find the link to IphoneFixed.co.uk, so let's get some real-time links using the BLP tool.
BLP Back Link Profile Tool
I decided to look a bit closer with the BLP tool at the 5X boost setting to find as many links as possible.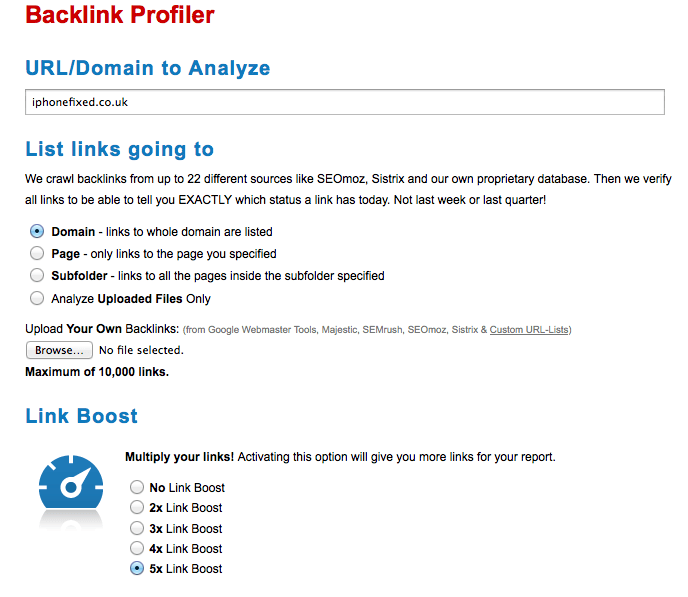 I used the competition finder function to find the main competitors in the iPhone repair industry. The business is UK-based so it made sense to only look at the results in Google.co.uk: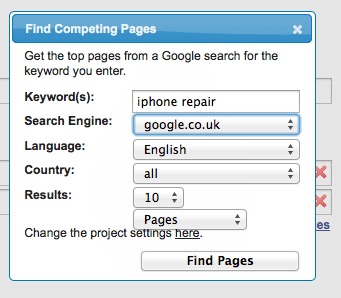 Of course, the main competitor it found was Apple.com, which I removed. This is not a realistic competitor.
I also selected a few extra metrics, just to give me a better overall picture: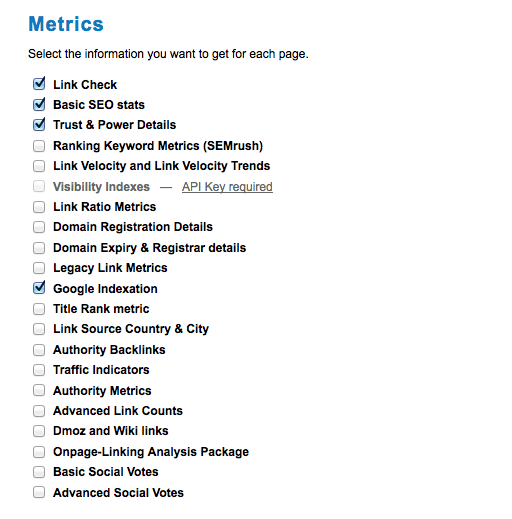 I probably selected more metrics than I needed for the BLP as the report immediately showed some very poor results. I could have probably got away with doing a quick report rather than a detailed one.
BLP Anchor Text
The BLP report shows completely overdone anchor text for the phrase, 'iphone repairs', at a whopping 45.1%. This is astonishingly over the top when you consider that the second most popular anchor text for the backlinks is the brand URL, www.iphonefixed.co.uk, at only 6.7%. This is looking highly unnatural.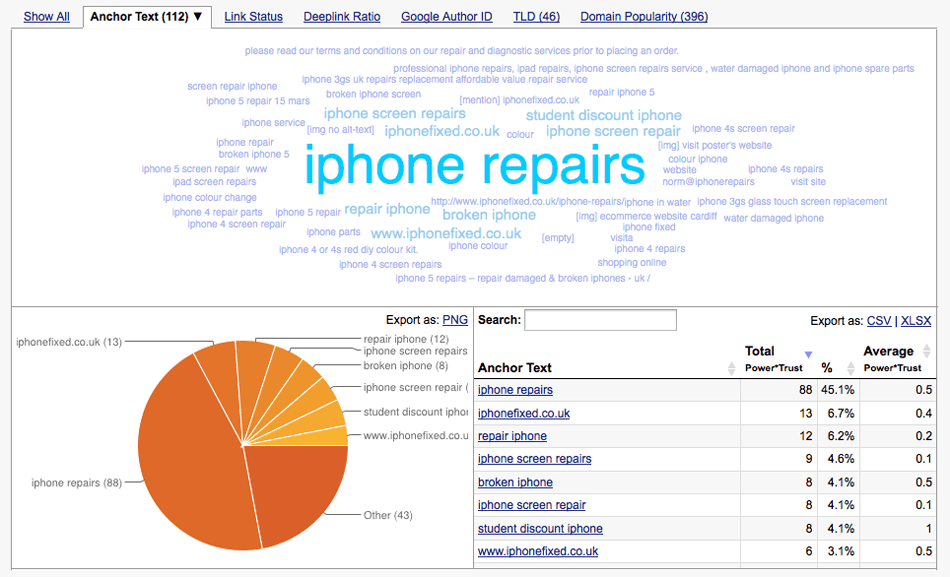 It might be possible that there really are lots of sites genuinely linking to the domain with the anchor text 'iphone repairs', but I think not. A good place to look is the themes tab of the BLP to see the type of sites linking to iphonerepairs.co.uk.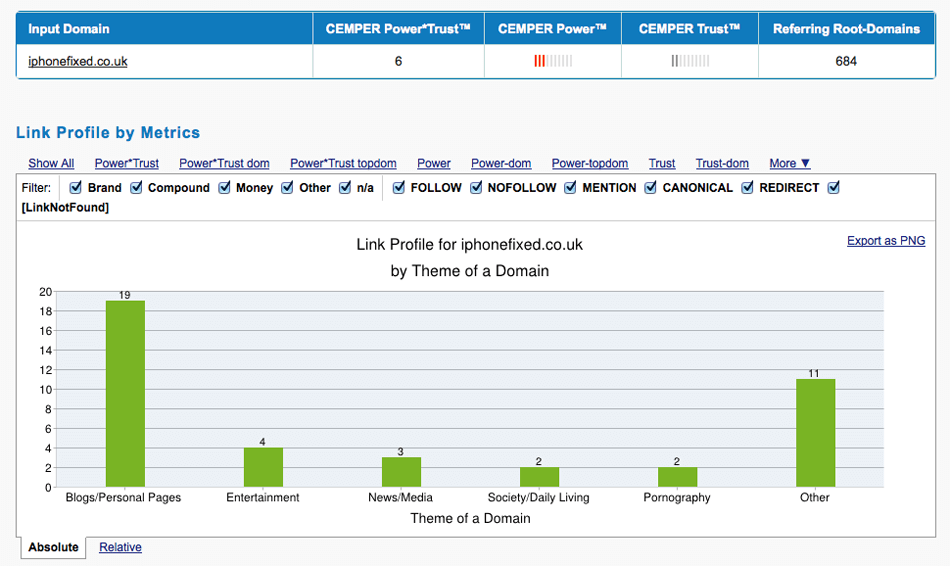 You can see here, personal pages and blogs are the most popular. Let's look at a typical link: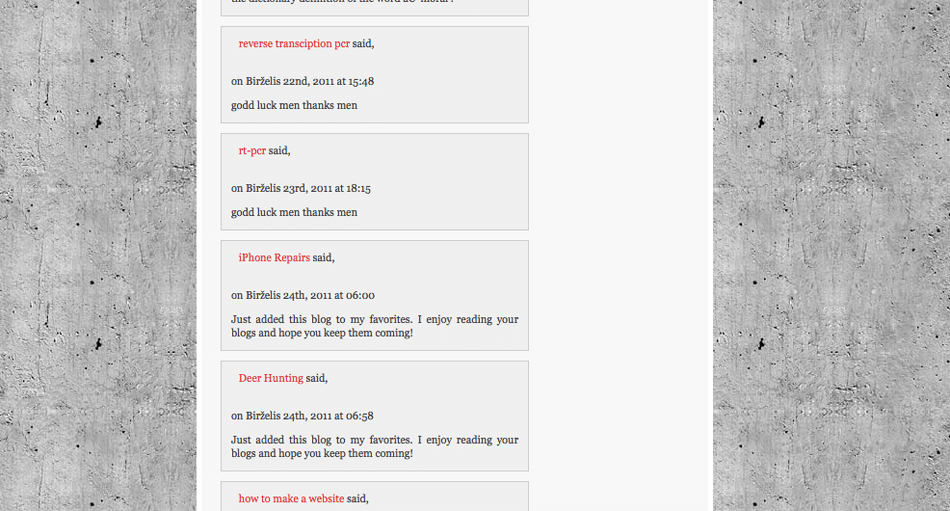 Okay, I think you get the picture. It's just low quality, automated comment spam, and there appears to be quite a lot of it.
However, all industries and niches are different, so let's look at the competition with the Competitive Landscape Analyzer.
CLA Competitive Landscape Analyzer
I love this tool, but once again I probably selected more metrics than I needed so it took a long time to run. The competition was found using Google.co.uk.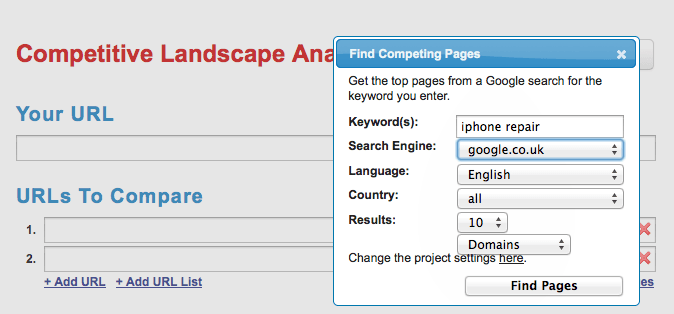 I settled on these domains for the competitors: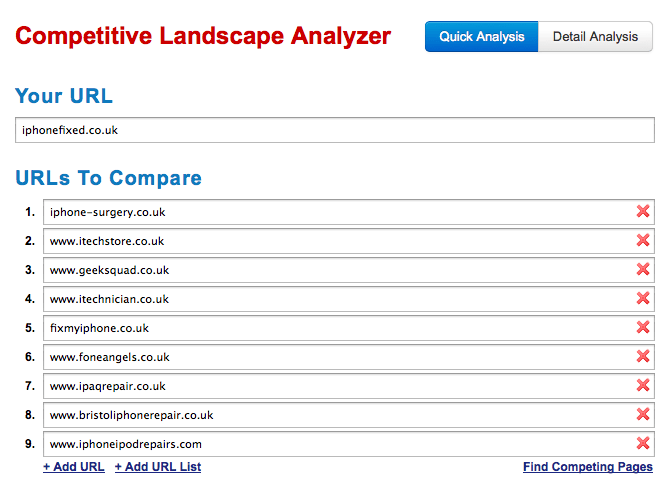 The report showed some interesting results. In almost every aspect of the CLA report, IphoneFixed.co.uk was standing out in some way. Let's look at a few:
Referring Root Domains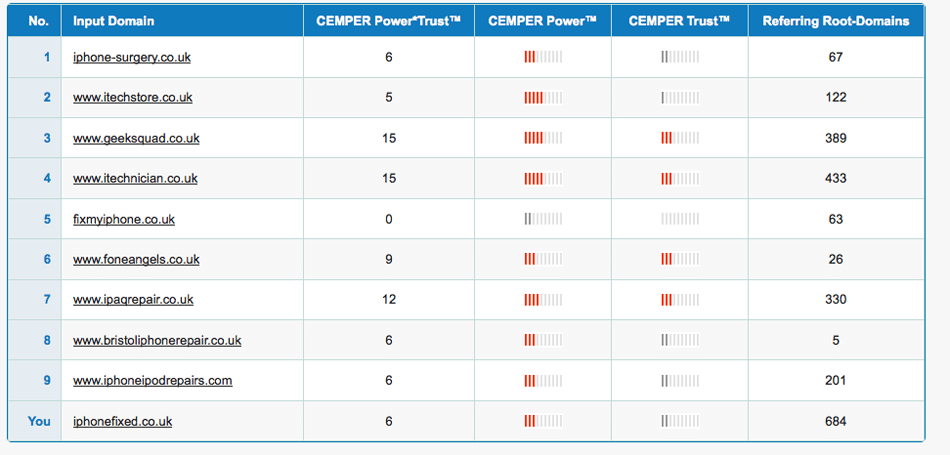 With 684 Referring Root Domains, IphoneFixed.co.uk is immediately looking suspicious. Itechnician.co.uk is coming out 2nd with 433 domains.
Keywords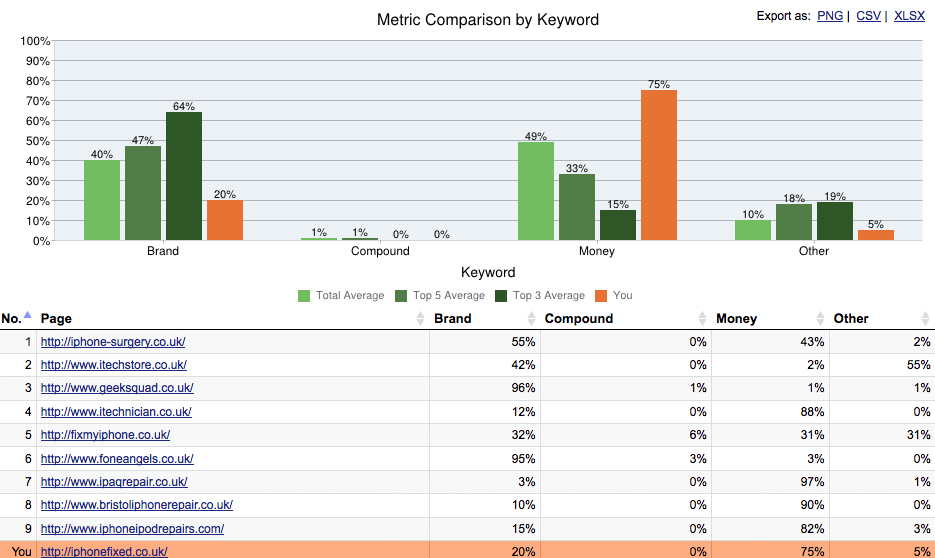 Here we can see that, once again, IphoneFixed.co.uk is standing out as having the least percentage of Brand keywords, the largest percentage of Money keywords and the smallest amount of other keywords. Not good.
Home Page / Deep Link Ratios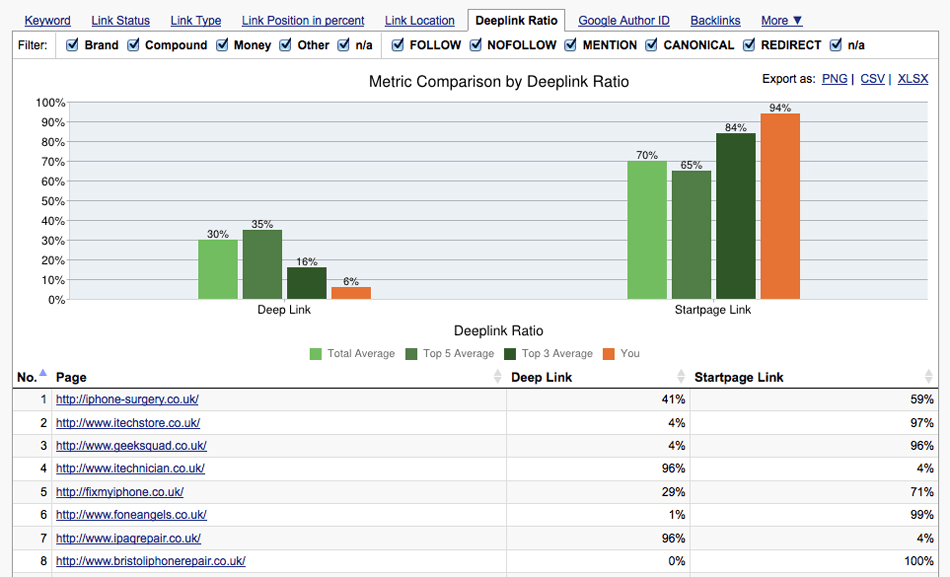 Yet again, you can see that IphoneFixed.co.uk has a higher percentage of links to the home page than the rest of them. Conversely, IphoneFixed.co.uk has the least percentage of deeplinks.
Okay, so now we have a pretty good idea that the site has way too many low quality links, so it is nearly Link Detox Time. But before we do that, let's just have a quick look at the Competitive Link Velocity for this niche.
CLV Competitive Link Velocity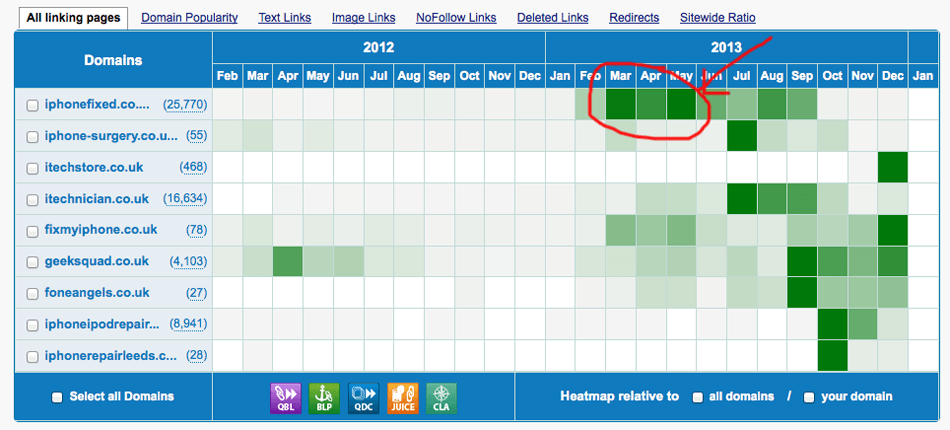 Well, there are no surprises here; most of the link acquisition was done in 2013 during the months of March, April and May, just in time for Penguin 2.0. There are some strange spikes from other competing websites too, such as itechstore.co.uk, fixmypihone.co.uk and iphone-surgery.co.uk.
This might be because, when IphoneFixed.co.uk disappeared from the top results in May, others saw this as an opportunity to get to the top with some frantic link building.
It would be interesting to run the CDTOX Competitive Detox Tool on these domains and work out what they are up to, but now it's time to run the Link Detox Genesis tool.
Link Detox
The owner of IPhoneFixed.co.uk has been good enough to supply me with some large lists of URLs that have been built by various SEO companies and the current disavow file that was submitted on October 13th, 2013. These were various text files, spread sheets, PDFs and Word Documents. The next step was to combine all these lists into one big CSV file ready to upload into Link Detox, along with the current disavow file. This is going to take some time because there is a lot of it!
[Time Passes]
After spending a day or so cutting and pasting thousands of URLs from various documents into a CSV file, I eventually came up with a CSV file with 7,761 URLs in it! I also asked IphoneFixed for the latest 'more sample links' and the 'latest sample links' from Google Webmaster Tools. I normally ask my clients for both just in case there are some differences. I also asked them for the current disavow file. In addition to this, I had an inbound links report from Moz.com from a month or so ago which I thought I may as well upload, too (although I have every confidence in Link Detox probably finding these anyway!).

Okay, files ready, off we go…this is actually a re-run of the DTOX I did before I had my Superhero account and before I had all the supplied backlink data.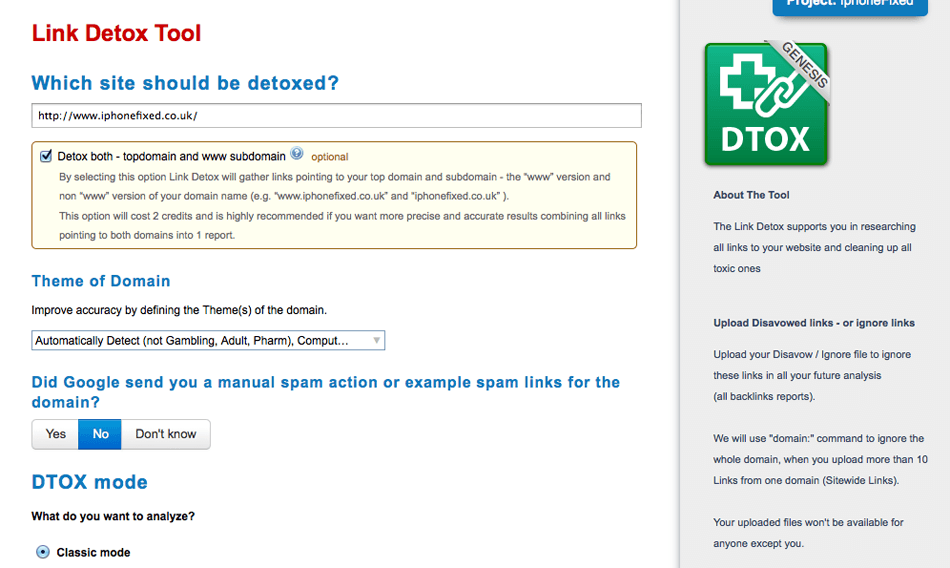 The settings I used were:
Detox topdomain and subdomain – I need all the data I can get
Theme of the domain – I checked 'Internet Telephony' and 'Computers/Internet'
This is an algorithmic penalty so no manual spam action selection
We are running this in Classic Mode
Now to upload the inbound link data and the old disavow file. The files from the previous run are in there, so there is now quite a spectacular array of files ready to detox.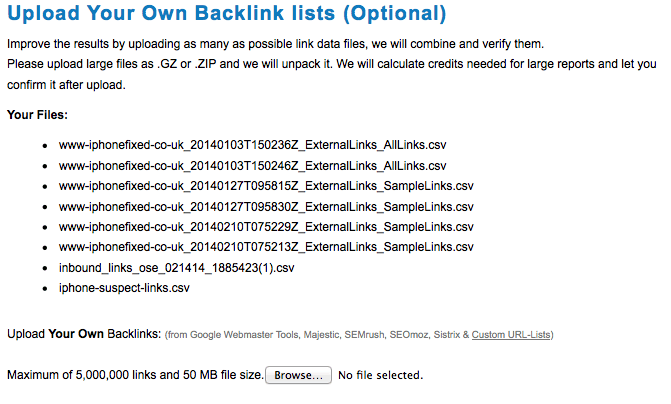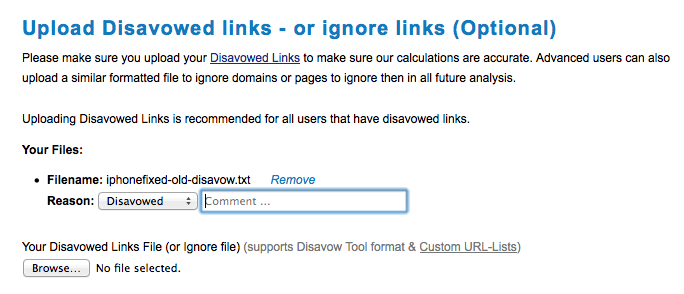 I like the new 'credit confirmation' message you get now: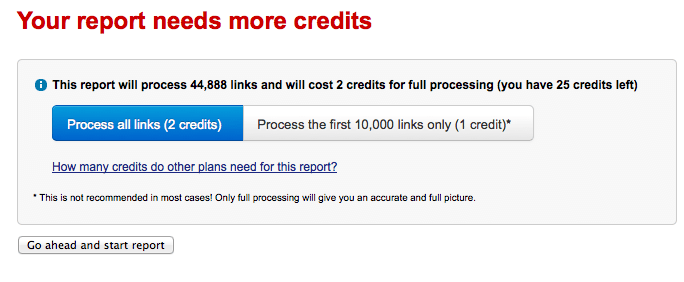 Yes indeed, 'Process all links'. There is a lot of data in Link Detox data now so this is probably going to take the best part of an hour to run. It's time for a cup of tea while we wait for the results.
Even looking at the preview you can see there are a lot of links processed already. Link Detox actually found 155,334 links, but filtered out 143,862 links due to excessive sitewide links. I was also quite pleased to see 6,924 deleted links as I think they might have come from the lists I uploaded, which looked pretty awful.

Link Detox Results
This is the part of the report that I always look at first: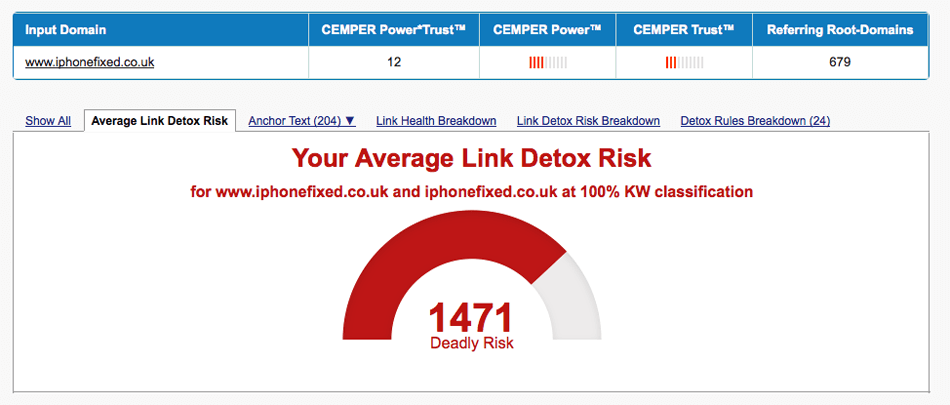 This looks pretty nasty. However, looking at the breakdown, it looks like the rather large previous disavow file has taken many of the links into account, but there is further work to do.

So what sorts of links are causing a problem?
Well, there are certainly a lot of links that are disavowed, but even so there are some that seemed to have slipped though the net from earlier attempts to detox the site. Here's a good example in the 'deadly risk' category: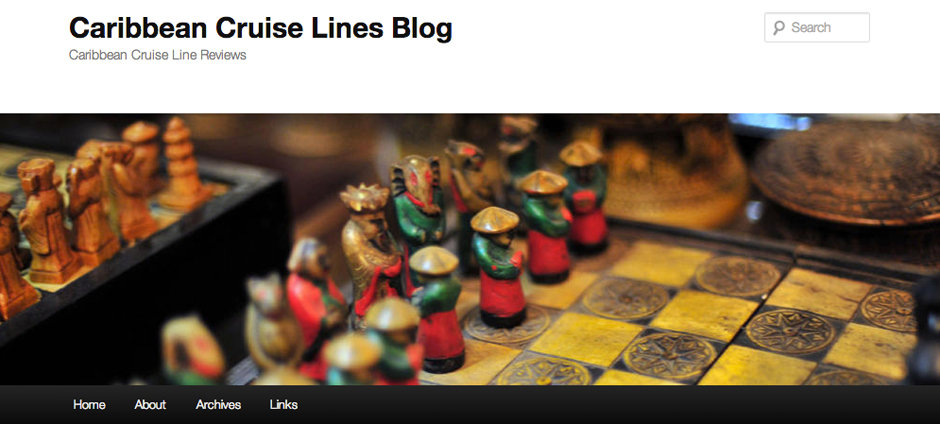 This is clearly nothing to do with iPhone repair, but way down amongst the plethora of comments is this one:

Clearly the pre-Penguin comment spam from 2011 has now come back to haunt IphoneFixed.co.uk.
Conclusion
IphoneFixed.co.uk has been heavily spammed over the years, and the inbound link profile is not pretty. The problem is that 3rd party SEO companies built many of these links, and link removal is going to be very difficult. Various attempts to try and disavow many bad links have not been successful so far, and the traffic has been paralysed since May 2013.
This is a good business and the owner has built his brand well and has a strong social network presence:
IphoneFixed on Twitter has 7,296 followers
IphoneFixed on Google+ has 1,050 followers
IphoneFixed on Facebook has a very impressive 13,898 fans
Bearing in mind all the work that has gone into creating the brand, it makes a lot of sense to try and recover this site once and for all.
When I first showed the site to Christoph Cemper he wasn't sure if it was an affiliate site or a real business. He made the following suggestion, "If it's a real company then you should add more 'real' stuff to it, store photos, founders, clerks, 'personal' stuff and then it will have a great chance to recover". As a result of this, the owner is busy adding videos, testimonials and more personal stuff. He is also hoping to get some video testimonials from 'real' customers, too.
In the next part of this case study, I intend to recover this site, getting rid of that Penguin Penalty that has plagued it for the past 9 months.
This case study was written by Rick Lomas, Owner of Indexicon, and proud user of Link Research Tools and Link Detox.
A word from Christoph C. Cemper
This analysis was conducted and post written by our new Certified LRT Professional, Rick Lomas.

Rick demonstrated his expertise in doing a SEO link audit on why IphoneFixed lost so much organic traffic. He did a great job investigating the possible causes and isolating the penalized tactics in his case study. Therefore, I'm very happy to certify Rick Lomas as the latest Certfied LRT Professional by approving and publishing his research on our site.

Our goal is to provide our user community and clients with quality service and knowledge. Our Certified LRT Professionals are key to achieving this goal.

I look forward to his future work, and personally recommend working with Rick Lomas whenever you get the opportunity!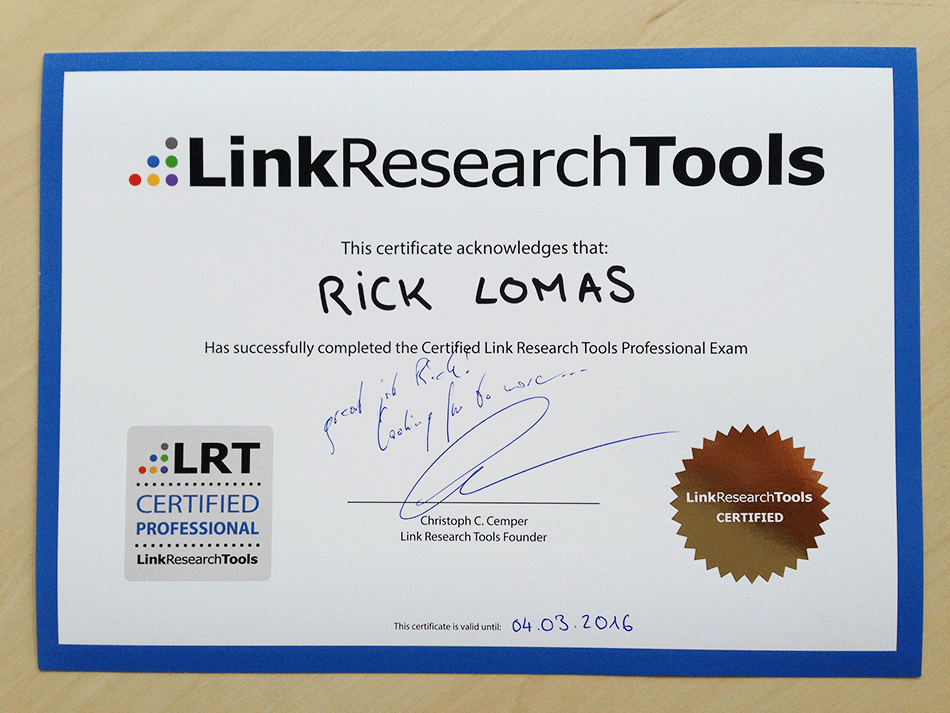 24 Comments