Get a Link Alert every time a new backlink is detected!
The Link Alerts Tool (LA) finds backlinks from up to 24 link sources and informs you automatically via email about the new links. Link Alerts gives you highly detailed and trusted data on a regular basis (NO old or cached statistics), and our backlink-crawler uses our well-proven SEO metrics. Therefore, you don't have to worry about dead links, anchor texts, or actuality of each link.
Link Alerts will send you weekly notifications as soon as new links have been detected so you can always be up to date with the new links that are pointing to your website *or your competitors websites
Link Alerts lets you evaluate the quality of new links at a quick glance so you can easily determine if you should keep the new link or disavow it by using the Google disavow tool. With Link Alerts, you can monitor not only your own pages, but also those of your competitors. So if your competitor places a link on a good page you will know about it and you can choose to get a backlink from the same page too.
Below is a short video introduction explaining how to use Link Alerts.
Video Introduction
A short introduction by Christoph C. Cemper – the creator of Link Alerts.
This is how easy it is to start a Link Alerts report
(1) Open the Link Alerts tool from inside your LinkResearchTools toolkit.

(2) Enter the domain name that you want to monitor the Link Alerts (your own website or your competitors website)

(3) Select the backlink source. To use Google Analytics Referrer, Statcounter Referrer, or Sistrix Backlinks. For Sistrix you will need an additional API key. Otherwise, we retrieve the information from our 24 different sources.

With LA, you can also use the following settings under "Advanced options": – Handling Dropped links – Sitewide link filtering – Alternative email addresses

Once you click on these individual advanced options it will enable you to edit the settings for each option.
Alternative recipient email addresses
In addition to the usual filter options, you can also enter an alternative email address if you want to send link alerts to a colleague, e.g. for further processing. You can also change the email address later in the "Link Alerts" area.

Sitewide filter
Link Alerts gives you the option to automatically employ a site-wide filter that only shows up to 5 links per domain to give you a simpler report. This is optional. So if you want to see all new backlinks coming from same domains you can leave the sitewide filter box un-ticked.

Dropped Links
This will give you the option to remove links that were once detected but have recently been removed.

Once you have selected the options you want simply click the "Start Link Alerts" button and wait until you receive your first email notification or check the report manually in a few days.

Link Alerts Results
As soon as the links have been detected by Link Alerts you will receive an email with the strongest new links that have been found (usually happens twice a week). Simply click on any of the links inside your email and you will be automatically redirected to the report.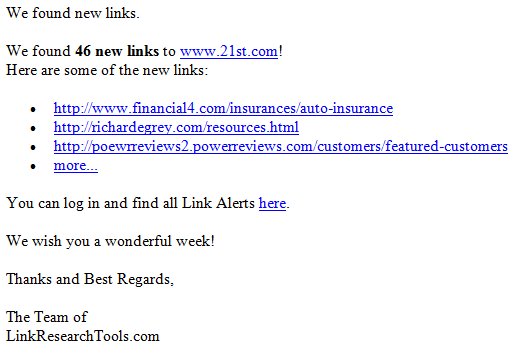 If you want to check the progress of the link alerts you can simply log in to your toolkit and select the Link Alerts menu option. This will give you an overview of your current link alert reports. Here you can also change the settings under "Options" and see how many URLs have been added and the time of the last update.

Unlike other SEO software we don't just provide you with the message that new links are found or with a list of urls. You'll get a highly detailed list of your backlinks including calculations of the juicyness of your link as well domain and location information.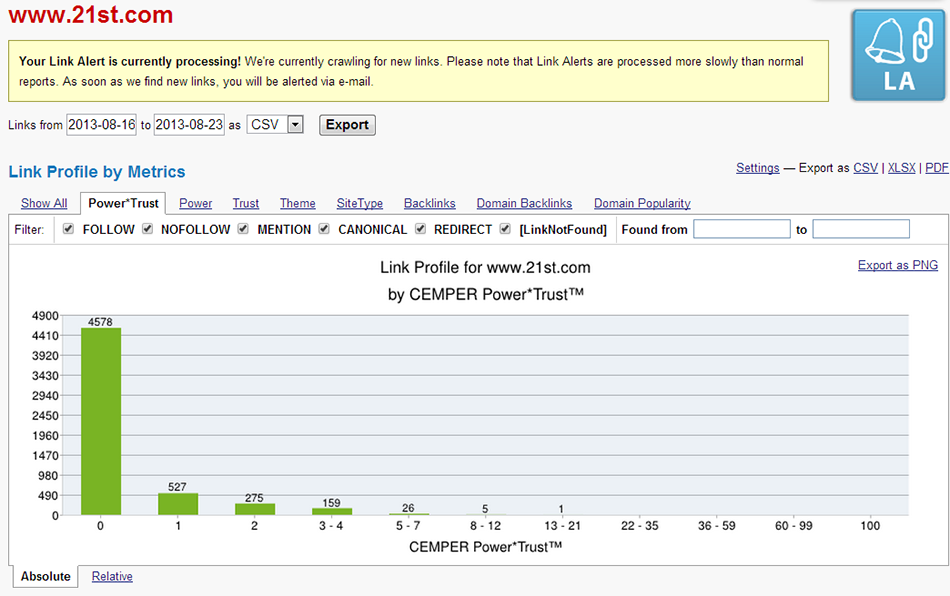 In the link alerts report, you can see which links you would like to export based on the date of discovery.

You can also click on the different tabs to see more data about the backlinks found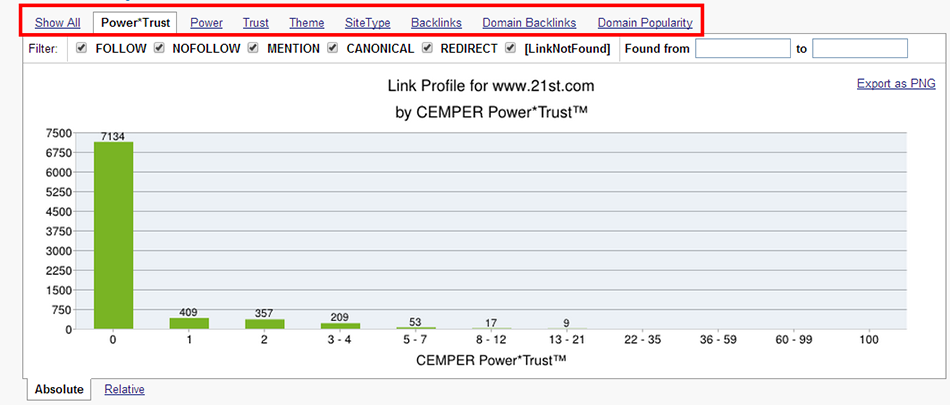 Under the charts you can see all of the links inside the details summary table and, thus, you can see how your new links are doing (e.g. do you have many new links from blogs?). What is the Power*Trust value of these backlinks? Are the links good or poor? Do you want to keep them? You have the possibility to evaluate found links in the report. For example, you can have a quick overview if you want to rebuild the link from the competitor or you want to remove your own link. You can also filter by evaluated results.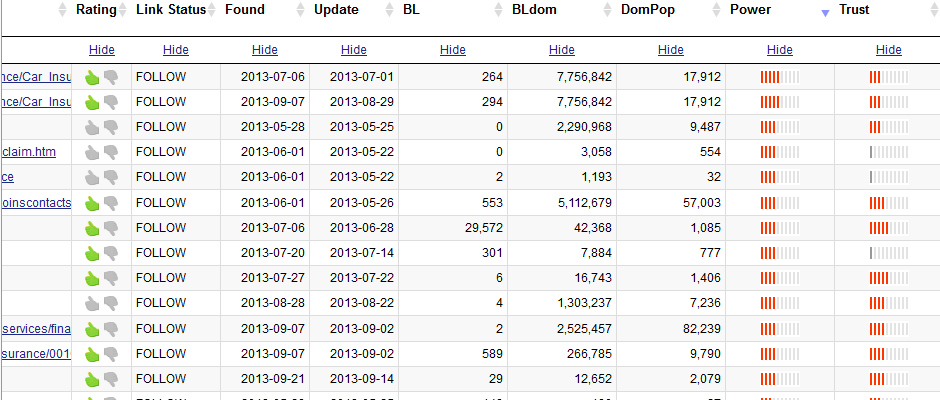 You can choose to export this data as CSV or XLS

The information about the time when the Link Alerts Report has found the link is indicated in the column "Found".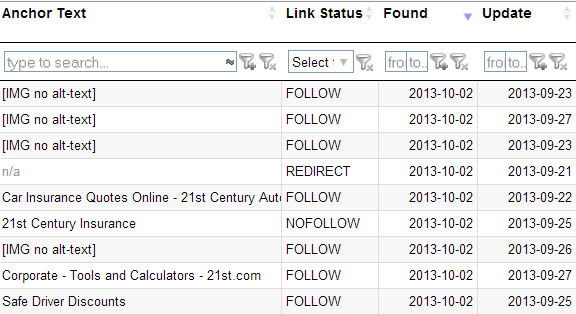 Filter Slices
Analyze certain aspect of your Link Alerts reports by using the pre defined slices to check all of your "bad links" in a separate report. This feature will save certain sections or pre-selected data areas of your reports in a separate (partial) report for you to analyze them individually.

Pause & Resume Link Alerts
Of course, the Link Alerts-Overview features our well-known project selection and shows you when your Link Alerts were last updated. It also allows you to pause / resume them at any time.

Start monitoring the new backlinks pointing to you site and the backlinks of your competitor's websites today.