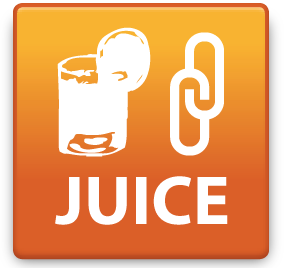 Use the JUICE tool to analyze your own links …. and your competitors' links.
Our JUICE tool is used to measure the juiciness of a page. The main idea is to find out if a page is worth getting a backlink from without looking at typical things most SEO's look at, such as page rank, cache date, yahoo backlinks etc. (you can find an overview of our SEO metrics in the Help section.) You can also use our Competing Pages-Tool to find the most important pages for a certain keyword.
The JUICE Tool is our simplest yet most-used tool, because it gives you a quick overview over a lot of data. This is a very useful tool that will help you check the health of your own links and even your competitors links so using this tool will soon be part of your daily SEO routine.
Here are some of the reasons you will want to use our JUICE tool
Check domain lists
Determination of the value of an expired domain
Evaluation of the values of sites
Comparision with the competition
Link Directories
Repair sub-pages
---
Here is what you can do with the JUICE Tool
Analyze a bulk list of URLs
Analyzing a bulk list of URLs is really easy all you need to do is copy and paste as many urls as you like into the  "URLs to analyze" box to run the
JUICE tool on a list of sites and you can choose to analyze up to 2000 URLs.

JUICE Supports up to 93 Metrics

With JUICE you also have the option of running a more detailed analysis and can select options that will give you more data on what you would like to see for each page you have listed. All you need to do is click on the Detailed analysis and you will be able to pick and choose the extra options you want to see data from.



Find relevant sites to your niche market
Finding relevant sites in your niche market is super easy with the JUICE tool, all you need to do is click on the "Find Competing Pages" link, enter your keyword and then choose how many competitors you would like displayed up to 100.

Add more links by activating the URL Boost option

Report Title

Keep track of all your JUICE reports by giving them a unique title

Get weekly or monthly JUICE reports generated automatically with our repeat reports feature, so all you have to do is sit back and relax while we generate your reports on autopilot.

Charts and Data Grids

The JUICE report offers you all charts and tables as other reports showing you all the information you need at one quick glance! showing you the REAL value of your links.



Analyze certain aspects of your reports by using our filter slices feature. This feature allows you to save certain sections or pre-selected data areas of your reports in a separate (partial) report for you to analyze them individually. Take advantage of a more detailed analysis of your selected data and create as many slices as you want.

All of the most important information for each link is displayed in an easy to ready details summary table.