Get a list of Backlinks to one domain or specific website of your choice, evaluate those links and find out what the Anchortext of each link is.
Overview
The Backlink Profiler (BLP) finds back links from different data sources and tells you all kinds of information about them. We double-check all those links to see if they still exist. The information we give you ranges from the link status (follow, nofollow, offline, etc.) to different page and domain SEO metrics, like our own CEMPER Juice™ indicator to the number of backlinks from .edu-domains, domain registration info or SEO metrics from partners like SEMRush, SEOmoz and Majestic.
Besides crawling this data, we also help you analyzing it. For that we created our Link Profiles and several pre-defined queries to our data table. We also believe in openness and know that you probably know ways how to analyze the report data we didn't think about, which is why you can always download every report as a CSV file, even after your subscription has expired!
A Visual Guide to the BLP
Come and see what the BLP can do for you
We took an airline booking website as an example and show you some of the results in the following.
As well as the other reports, the BLP provides you with a bar chart to analyze the results. But each report has to be viewed in its very own perspective. Taking the charts for the BLP, you can e.g. assess the results respectively the back links according to their types, e.g. a back link from a web directory has a completely different worth than a back link from a news site.
Go into more detail and check the back links for important characteristics such as what anchor texts are used. As usual, you can save every single part of the detail as a CSV file.
As usual, the details table is where the rest of all your wishes will be fullfilled. Either use it to look at all the data at once or sort and filter to find each single part of information you are looking for.
Redirect Trace and Link Juice Inheritance
Find out if your links or your redirects pass your link juice. This functionality allows you to track your link redirects through several levels and also provides information the structure of the redirect chain. So you can easily check whether your redirects are SEO-technically good and inherit link juice. If the trace contains a 302 redirect or meta refresh, then this is not the case. You can quickly spot that and change your redirects to gain more link juice. We found a couple problems on our own sites with it too
Need more info? Check out our Redirect trace launch post.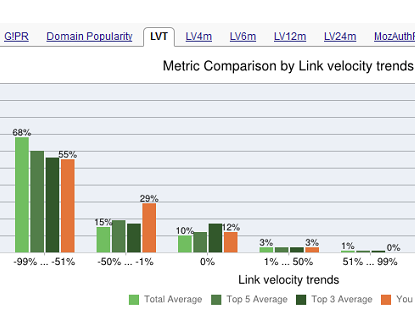 Identify spammy sites with our Link Velocity Trends metric
The Link Velocity Trend (LVT) explains the development of link velocity over time. Or in other words, it tells you if the growth of links went up or down. If you had ~10 new links every month and suddenly surge up to 200 links per month you sure are in favor on the web. Vice versa if a domain raked in 100s of links every month for years and now suddenly only gets a few links every month something's rotten.
Need more info? Read the full news post about Link Velocity Trends.