0 Comments
Our new release code named "Quick Everywhere" is full of major performance enhancements. No more waiting for minutes – even complex reports like the Competitive Landscape Analyzer (CLA) can be done in a couple seconds now!
Quick Competitive Landscape Analyzer


Would you like to get a quick Brand vs. Money keyword distribution for your competition?
It works fast now. And the brand new Quick-Mode extension for our Competitive Landscape Analyzer tool helps you decide even quicker if you want to do a full detail analysis.
This new mode offers a comprehensive package of pre-defined SEO metrics to analyze your competitor websites in a matter of seconds. Not everything is available, but it should suffice for a quick analysis. The quick analysis allows you to gather all relevant information about the market situation in your niche – in a few seconds.
The metrics package of the quick mode provides you with the popular CEMPER Power ™ metric amongst many other important ones and of course Anchortext for Brand bs. Money Keyword analysis. This feel like the marriage of the Competitive Landscape Analyzer and the Quick Backlink Tool (QBL).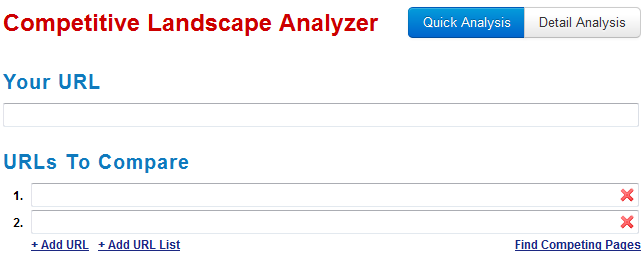 Choose between Quick and Detail Analysis
Switching between the Detail- and the Quick-Mode can be done at start time by using the navigation buttons in the right upper corner of the report form. A quick analysis comes with the following metrics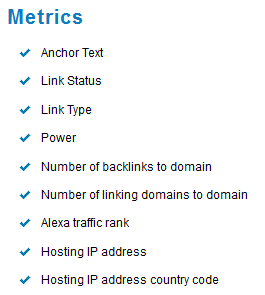 Metrics Package of the Quick-Mode


What's the boundary between a Quick and a Detail Analysis?
By selecting the "Quick Analysis" option we work like all other SEO tools, in an ad-hoc query mode without validating links – i.e. not checking for existance. This lack of accuracy is traded for speed. We still strongly recommend doing a "Detail Analysis" before making important decisions in your SEO and link building.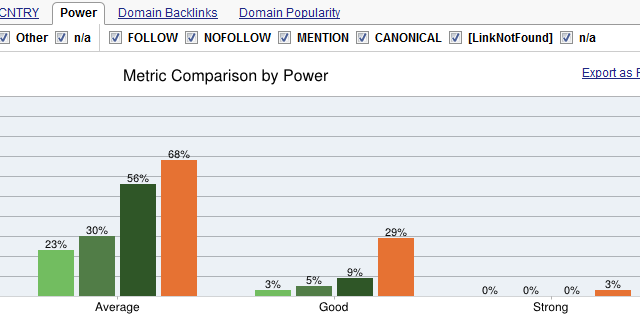 Compare your top competitors by CEMPER Power™

CEMPER Power™ metric shows the strongest backlinks
The Quick Competitive Landscape Analyzer is now available in all Expert, Superhero und Enterprise accounts.
Quick CEMPER JUICE™ Tool


Would you like to check a comprehensive list of domains to their SEO metrics?
(Up to 10,000 links per report with Link Boost)
The popular CEMPER JUICE™ Tool also gets a quick mode to quickly provide you with the desired results.
The Quick CEMPER JUICE™ Tool comes with the following metrics:
Power
Alexa traffic rank
Number of backlinks to page
Number of backlinks to domain
Number of linking domains to page
Number of linking domains to domain
Number of linking domains to topdomain
Number of referring IPs to page
Number of referring IPs to domain
Number of referring ClassC to page
Number of referring ClassC to domain
Hosting IP address
Hosting IP address country code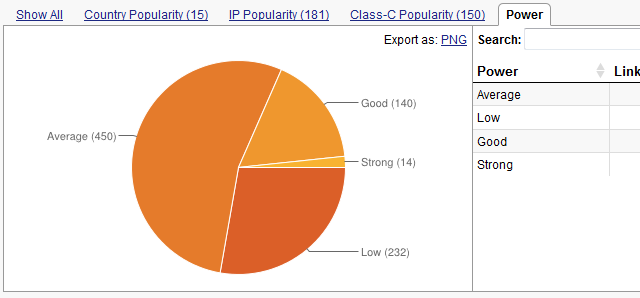 CEMPER Power™ delivers the strongest domains

CEMPER Power™ metric at CEMPER JUICE™ Tool
The Quick CEMPER JUICE™ is now available to all Quick, Expert, Superhero und Enterprise accounts.
New Metric Package "Link Ratios"
The comprehensive set of SEO metrics was extended again by 5 unique metrics for sitewide link ratio and deep link ratio which are now available for all accounts at the "Link Ratios" package.
The SWR metrics help you understand how many sitewide links a domain, page or root domain (topdomain) has. The Deep-Link ratio metrics have been a feature in the Competitive Landscape Analyzer for some months and are now available everywhere you could see SEO metrics. Both allow you to even better understand the backlink profile of every single linking domain you look at.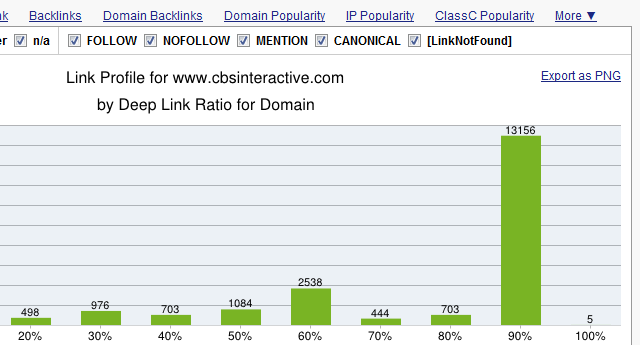 Understand the backlink profile by evaluating the Link Ratios metrics
SWR-page – The side wide ratio is the ratio between page links (BL) and the number of linking domains to the page (DomPop-page)
SWR – The domain side wide ratio is the ratio between domainwide links (BLdom) and the number of linking domains to the domain (DomPop)
SWR-topdom – The top-domain side wide ratio is the ratio between top-domainwide links and the number of linking domains to the top-domain (DomPop-topdomain)
DLR – The deep link ratio of the domain
DLR-topdom – The deep link ratio of the top domain
Link Profiles with quick filter for Brand vs. Money Keywords
All Link Profiles, be it in Backlink Profiler or Competitive Landscape Analyzer allow you to dynamically filter every metric by keyword type Brand keyword, Money keyword, Compound keyword or "Other" keywords as you know them from link anchor text distributions.
This allows you to answer questions like
How many, how strong links with Money Keywords are there – compared to Brand Keywords?
What's the distribution of link theme "Financial" between Brand and Money Keywords?
How do NOFOLLOW Money Keywords links distribute across theme of linking domains?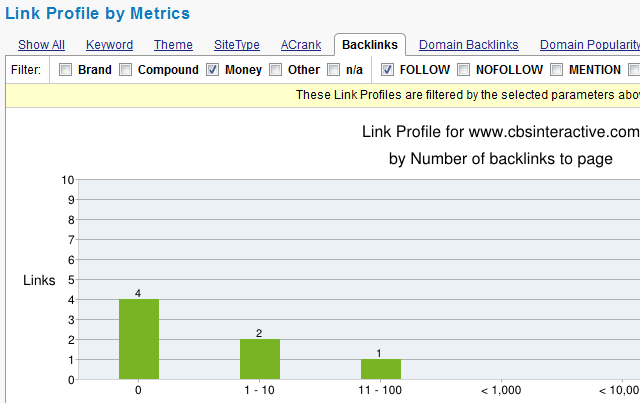 Dynamically filter every metric by keyword type in your Link Profiles
Link Boost for Uploads

To provide our users with a higher number of links to be analyzed at the Backlink Profiler (BLP), we've just implemented the Link Boost for uploaded files. This new feature allows you to ADD up to 100,000 custom links (x5 Link Boost) from your favorite tool (e.g. Webmastertools) to run a deeper research on your desired domain.
Extended Bookmarklets
To improve your daily work with the LinkResearchTools we have extended our bookmarklets to support your domain/page analysis right off your browser. These fancy bookmarklets provide you with an even quicker access to your favorite Link Research Tool and allow you direct analysis from every page you are on. By simply dragging these links to your browser bar you can access the LinkResearchTools all the time.
In addition we've also added the Common Backlink Tool shortcut to the LJT and the Link Juice Thief shortcut to the CBLT to further improve your link network reverse-engineering to evaluate link selling sites as a piece of cake.

Start Link Juice Thief right off your CBLT report
Tuned Report (Over-)view

Over 7 million linking root domains (Domain Popularity), 97k links from 89k pages on 43k domains listed
We've just redesigned our reports a bit to provide you with more information about your links. The number of links, domains and pages are now shown directly in your report header. In addition we've changed our report overview to view your most important report settings in a breeze.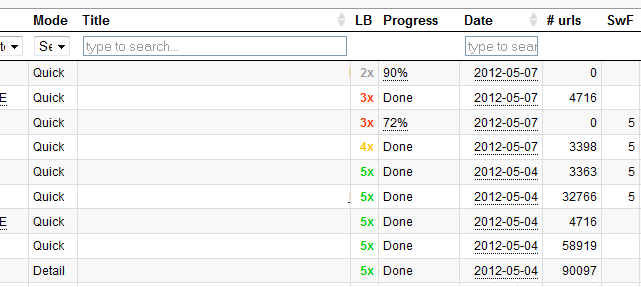 Redesigned Report Overview shows your most important report settings as well as the number of URLs
Performance Improvements
To give you even more speed, we have upgraded our existing infrastructure and optimized our system in many details to provide you an even better experience when using the LinkResearchTools. This comprehensive performance upgrade affects the speed of all reports and is immediately available.
Changes in Report Retention for Quick Reports
Starting May 2012 we changed the report retention for Quick reports. Quick reports will only be kept 7 days in the system after which they get purged. You can easily repeat them when needed.
API Mailing List
We now have an API User mailing list, that you can sign up in your account settings if you have an API-capable account (Superhero/Enterprise).
This low-frequency mailing list API users will get more advance notices of changes and more.
We now also publish our API documentation public.