Just enter competing Websites and a keyword to receive an instant high-detail competition analysis!
Overview
The Competitive Landscape Analyzer gives facts about internet-marketing situations. Our crawlers fetch relevant data and deliver comparison charts (based on your given SEO metrics). That way you know exactly where your site stands against your comparison at a glance! You can even compare your site to many top-ten pages to estimate exactly what top-ranking sites do backlink-wise that you don't.
Complete Internet-Marketing Analysis just a few clicks away
See for yourself just how easy and poweful CLA is!
You start your report by setting your URLs and the URL(s) you want to compare your Website to. CLA lets you compare certain values of a page by certain criterias (you can set them in your SEO metrics before you start).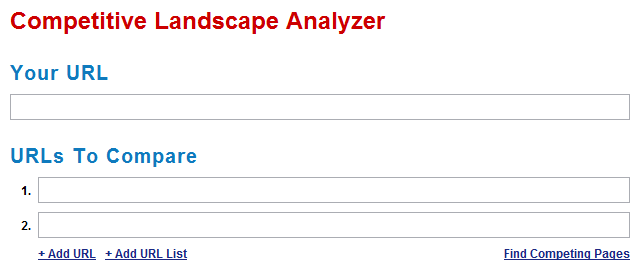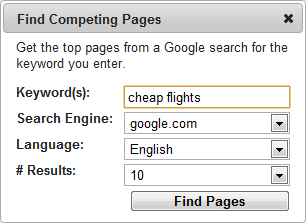 Click on "Find Competing Pages" under the "URLs To Compare" – section to auto-fill these fields with the top-ranking competition for your desired keyword.
Simply enter:
Keyword
Search Engine
Language
And your top competitors are registered!
In the Link Profile-Charts, competitive URLs are grouped so it's easy to notice how your site differs from the e.g. top-ten ranking pages for your given keyword. The competition is held in green while your site is represented by the orange bar.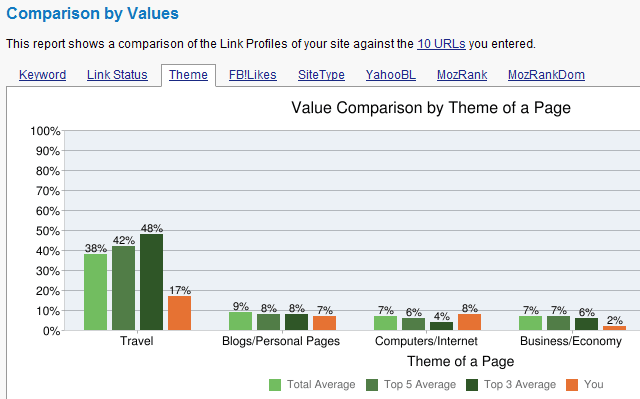 In this example, top 3 average is the highest in travel, followed by top 5 and total average sites. This means the smaller the percentage of "Travel"-themed backlinks sites the worse the rating.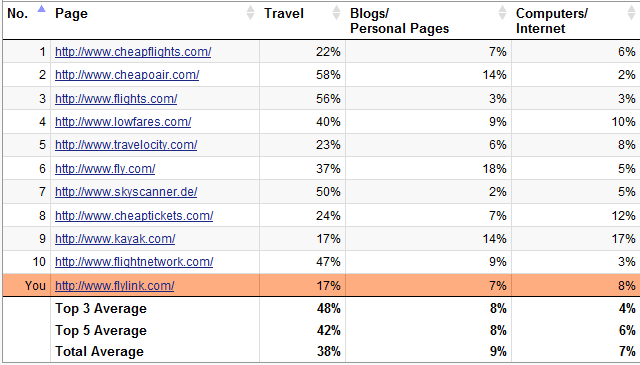 Keyword Classification
With the integrated Keyword Classification tool, it's easy to mark found anchor-texts as brand, money or other keyword.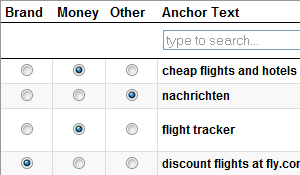 Once you click on the corresponding radio button the value is automatically saved. There's no need to click an extra save-button. Even though you'll get most accurate data if you classify every keyword, in most cases it's enough just to classify half of them.
We've also prepared a quick introduction to help you understand what Brand, Money and Other keywords are.
Superheroes only: Details Table and advanced File-Export
Reports created by Superheroes contain a Details Table that suits high-performance needs. With that table, Superheroes can customize displayed link-data.