15 Comments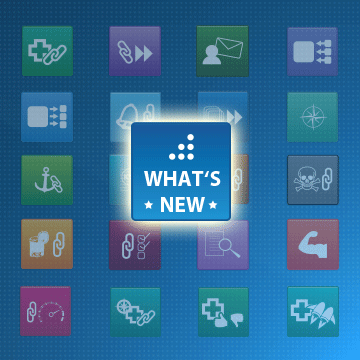 Integration & Workflow Improvements Release
With our new release, you get a lot of helpful improvements. Save time with more data integrations, workflow improvements, and detailed analysis results.
Link Detox® is now a lot more convenient to use, and we continue to improve many other parts of LinkResearchTools for you.
We dedicate this release to our thousands of loyal customers. We are committed to saving your time and improving your everyday success with LinkResearchTools!
Table of Contents
Link Detox Boost Confirmed for Algorithmic Penalties
When launching Link Detox Boost, we confirmed it works for Manual Penalties. Now we can confirm it also helps sites trying to recover from a Penguin penalty. First disavow your unwanted links, and then use Link Detox Boost to force Google to re-crawl those bad links.
The client disavowed ~40% of his links on a Friday, reduced the Domain-wide Link Detox Risk (Domain DTOXRISK™) to 207, and started Link Detox Boost on Monday. The next day, the boosted site moved up 20 spots.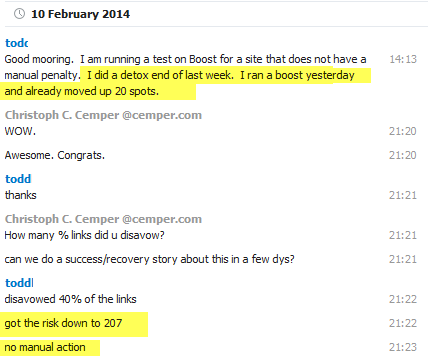 Link Detox Boost Improvements
Link Detox Boost helps you recover faster from Google manual penalties and algorithmic Penguin issues. We have just heard a great success story from a client using Boost to improve a site that had a Penguin penalty.
We've worked hard to improve the power of Link Detox Boost in the last weeks. We also fixed some funky bugs we encountered.
You will enjoy Link Detox Boost even more.
Please keep in mind: the disavowing and removal of the right links is critical to your success. Only the most recent Link Detox Genesis® algorithm helps you do that. If you haven't run Link Detox for a while, we recommend recurring reports for up-to-date analysis. Only ongoing automated link audits incorporate the most recent signals of our self-learning algorithm.
Full Automated Integration with Google Webmaster Tools (GWT)
You can now easily increase the number of links analyzed at no extra cost!
Connect your Google Webmaster Tools (GWT) account to us and enjoy extra link data without extra cost or work.
You can now enjoy fresh links reported from Google in a variety of tools. This includes Link Detox and Link Alerts; both help you mitigate risks from Negative SEO and SEO malpractice!
For years, you were able to enrich your link data by providing us with your own API keys of commercial providers. Now you can let Google report new links to you using our Link Alerts. Furthermore, and also maximize your Link Detox depth analysis without uploading – that is even cooler!
Now we automatically grab those extra links without you having to download and upload your GWT file.
FYI: Google Webmaster Tools does not show all links, and especially not all links you need for a fast Google Penalty Recovery. But it helps, as they are just another data source to contribute links to the mix that we combine, filter, and clean up for you.
Preparation – Find your Google Webmaster Tools control panel in your LRT account
Log in
Go to your "Settings" page
Scroll to section "External API keys" – click on "Google Webmaster Tools"

Step 1 – Authorize your Google Webmaster Tools account for LRT
To authorize your Google Webmaster Tools account, you will need to give us permission to access your backlinks data.
Click the "Connect to Google Webmaster Tools" button
You are taken to the Google Login, unless you are already signed into your Google account
Log in with the Google account that has FULL privileges to your site.
Restricted users do not work here.
You are taken to a screen like the one shown below. Click the Accept button to continue.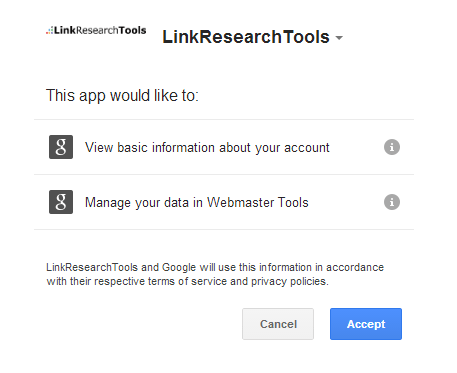 Step 2 – Connect your site with LinkResearchTools with a restricted user
The next step is to connect your website with your LinkResearchTools account.
You can use the connect with LinkResearchTools button next to each site and:
Click Manage Site
Click Add or remove users
Add User Email

wmt.lrt@gmail.com

Select Restricted permission
Click Add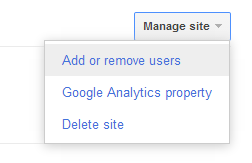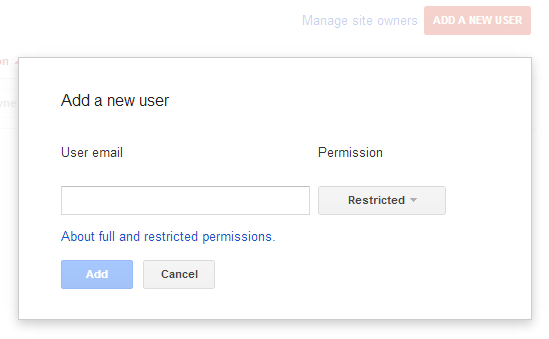 Enjoy extra link data from Google in your reports
Once you have Google Webmaster Tools connected in your account, we will use link data from Google in these tools (in detail mode).
When you click on the domain breakdown, you also get feedback on which sites enjoyed the extra link data.
Uploading extra link data from SEMrush
SEMrush began providing link data in December 2013, and since then we also support the upload of their link data files.
You can upload the new SEMrush backlink data file into Link Detox and all other tools that have the custom upload function. This gives you another opportunity to add more custom data to your analysis.
As a reminder: Please make sure you always upload all available link data source files to LRT to maximize the value of your analysis. We will de-dupe and clean up whatever is inaccurate in those uploads for you.
We support both formats they have, the CSV and CSV semicolon.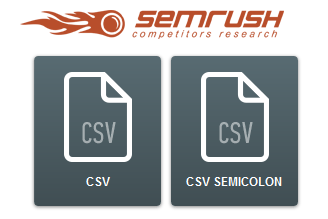 Override Website Theme detection
You have been asking for it for years – now we can do it. If you disagree with a site's theme, you can now make your own suggestion in QDC.
By changing the detected theme, you can tweak your own reports, and of course influence an overall rating in our algorithms.
Like our excellent Link Detox Genesis technology, we try to learn and adapt from a significant amount of user votes.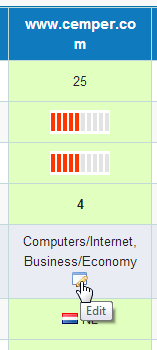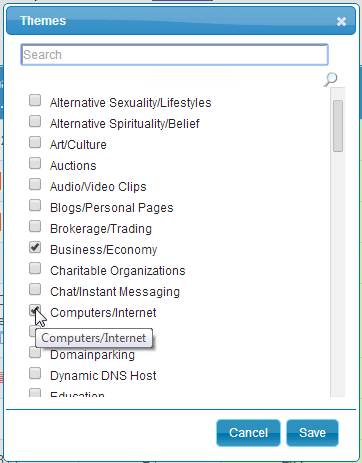 New Link Data Uploader
We have completely rewritten the file uploader for you.
You now enjoy a progress-bar and faster processing of large file uploads.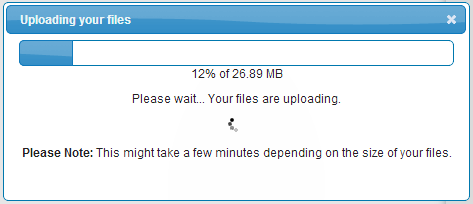 So you always know what's going on, we also give you feedback about the server-side parsing. Keep in mind that unzipping those large files, as well as proper processing, takes some time. In the past, it always looked like the browser hung, and we agree – that was not a nice user experience.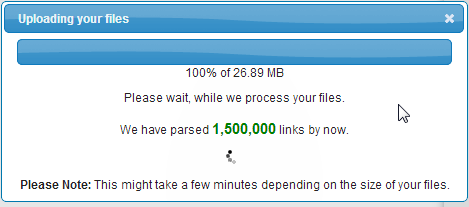 We also added support for UTF-16LE and UTF-16BE encoded files. UTF-8 and most other types of file encodings were already supported, but there's always room for more new formats.
If we receive files in the wrong format, then our error messages are improved to help you understand and fix the issue right away.
Export CSV/XLSX Feature for MLT, CBLT, LJR
You can now export CSV and XLSX files with backlinks included for each listed domain in the details table of the following tools:

Missing Links Tool (MLT)

Common Back Links Tool (CBLT)

Link Juice Recovery Tool (LJR)
* LJR also includes the "From URL" field.

This new feature helps a power-user do even more advanced post-processing of our data than before.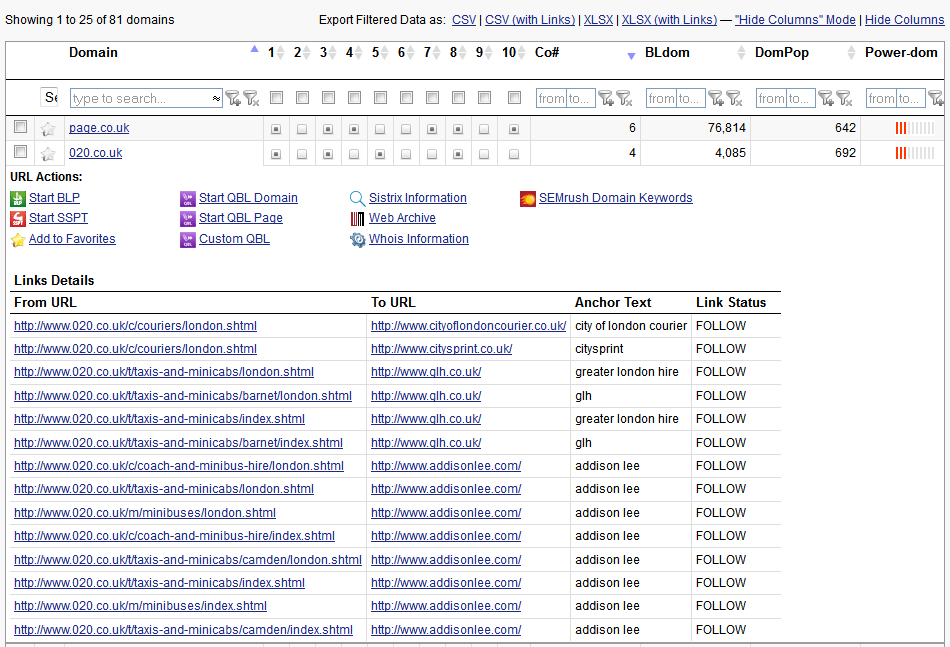 Improved Widget Link Location Detection
As we recently saw with the Halifax Google Penalty and abuse of anchor text, widget links are still under fire from Google.

In this video, Matt Cutts clearly recommends, "I would recommend putting a nofollow, especially on widgets."
Therefore, we improved our widget link detection.
Yes, we already detected widgets, especially in Link Detox. However, we have made improvements for you that detect more problems and known spammy patterns!
Please enable the "Link Location" (LinkLoc) column in your report to filter by link location (a feature we have had for years).
Then you can use our super cool filters, tick the "widget checkbox", and all those widget links will magically be displayed inside in your report link data table.

And, of course, we find those very high risk widget links from Halifax.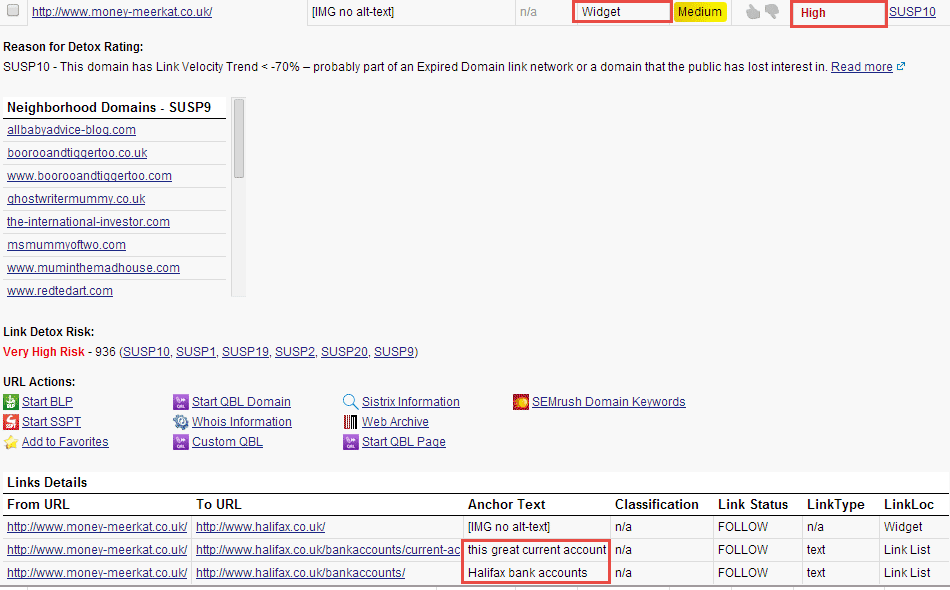 which can still be seen in the webarchive here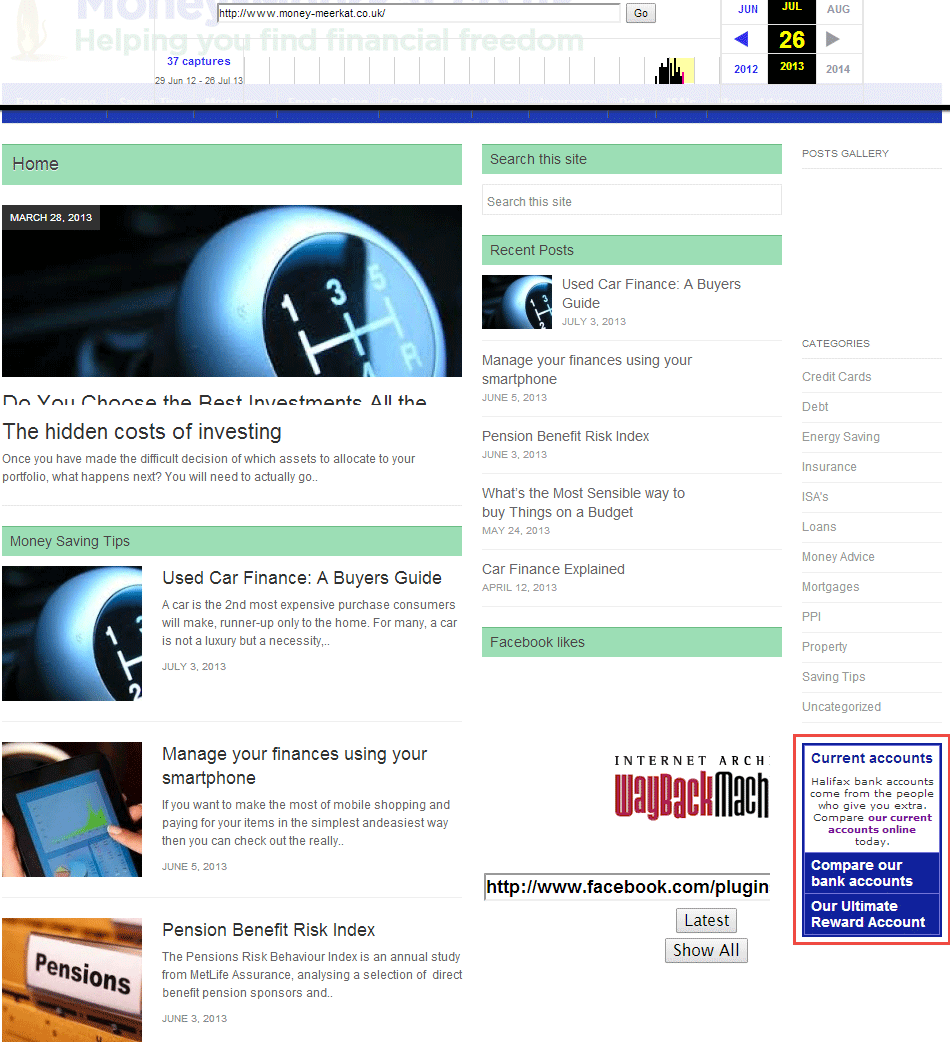 Improved Link Location Detection for Blog Comments
Google's Matt Cutts mentions that using keyword rich words as your comment name is spam. If you have these types of backlinks, then Google may consider it a link scheme and take action against you. (Read more about it here)
Or just look at this example

The Link Location detection for comments works even better now. This helps Link Detox find more special cases for comments and other locations.
With this improvement, Link Detox became even more accurate.
To view links located in comments, enable the "LinkLoc" column in your link table and filter by Link Location.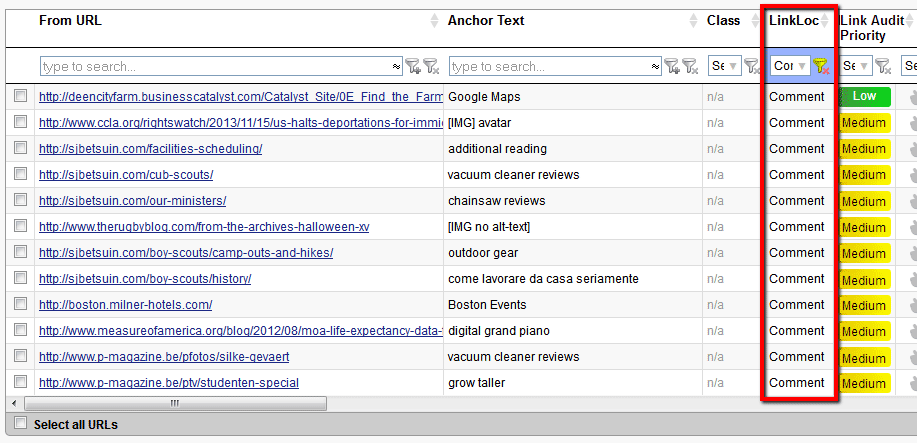 More New Filter options available
Talking about filters – you can now filter the text columns for entries with the special cases "Empty" and "Not Empty".
This is helpful for image links, or spammy links that "were made less risky" by removing the anchor text. It's also helpful for "unverified links".
All you need to do is click in the filter selection at the top of the (Anchor) text column and select "Empty" or "Not Empty".

And the result will look like this.

This will not only help you to find links without anchor text, but you can also filter for all entries that have no tag attached to them.
Show and Hide columns faster
After enabling all sorts of extra columns, you may want to hide some again. You can now hide columns in bulk much faster. Instead of switching to the "Hide Columns Mode", just click the "Hide Columns" link as displayed in the screenshot below. Then you can tick all the columns you do not want to see.
This way you can customize your link data table in only a few seconds.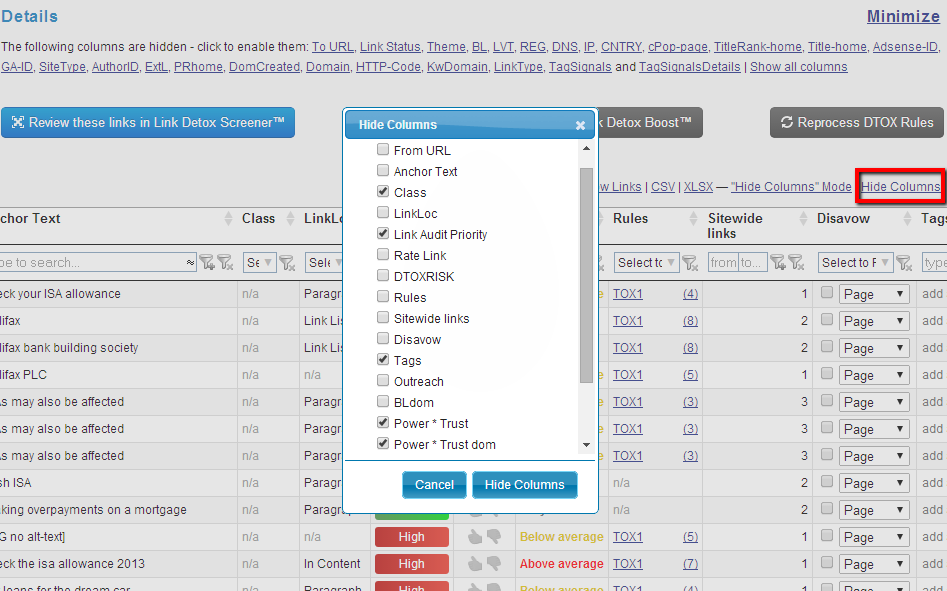 Save Time with Link Detox Bulk Tagging Improvements
Bulk Tagging in Link Detox is a great feature to speed up your review and link removal workflow.
We improved our bulk tagging feature to work much faster, and we have added two new features for you.
To remove one tag from multiple selected (checked) URLs, just enter a tag name in the "Remove Tag" field and press enter. This is handy when you incorrectly added a tag to more URLs, and want to reverse that without losing the other tags these URLs might have.
To remove all tags from selected URLs, just click "Remove All Tags", and we will clear all tags associated with the selected URLs.

This will save you tons of time when working through tagged backlinks in bulk.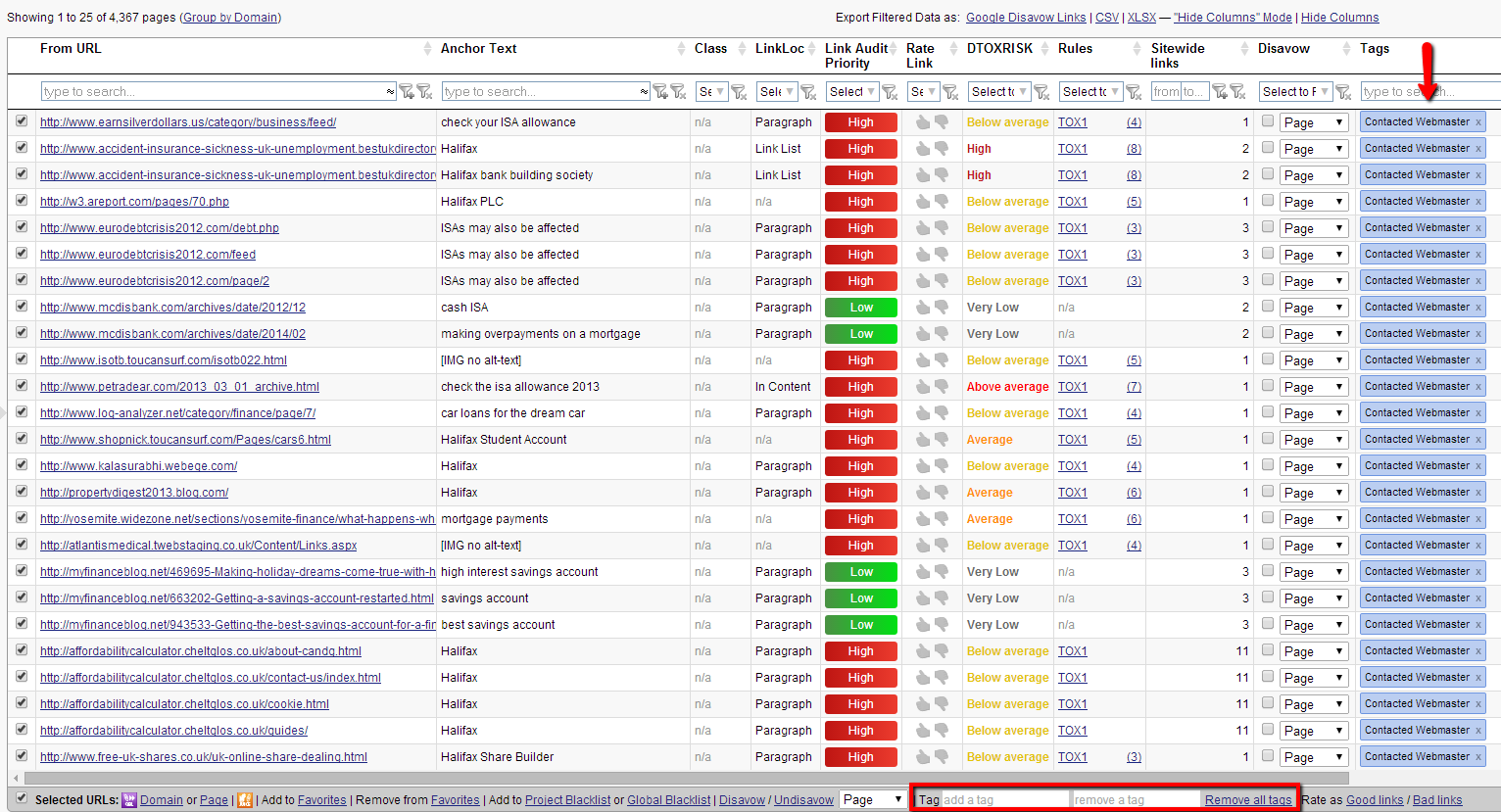 Save Time with Link Detox Screener Improvements
The Link Detox Screener™ now has a "Go to Page" function that allows you to paginate through the results.
This means you can easily jump to the last page you were viewing, without having to use the "Next" button to scroll many times to the next page.

Redirect Trace for all redirected URLs
This new Link Detox improvement allows you to see more details about unverified links detected as redirects. In addition to the information about the broken unverified URL, we also provide you with details about the URL that redirected to the broken link.
When you come across an unverified link in your report, "hover" over one of the links inside your report. Once you have done this, you will be able to click on the + icon like in the screenshot below.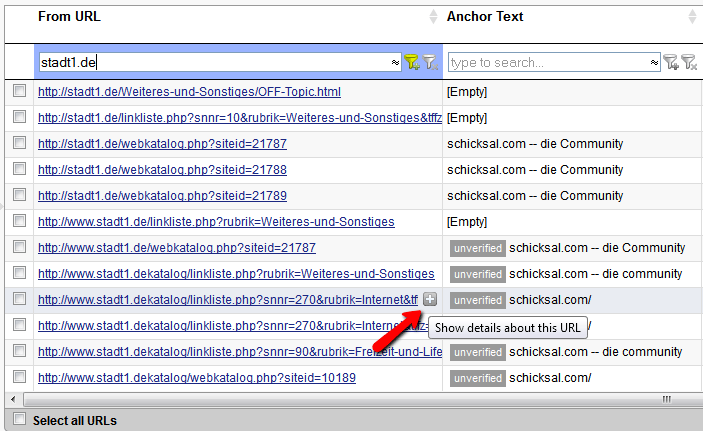 This will open up more information about the link, including redirect details such as the "From URL".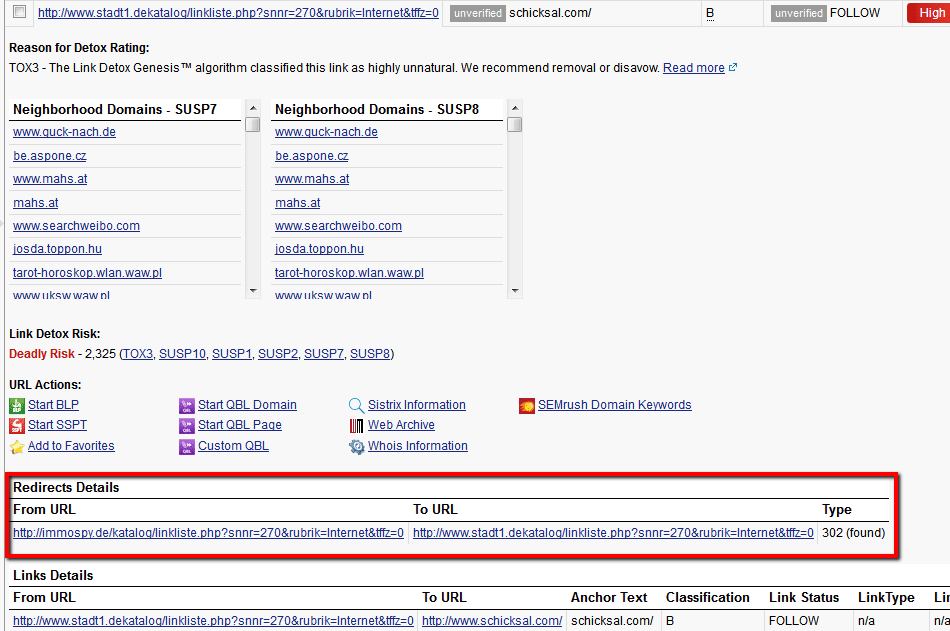 This way, you are not left in the dark about the source of unverified, non-existing, or broken links.
Last Reprocessing Date in Report Header (DTOX & CDTOX)
When you follow our step by step guide for DTOX, you can reprocess reports quickly and for free. For your convenience, we now show the reprocessed date.

See Neighborhood Domains for Link Networks and Other Related DTOX Rules
Link Detox triggers all sorts of suspicious link rules related to link networks. We have always shown you the related domains, so you can get an idea of what the link network looks like.
Now you can also dive into those networks per single link network rule. This helps you understand how various dangerous link network parts belong together.
Again, this helps you, as an SEO professional, speed up your review and penalty recovery process.
To see what neighborhood a particular backlink is part of, hover over the link and click on the + icon like in the screenshot below.

Once you have done this, you will be able to see what bad neighborhood rule triggered for each link with other domains. You get this related domain information for each rule that triggers in Link Detox.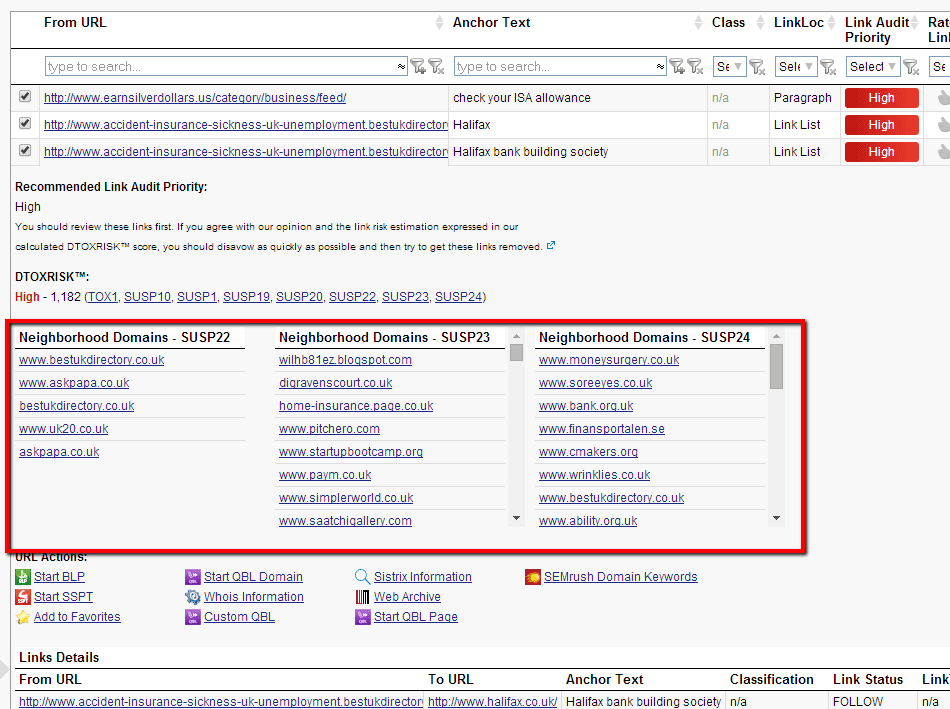 And we don't stop here. The next version will bring you another major time saver with a fascinating new functionality. Many of you have been asking for it – stay tuned!
15 Comments