4 Comments
Spammy SEO Damages this German Amazon Competitor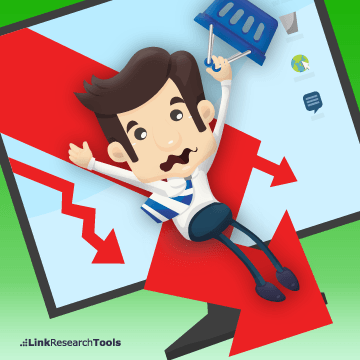 50% off! That's how much search visibility Hitmeister lost on March 31, 2014. That's one discount no retailer ever wants to face.
By using spammy SEO tactics like foreign link building, anchor texts rich with Money keywords, cheap PR spam and more, Hitmeister got to page 1, but it didn't last. Now their search visibility is halved, their keyword rankings are dropping, and their sales are probably also suffering. They have to change a lot…and fast.
This is the second case-study in the "5 German startups hit hard by Google" series by Guntram to achieve Certified LRT Xpert status.
We look forward to your feedback and always appreciate you sharing the work of our Certified LRT Professionals.
- Enjoy & Learn!
Christoph C. Cemper
Bonus: As requested, you can now download this case study in PDF, ePub and Mobi (Kindle) format for easy offline reading. Get it FOR A TWEET HERE
Table of Contents
Case Study Setup
1. Search Visibility Analysis
Analysis of the analytical drops
2. Backlink Profile Analysis
Anchor Text Analysis
Power & Trust Balance Analysis
Sitewide Links Analysis
Paid Links Analysis
Power*Trust Ratio Analysis
Redirect Analysis
Link Growth Analysis
Link Network Analysis
Country Ratio Analysis
Deep Link Ratio Analysis
Link Status Ratio Analysis
Link Detox Risk Analysis
Competitive Link Detox Risk Analysis against competition
3. Regular Detox for all Backlinks
Review of Backlinks
The Visibility Bomb Blasted on March 31, 2014
Hitmeister recently got hit hard by Google. A German competitor to Amazon, it offers 12 million products from 3,500 retailers and received two million visitors monthly.
They have some competition. Rakuten has 6,200 dealers that offer 9.3 million products. And Yatego.de customers find three million products from 10,000 retailers.
Looking at their categories, Rakuten, which recently declared war on Amazon.de, has the most diversified portfolio and offers books, music, electronics, fashion, sports and leisure. They also offer baby and children's products, office products, furniture and pet supplies.
Let's Look at the Search Visibility Chart
There's a big reduction in visibility from 26.640 to 10.004 SI Index. The domain lost around 10 SI points from the middle of February to early April, cutting their total visibility in half.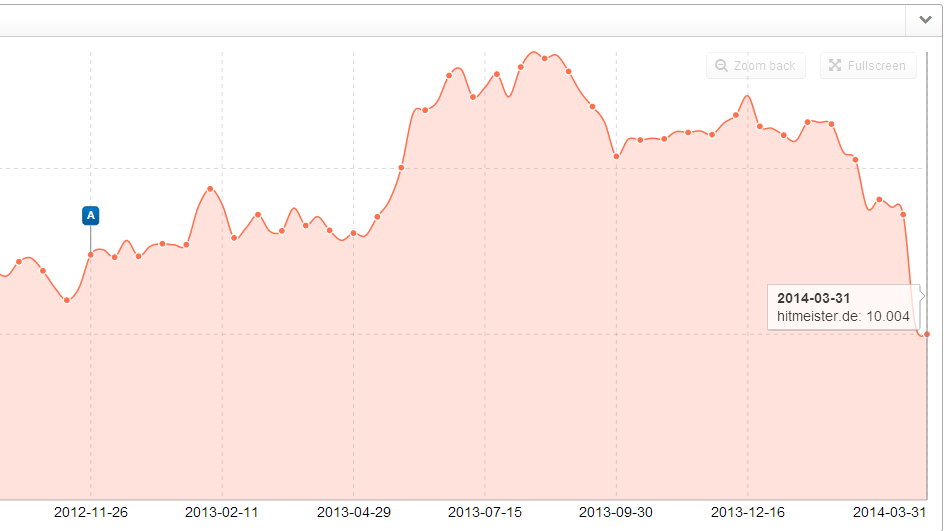 Fewer Keywords Ranking in Top 10 Positions
Recent significant changes are visible, especially on Page 1. Several keywords were pushed from page 1 (red) to page 3 (green), page 4 (yellow) and page 5 (brown).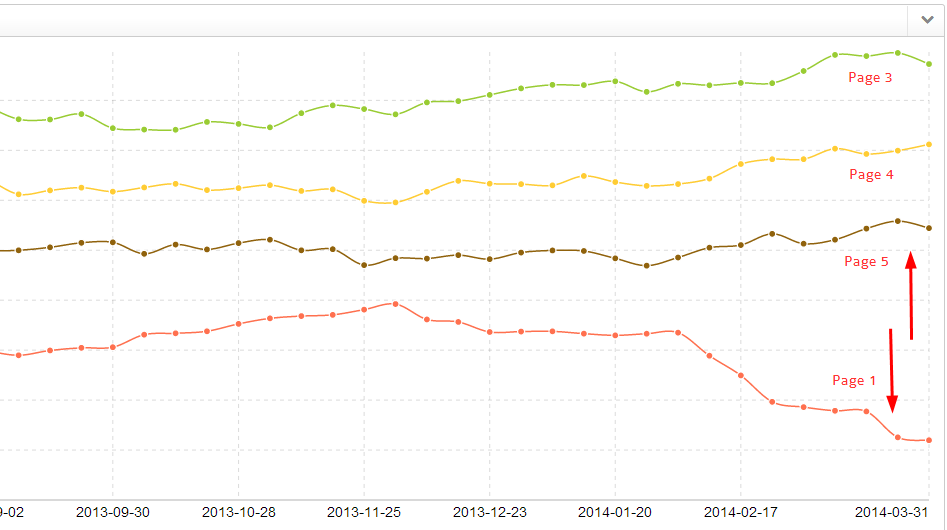 Large changes were also visible in certain directories.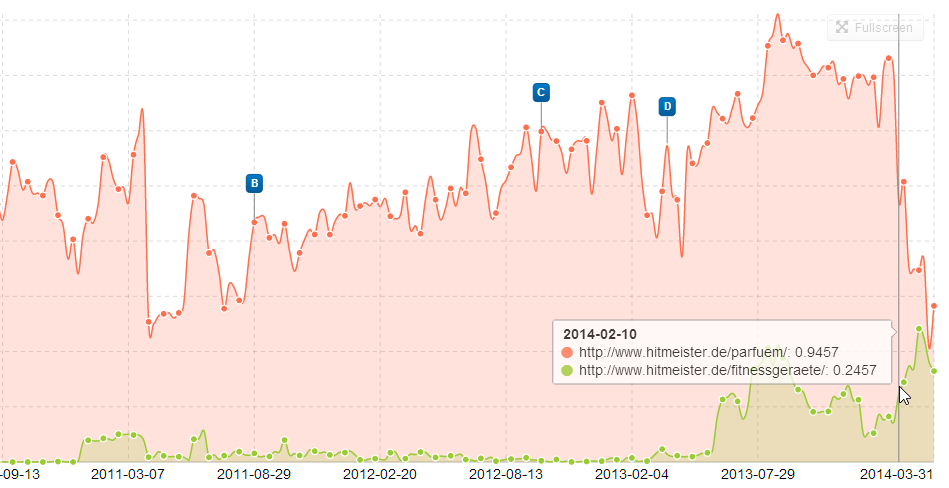 Keywords that were ranking for positions on page 2 and 3 lost visibility.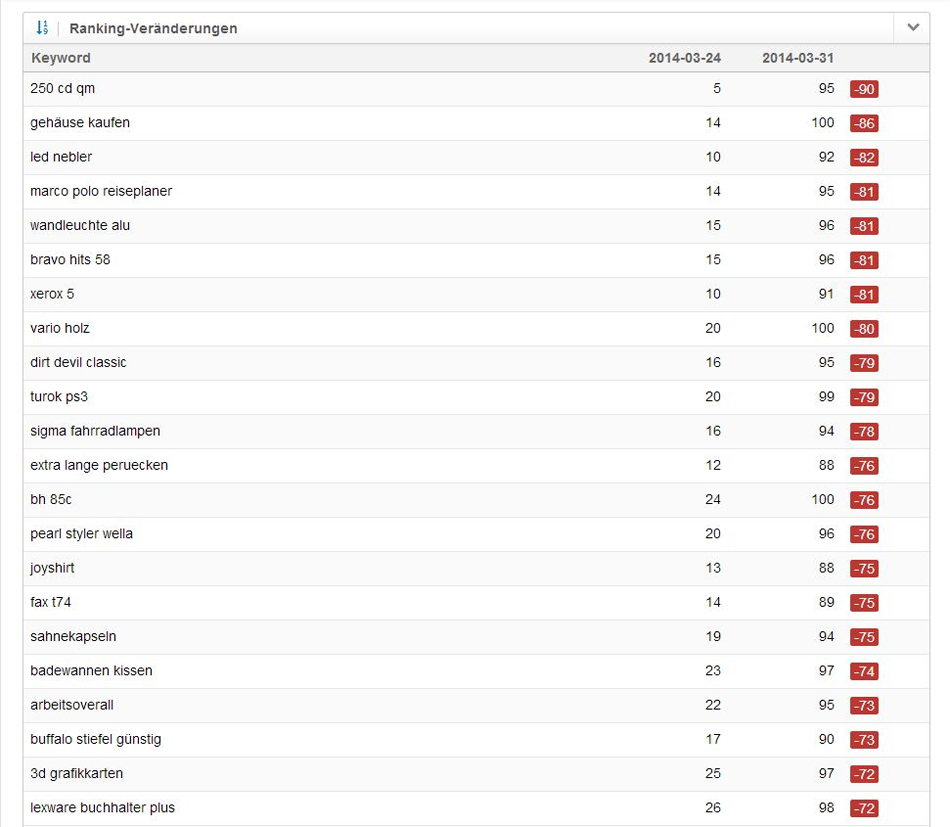 The Importance of SEO at Hitmeister and the Specificity of the SI Index
During my case study research, I was fortunate to find a useful post (written in 2009) on the Hitmeister blog about the Sistrix Visibility index. It was titled, "Der Zusammenhang zwischen dem Sistrix-Sichtbarkeitsindex und der Anzahl der SEO-Visitors." In English that means, "The relationship between the Sistrix visibility index and the number of SEO-Visitors."
http://blog.hitmeister.de/2009/08/der-zusammenhang-zwischen-dem-sistrix-sichtbarkeitsindex-und-der-anzahl-der-seo-visitors/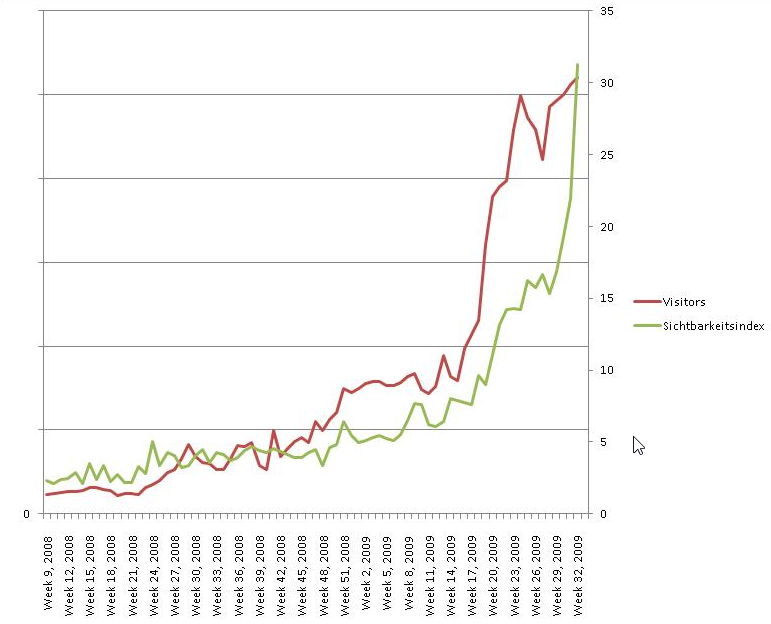 To a certain visibility index, there is a linear relationship between SI and traffic. We conducted a linear regression, resulting in the fact that SEO visitor variable can be described between a visibility index of 2 and 17 by the following relationship: y = 6.7172 x – 11.556. The coefficient of determination R ² is 0.9494 – so there is absolutely a linear relationship. As in the past three weeks our visibility index has risen by over 100% , but our visitor number increases more slowly; you can see no clear linear relationship from a visibility index of 17. The trend is logarithmic rather – we are curious. In recent findings, we will again publish results.
Conclusion: In summary, it should be noted that the analysis can be different because many factors play a role. For us, it confirmed the fact only that the Sistrix visibility index is a good measure of success in the field of SEO.
Link Audit for Hitmeister.de
Top 10 Keywords
nintendo ds lite games
ps3 spiele
grill
holzspalter
tischtennisplatte
sportausrüstung
rc-toy
klappstuhl
günstige gartenmöbel
dvd kaufen
leinwandbilder
Top Competitors in the Niche of Hitmeister.de
hood.de
hitflip.de
rakuten.de
yatego.com
ebay.de
rebuy.de
We did not analyze amazon.de since eBay is representing the big players in this analysis. Too much focus would rest onto these big and high-trust portals.
The overview comparison of these six players is in the Used-Goods and Wholesale Online Retail Segment.
It's clearly visible that two players have the highest Domain Popularity and strongest CEMPER Trust: Ebay.de – being a TV-advertised brand, and Yatego – also well known.

The players, hitmeister.de vs. hood.de vs. hitflip.de vs. rakuten.de vs. yatego.com, are all of comparable magnitude. Ebay is significantly bigger.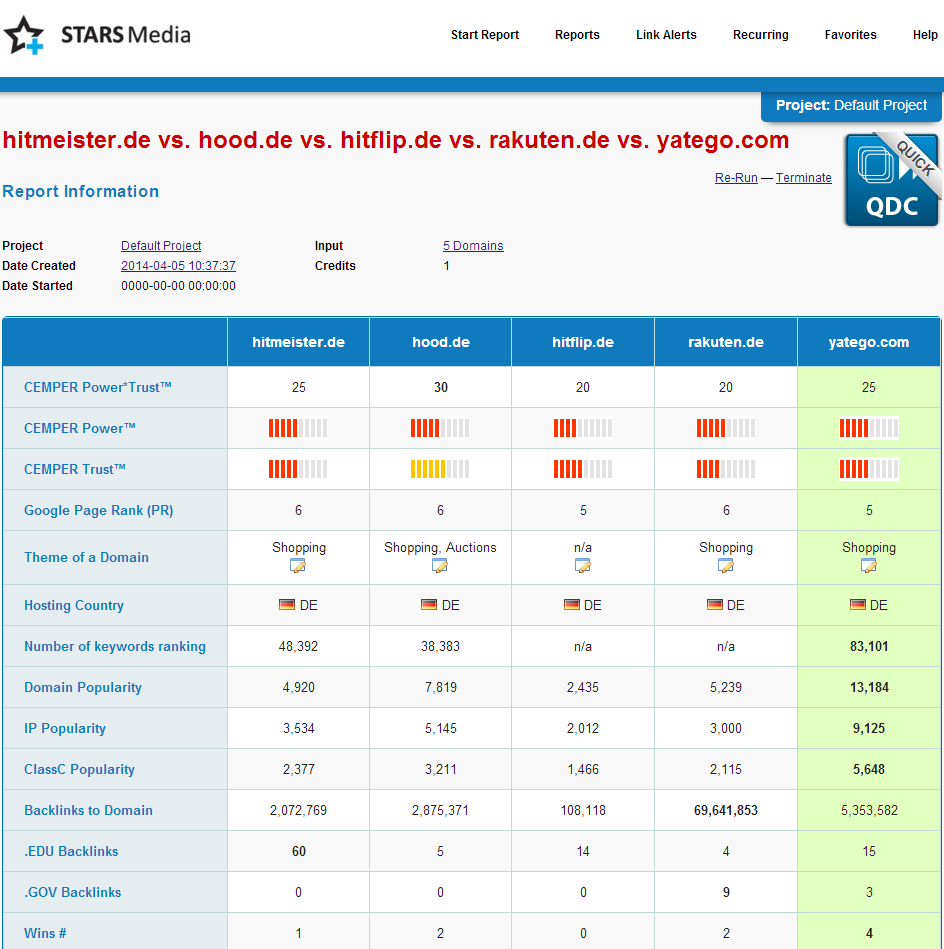 What is the German Secondhand Industry like?
To get an impression of the industry and a feeling for the engaged brands, watch their TV ads.
Hitmeister:
Yatego:
Ebay:
Hood:
Rebuy:
Was Anchor Text Overdone?
Yes, the amount of Money keyword-rich anchor texts is clearly not organic. Users just would not link pages with keywords like "ratgeber günstig kaufen."
The result of the keyword report gives one clear message: From more than 2,400 links, more than 750 backlinks are holding strong Money keywords like "Kinderfilme" or "Werkzeug günstig kaufen."

Specifically, when looking into the link landscape of our competition using the CLA tool, we see that Hitmeister used more keyword-rich anchor texts.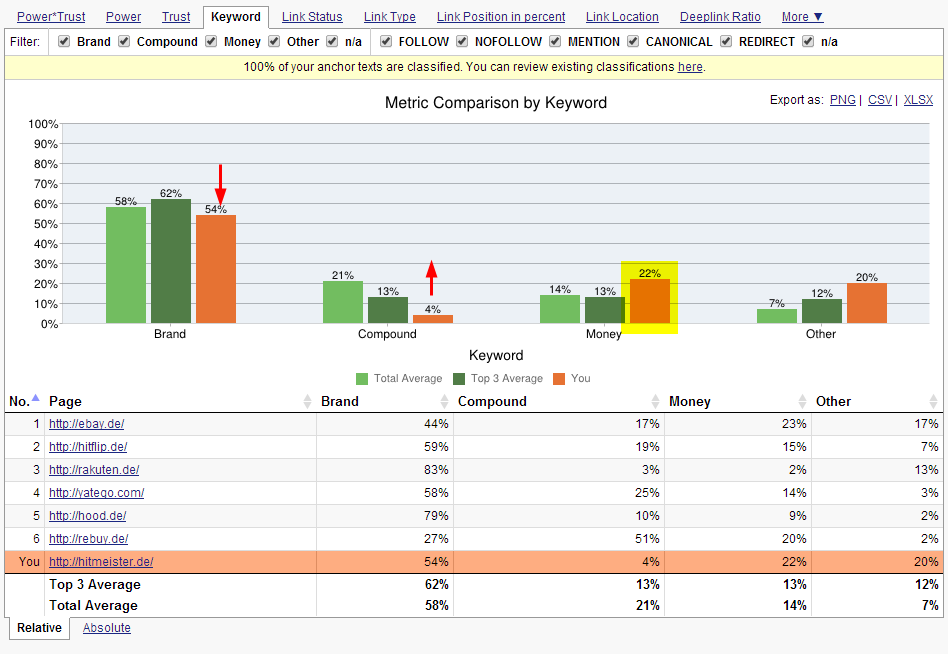 How is the BLP Classification done effectively?
When classifying keywords for the Backlink Profiler (BLP), I consider it helpful to first identify Money keywords.
It is most critical to sort them out in the first place, since there is a high likelihood that they are getting pulled into other categories that will then lead to faulty classification.
Definition: What is a Money keyword?
Money keywords are the keywords you want to be ranked for in Google. In case of Hitmeister.de, this includes phrases like "ps3 spiele günstig kaufen." Link builders considered it to be safer to attach the brand to every Money keyword in order to mix Brand and Money keywords. We still consider this as a Money keyword and not as Compound in order to have a clearer result.
Examples:
| Keyword | Type |
| --- | --- |
| lampen und leuchten günstig kaufen – hitmeister | Compound |
| werkzeug günstig kaufen – hitmeister | Compound |
| tapeten günstig kaufen und verkaufen- hitmeister | Compound |
| ratgeber günstig kaufen – hitmeister | Compound |
| die treue der frauen – la fidelite mit sophie marceau und pascal greggory – hitmeister | Compound |
| güde werkzeug günstig kaufen – hitmeister | Compound |
| final fantasy x – hitmeister | Compound |
| 100% sicher kaufen & verkaufen – hitmeister | Compound |
| 20.04.2013 – hitmeister e-commerce day 2013 | Other |
| ps3 spiele günstig kaufen – hitmeister | Compound |
| prostata-massage – der männliche g-punkt (dvd) kaufen – hitmeister | Compound |
| kaito kid 02 buch von gosho aoyama (comics & mangas) kaufen – hitmeister | Compound |
Process to Classify Keywords with the LRT Keyword Classifier
| Step | Task performed |
| --- | --- |
| 1 | Use the Keyword-Search and display only keywords that contain the Brand |
| 2 | Set the list to 100 items and scroll to the end. Start with the end. |
| 3 | Identify schemes you can see. In case of Hitmeister, I saw that they used a hyphen in front of their brand. |
| 4 | Update the filter to the new criteria, e.g. "- hitmeister" to see only these entries |
| 5 | Now add them all to Compound and deselect all keywords that do not match that criteria. In our case this looks like the image below: |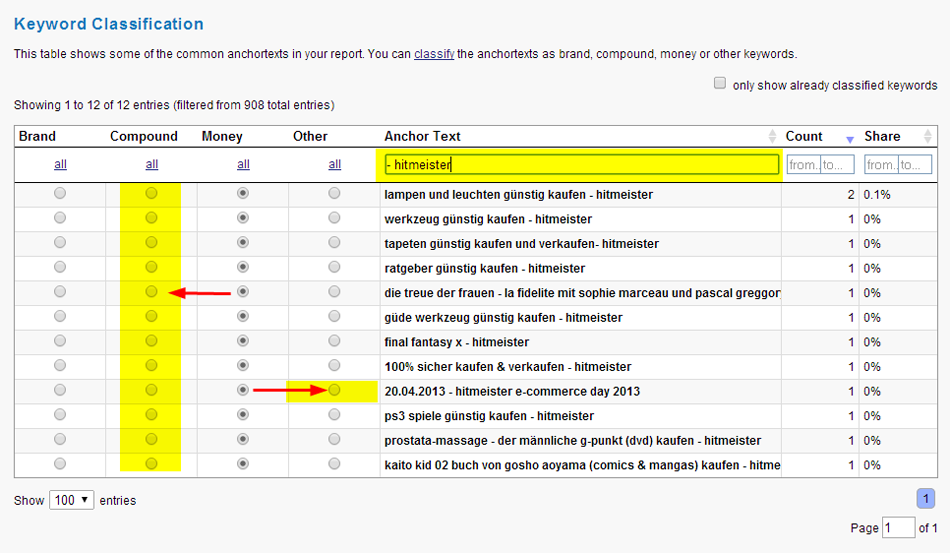 Did the Websites Have More CEMPER Power than CEMPER Trust?
Yes.
Even though the Hitmeister site appears to have equal Power and Trust, and that Rakuten.de is in a more dangerous Power vs. Trust position, it gets problematic when looking into the details.

When analyzing the Power and Trust by source, we see there is a significant power overage in the Power*Trust segment of 3 and 4. They have too many relatively strong links and stand out in the industry comparison.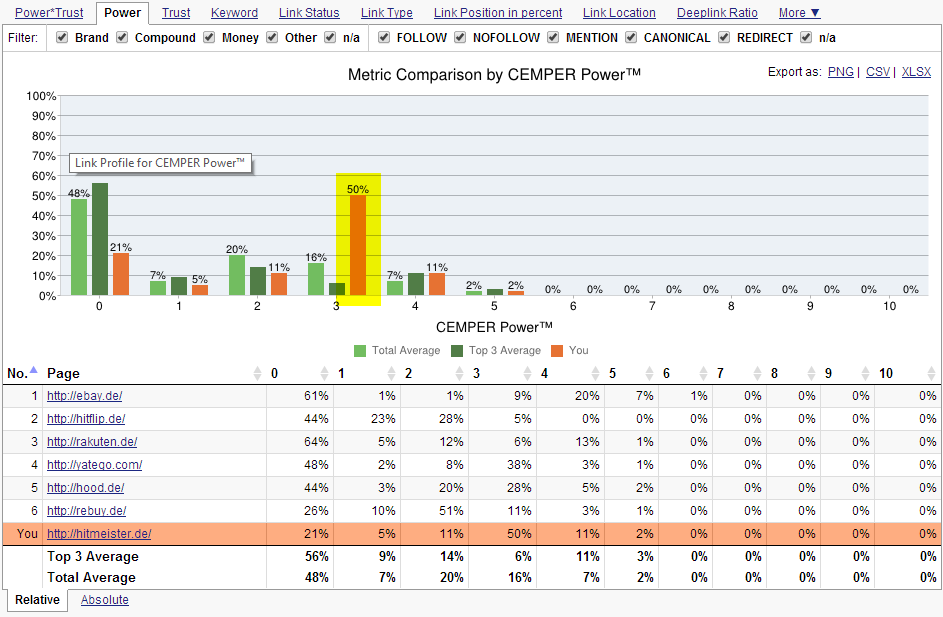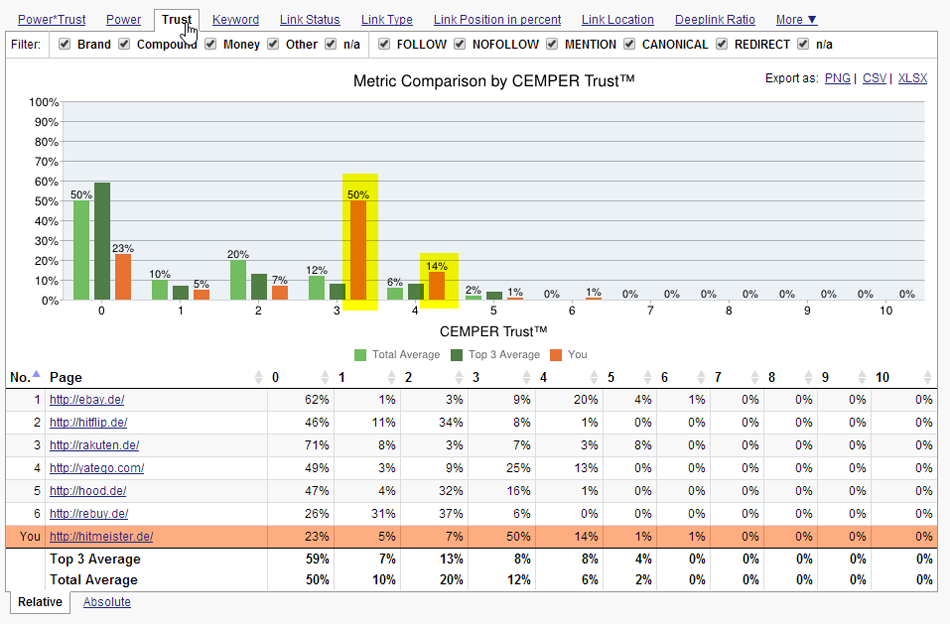 Did They Have Too Many Sitewide Links?
Yes, several domains are sending significant sitewide links. That's a problem.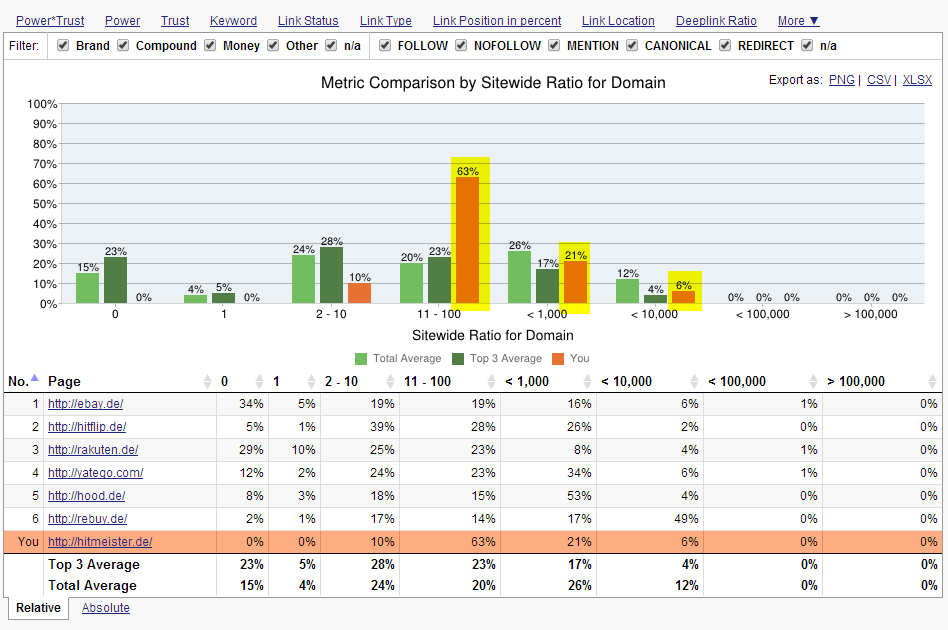 These two examples are sending several thousand links. When you calculate 646 pages x 10 articles + amount of tags + amount of categories, it equals a significant amount of footer links with the keyword "werkzeuge."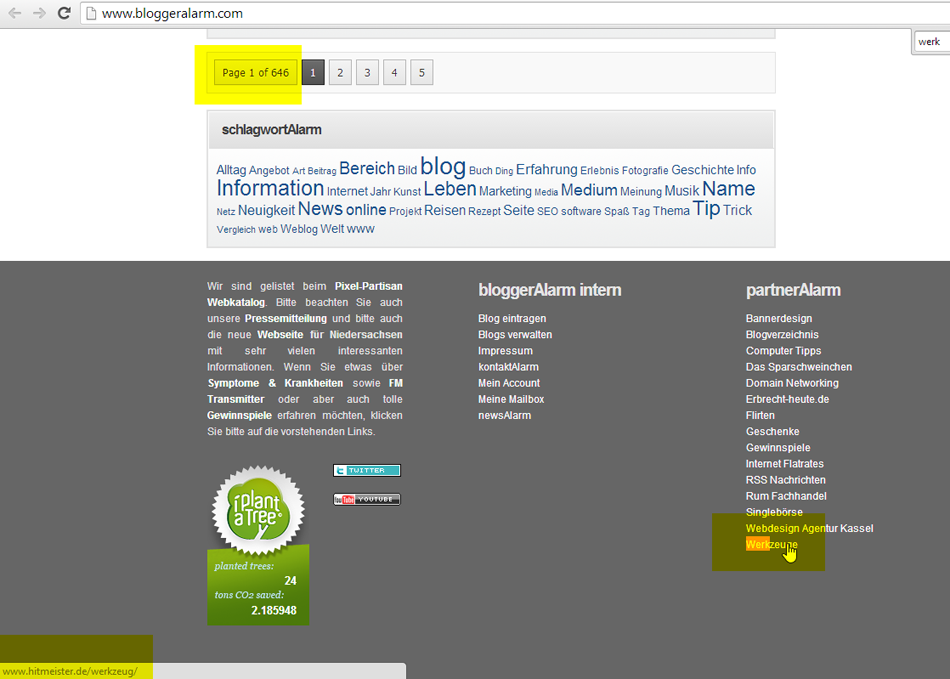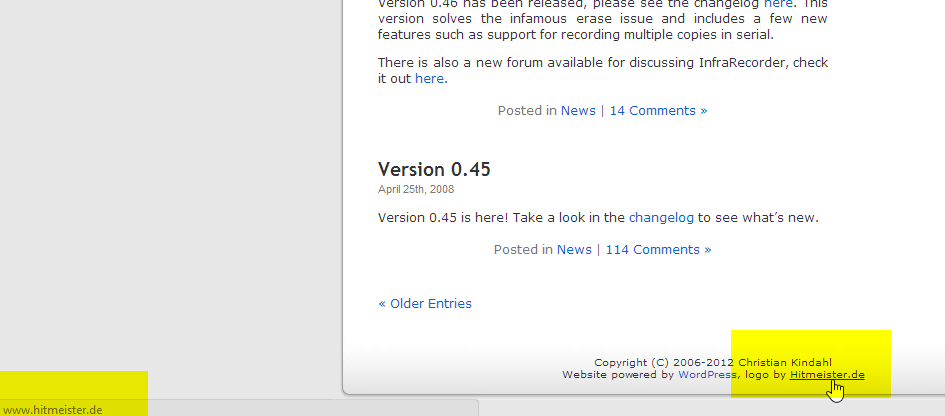 Did They Have Paid Links?
Yes, they had several obviously visible paid link sources.
For example, Express.de sold a link for a porn movie.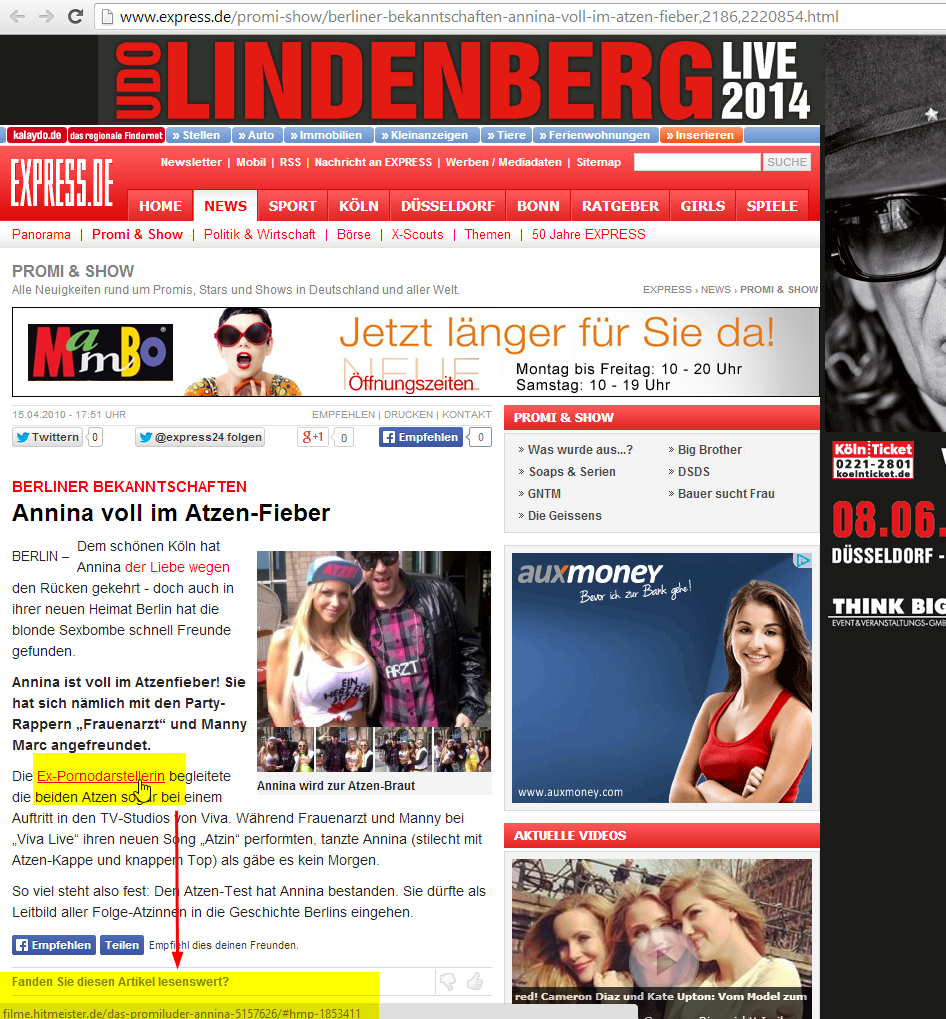 Bollywood.de, part of the glam network that also monetizes lifed.com (http://www.linkresearchtools.com/case-studies/google-penguin-2-0-penalty-lifed-com/), is running that site about Bollywood movies. A real editor would probably not create such a homepage link.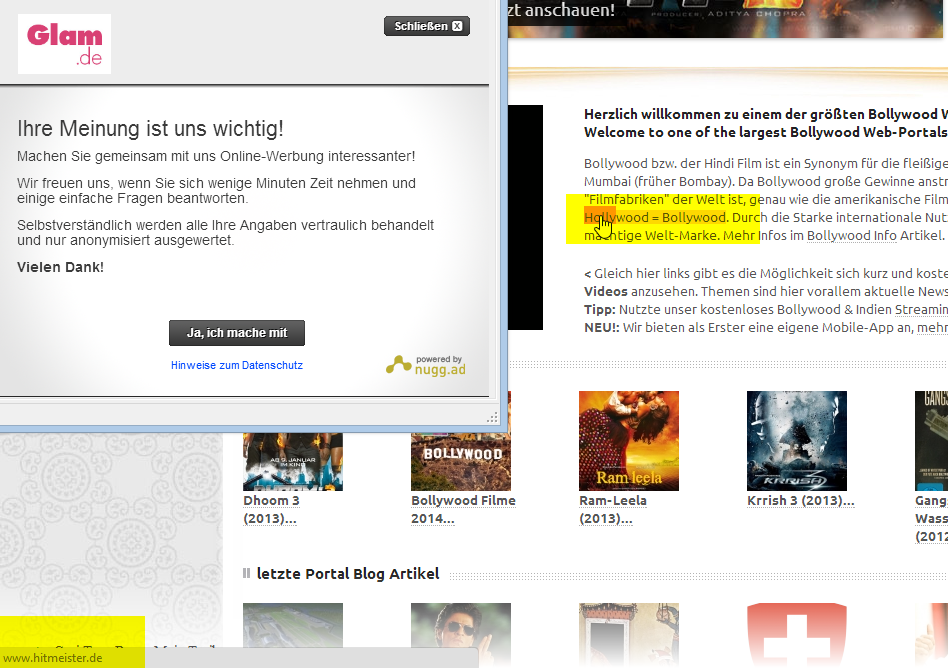 Also, sponsorships for open-source projects with do-follow links might be pretty close to the edge. At least it's a high trust page.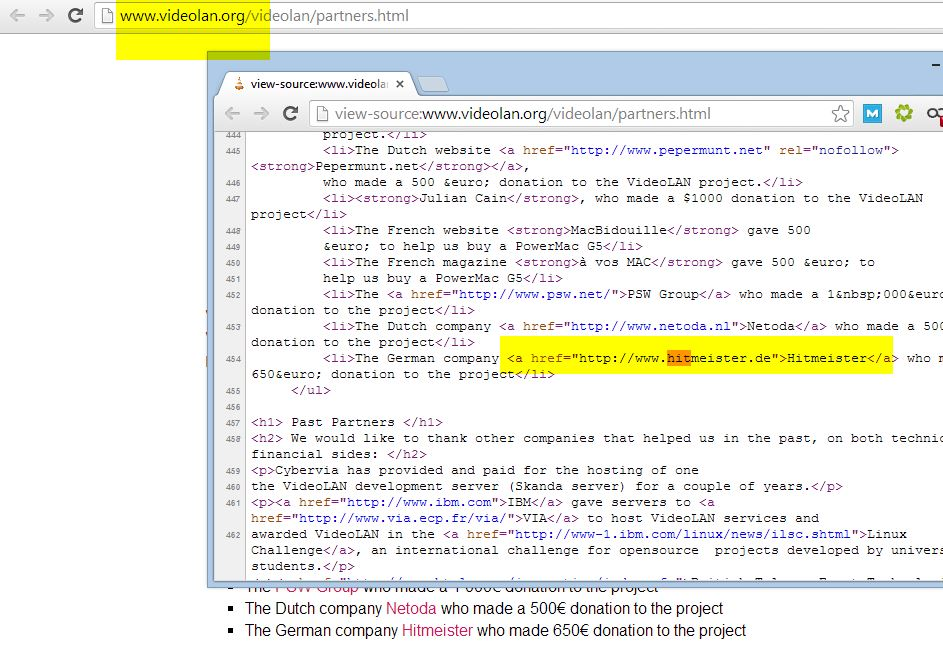 Is Link Power*Trust Distribution Unnatural?
Yes, there is a visible peak of PT 8 – 12 domains. Projects like Shop Usability Award are sending tons of footer links from logos.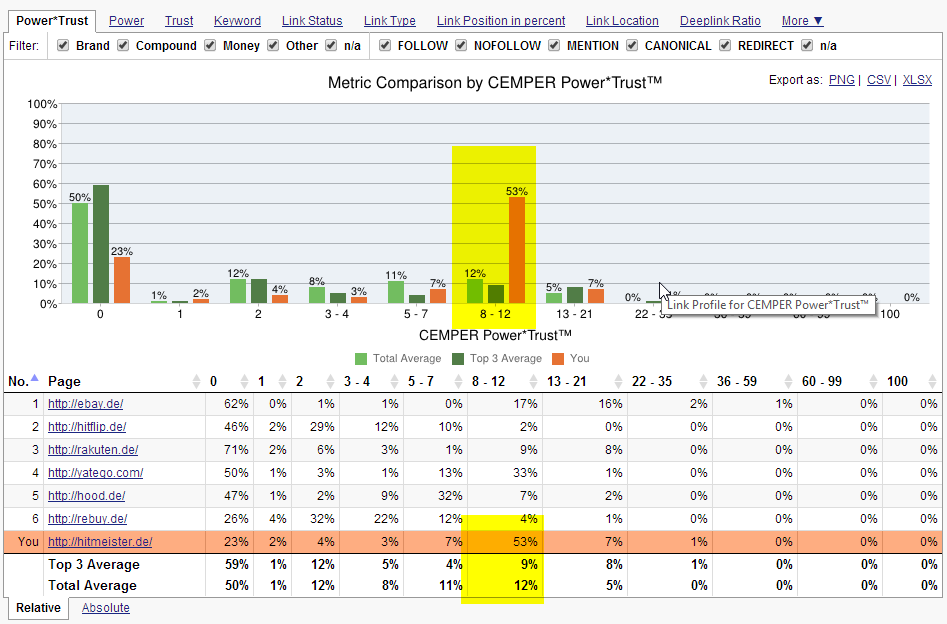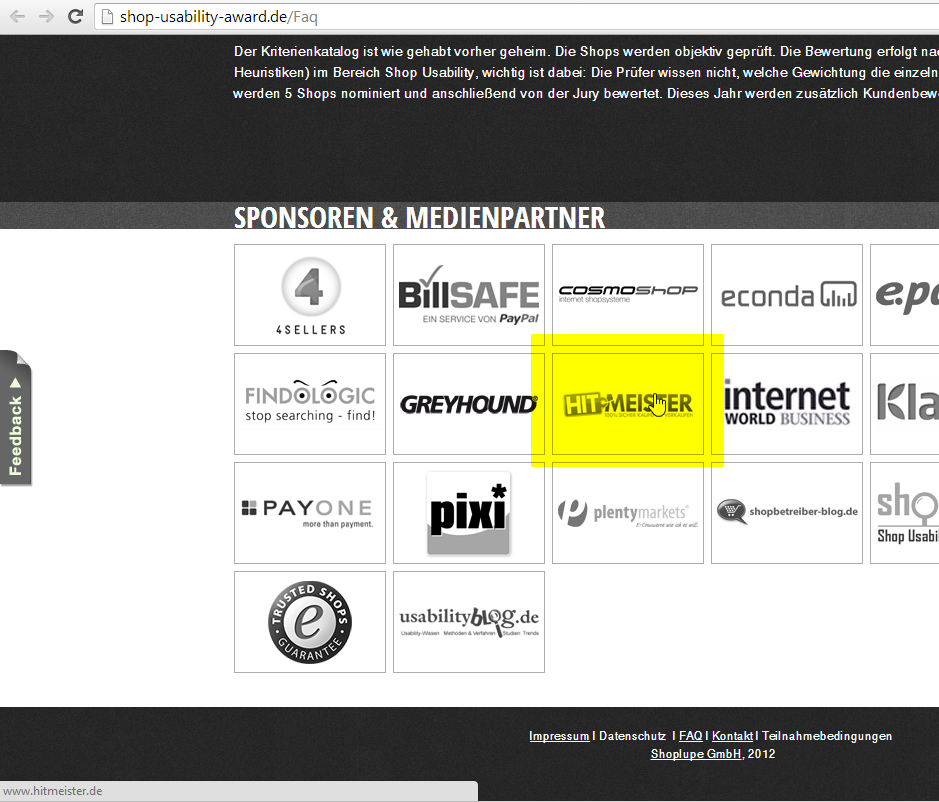 Are Sneaky Redirects Involved?
Yes, there had been more than 20 redirects, one of them is http://Gratis.ag. It's collecting some juice from other links and forwarding it to Hitmeister. Most likely, the domain is just forwarding bad karma to Hitmeister from these Link sources.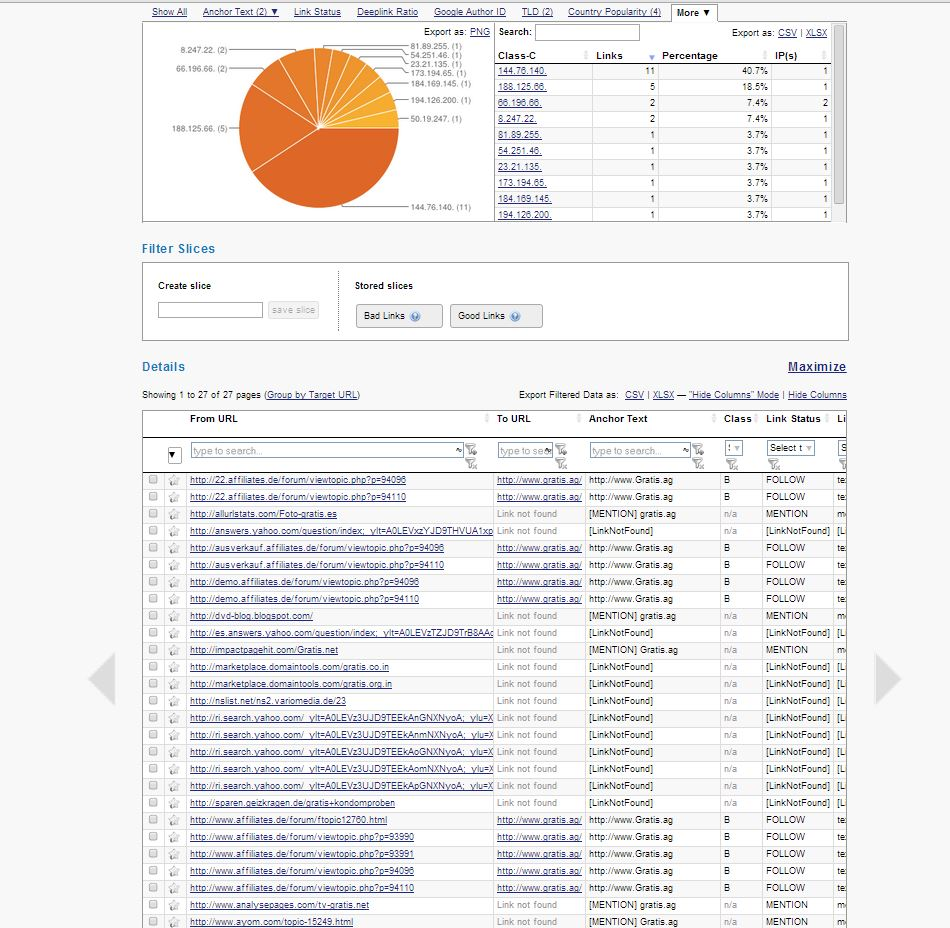 Is Unnatural Link Growth Involved?
No, reduced SEO effort is visible.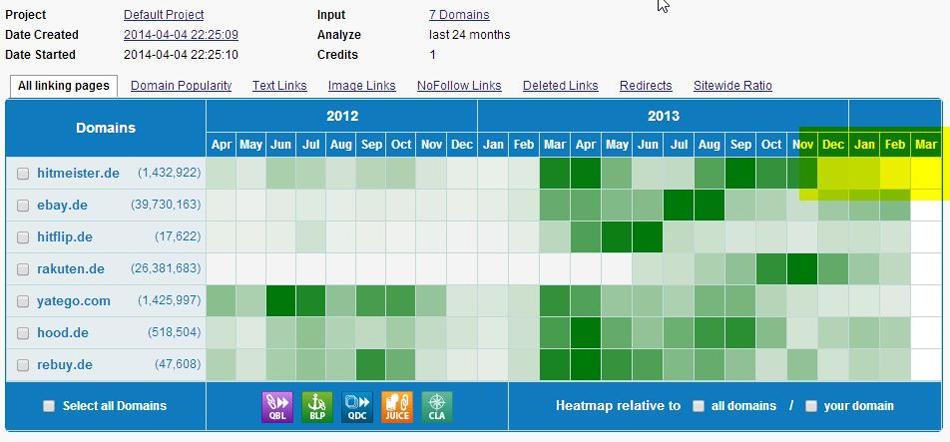 Especially relative to other domains, we see that rakuten.de and eBay have been working full power to build links during the last 12 months, whereas Hitmeister has slowed down.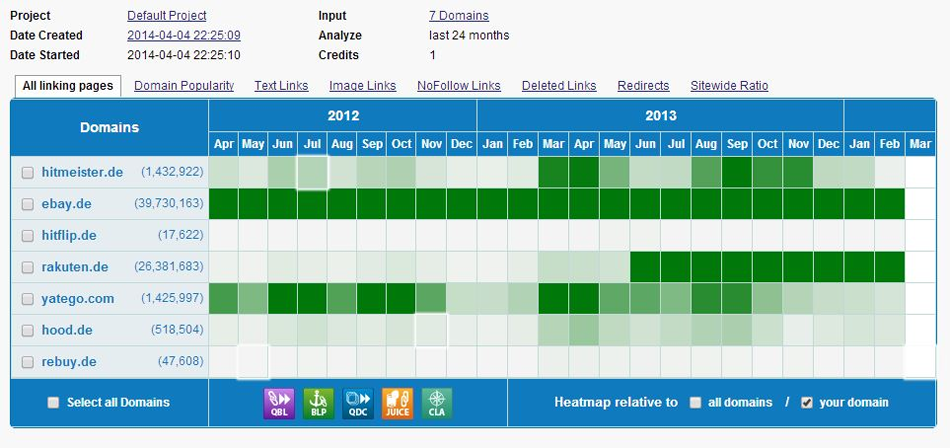 Are Link Networks Involved?
Yes, mainly they were generated by link baits, affiliate links and crosslinks between hitmeister.de and hitflip. However, no reciprocal or asymmetric linking schemes are visible. They also used cheap press portals. For the record, back in the summer of 2013, Google outed press releases as a spammy tactic if done for SEO value. Today they call out such tactics in their link scheme guidelines.
Using the BLP tool, it is handy and quick to identify footprints, like similar DNS, Class-C Range or Registrars.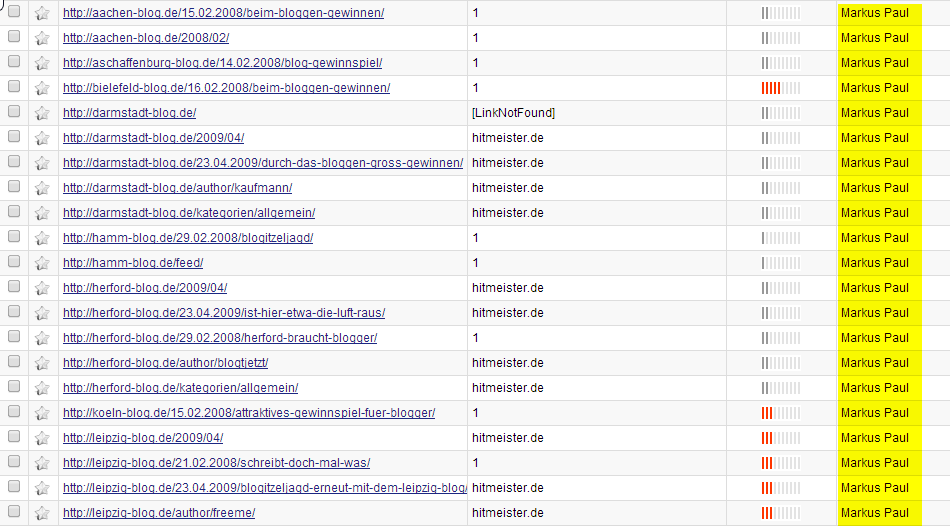 A second link network results from cheap PR marketing.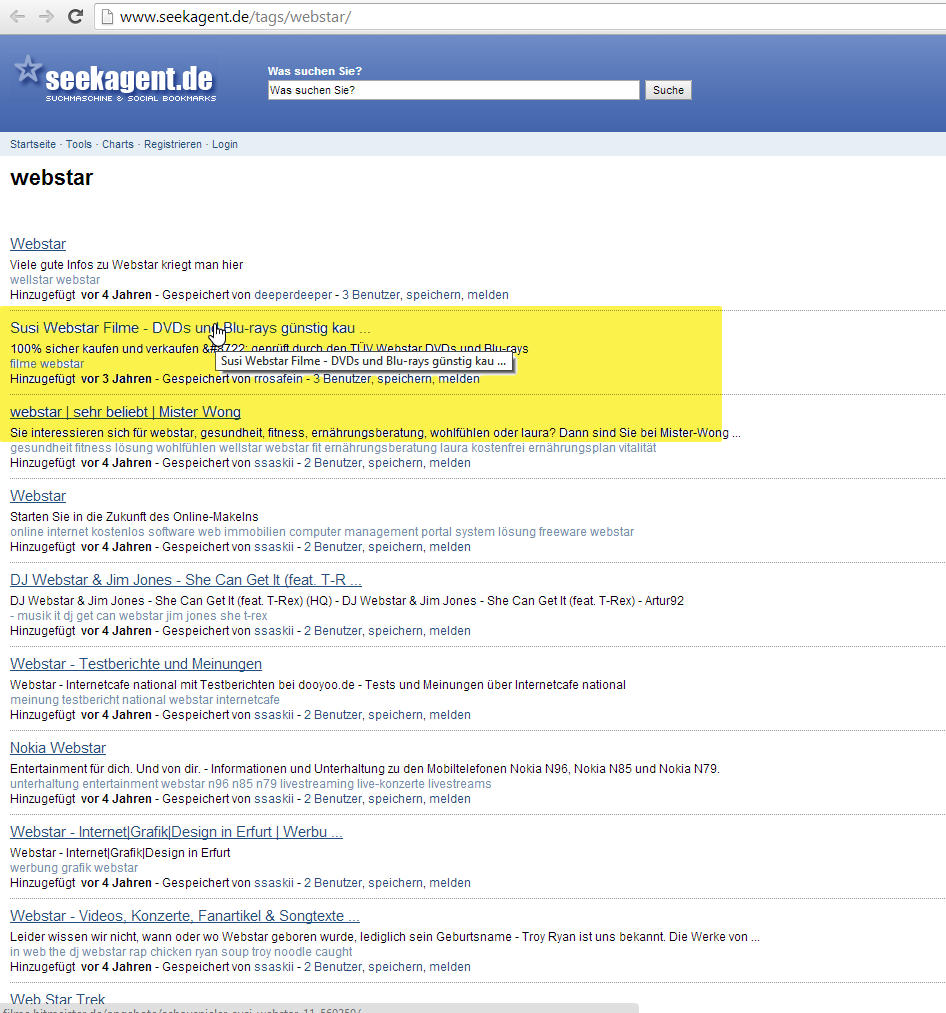 http://www.seekagent.de/tags/webstar/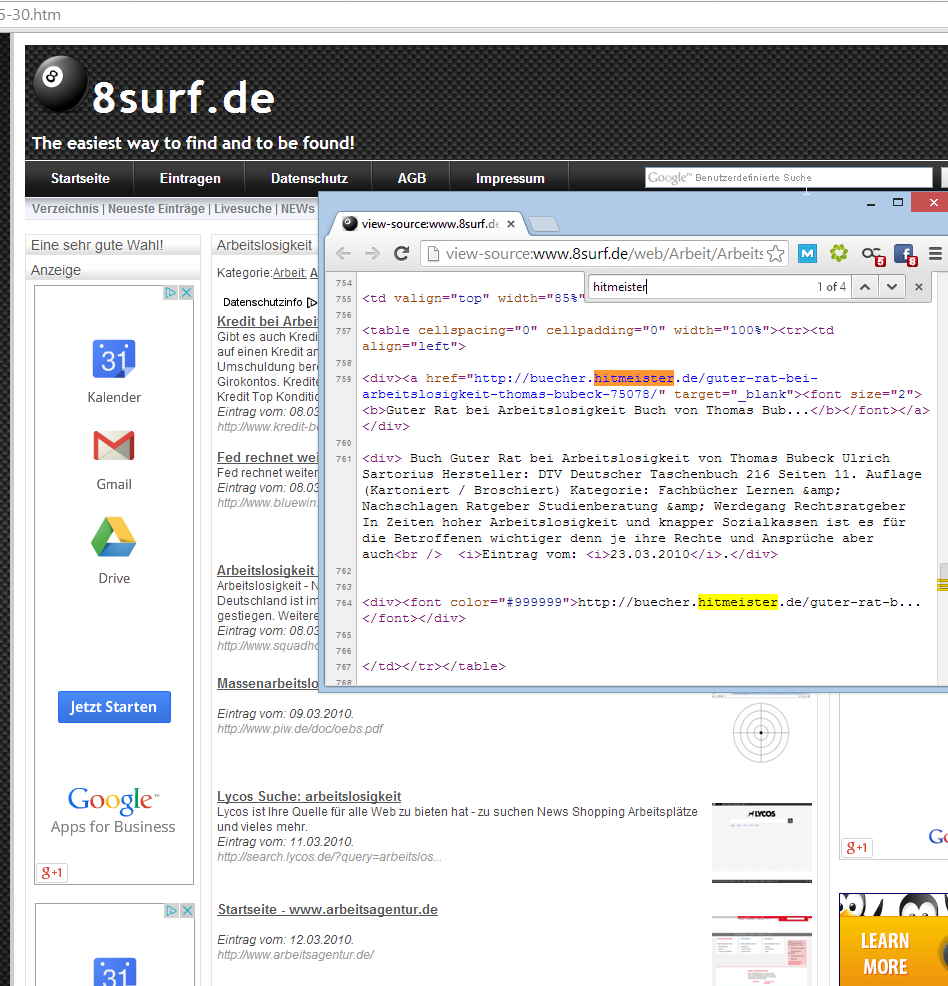 http://www.8surf.de/web/Arbeit/Arbeitslosigkeit-725-30.htm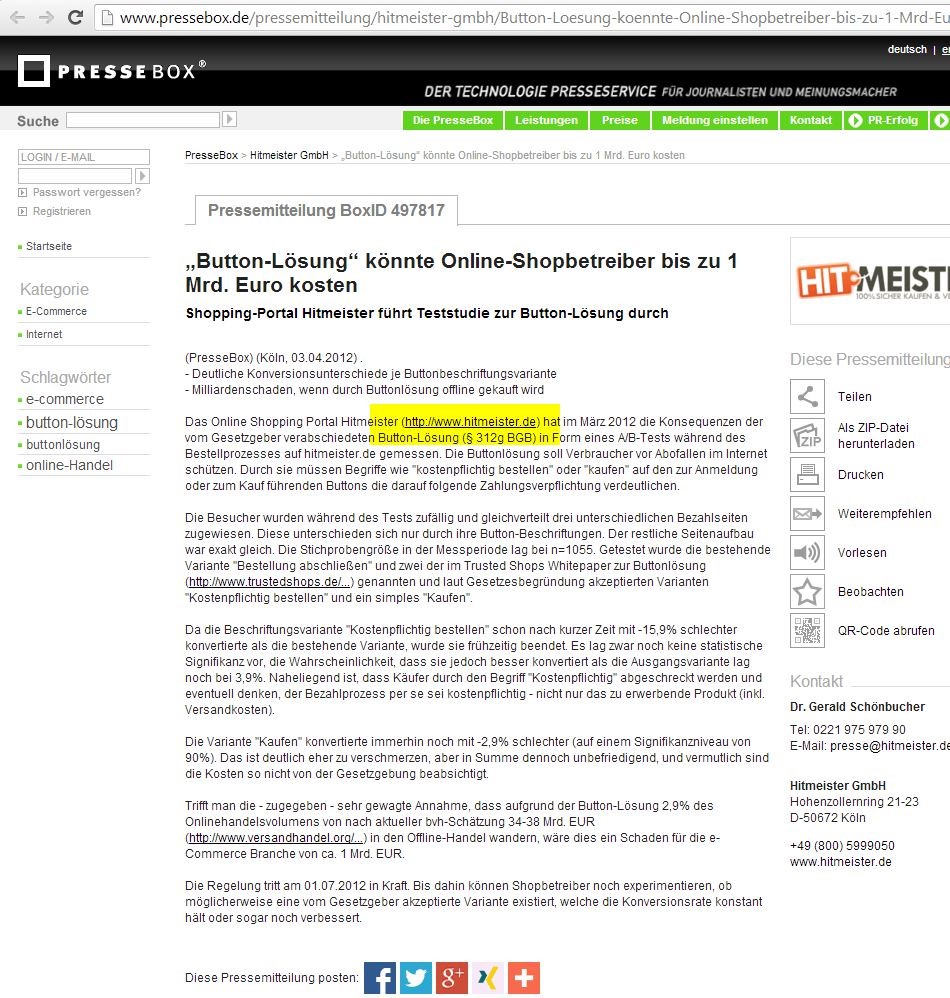 http://www.pressebox.de/pressemitteilung/hitmeister-gmbh/Button-Loesung-koennte-Online-Shopbetreiber-bis-zu-1-Mrd-Euro-kosten/boxid/497817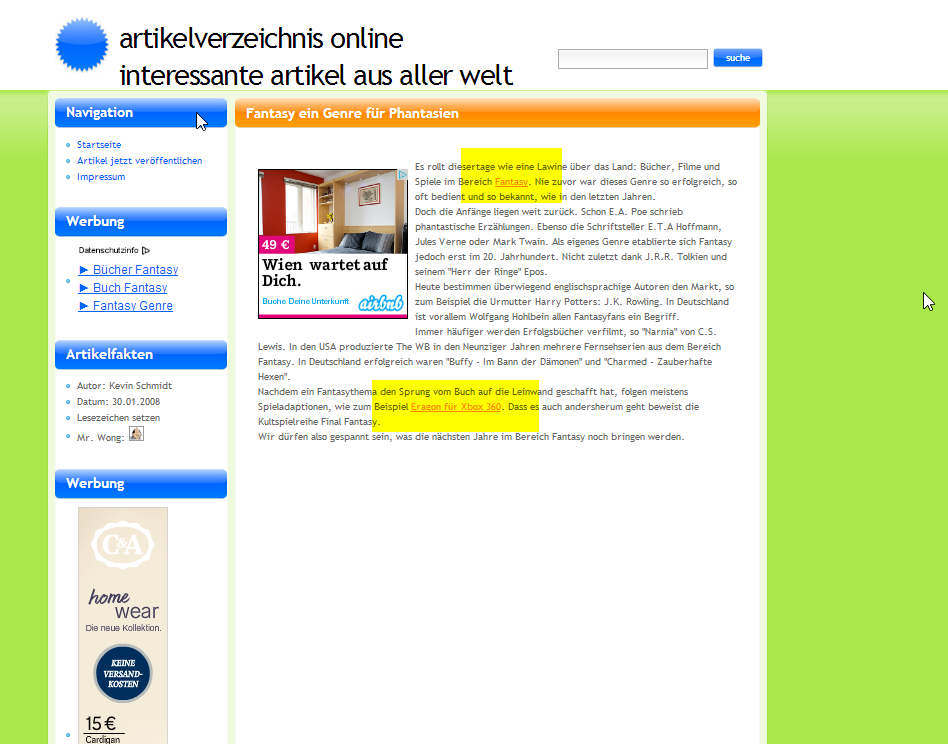 http://www.artikelverzeichnis-online.com/artikel132-fantasy-ein-genre-f-r-phantasien.html
Is There an Unnatural Country Distribution?
No, the mathematical distribution was normal. There were several free blogging platforms and online services from the U.S. What was really strange was the obviously built link from U.S. software and startup blogs in blog comments. The relevance of these sites was very limited.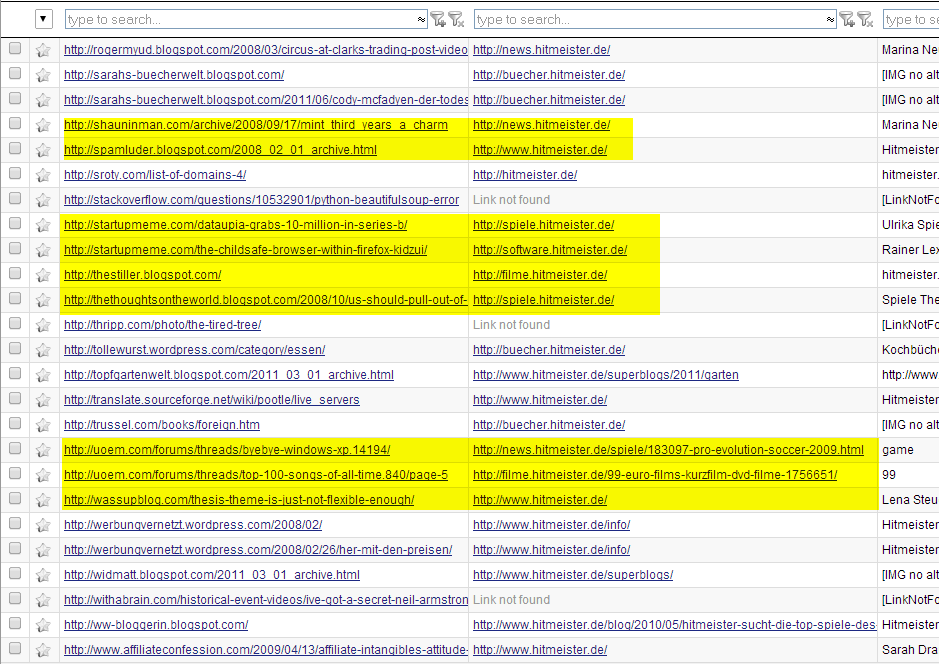 Foreign Link Building
There was significant blog comment spam and cheap guest posts in foreign languages. Some even involved forum posts with very shady, invisible links.
Blog Commenting with Keyword-Rich Anchor Texts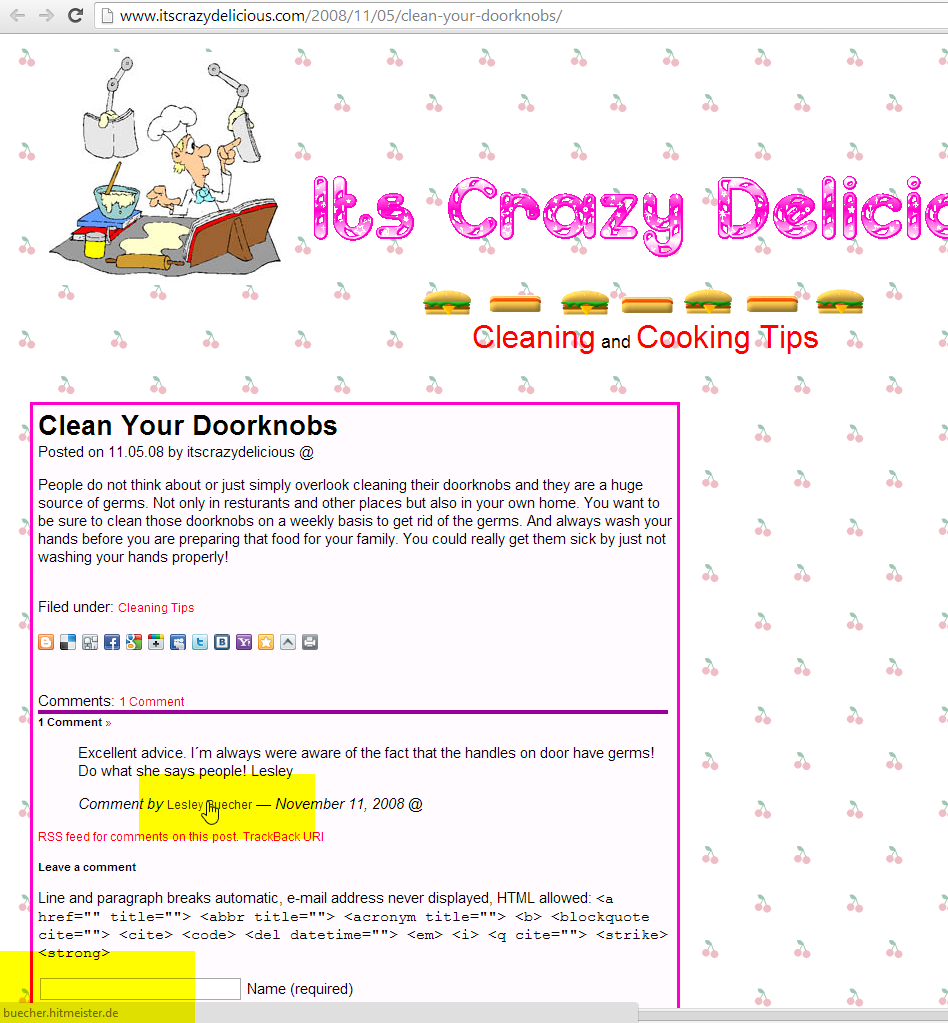 http://www.itscrazydelicious.com/2008/11/05/clean-your-doorknobs/
Keyword-Rich Anchor Text on a U.S. Style Blog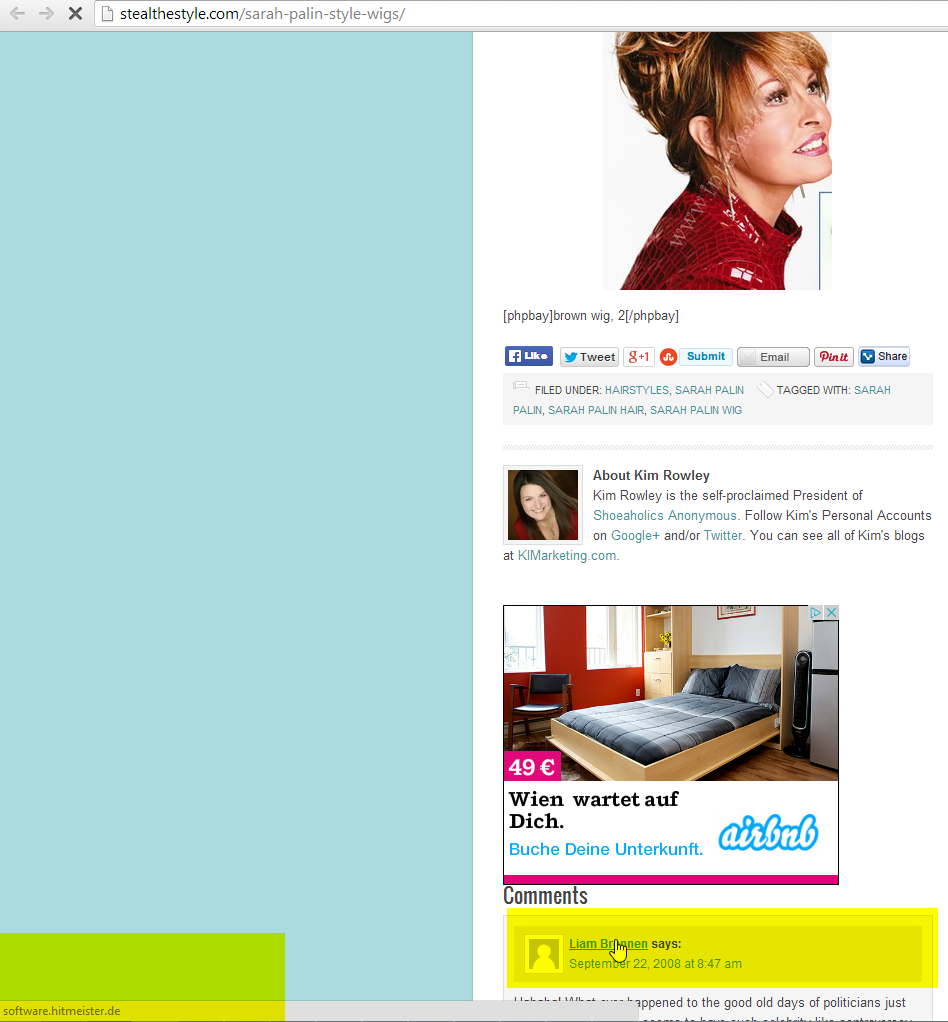 http://stealthestyle.com/sarah-palin-style-wigs/
Some of these blogs grew into poisonous link lists during the last years. On the blog of RogerJMO.blogspot.com, more than 300 comments have grown that are links to other toxic SEO projects, since they also involve automatic link building. Bad karma.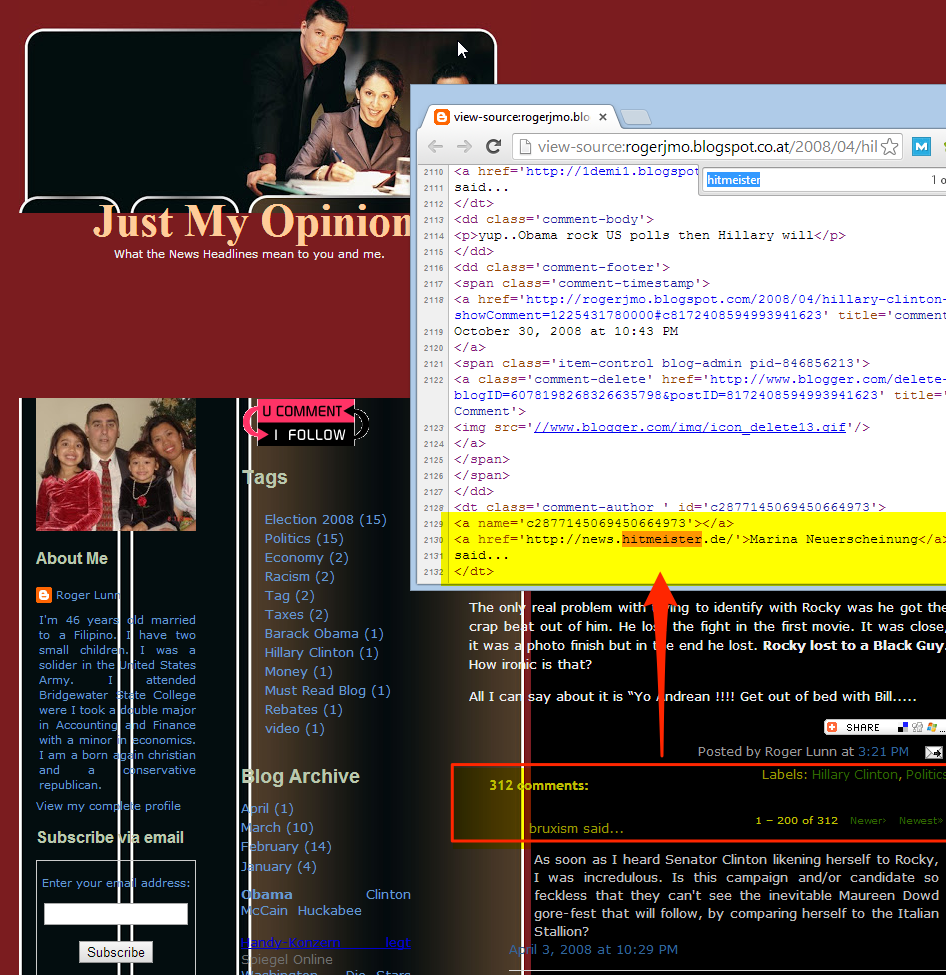 http://rogerjmo.blogspot.co.at/2008/04/hillary-clinton-balba.html
Even More Foreign Link Building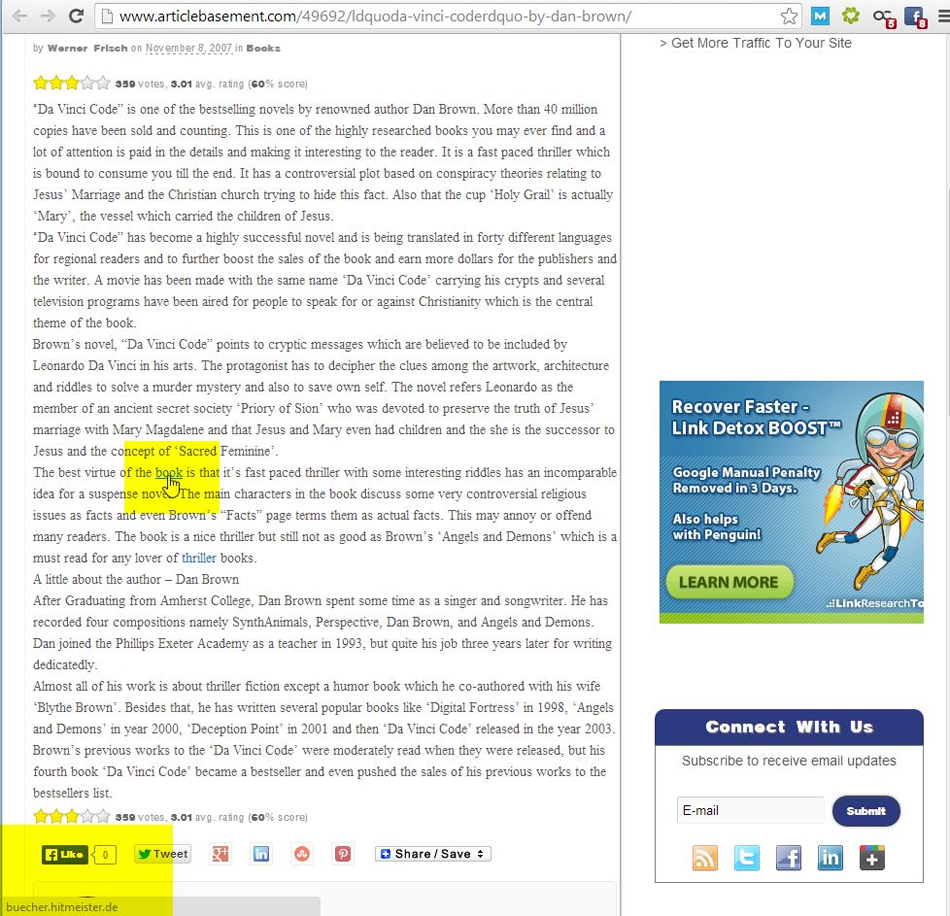 http://www.articlebasement.com/49692/ldquoda-vinci-coderdquo-by-dan-brown/
Almost invisible anchor texts like a dash sign were also used. The content environment of "Sex and Drugs during Clubbing" might also not be the neighborhood you want to be associated with as an honest and trustworthy shopping site.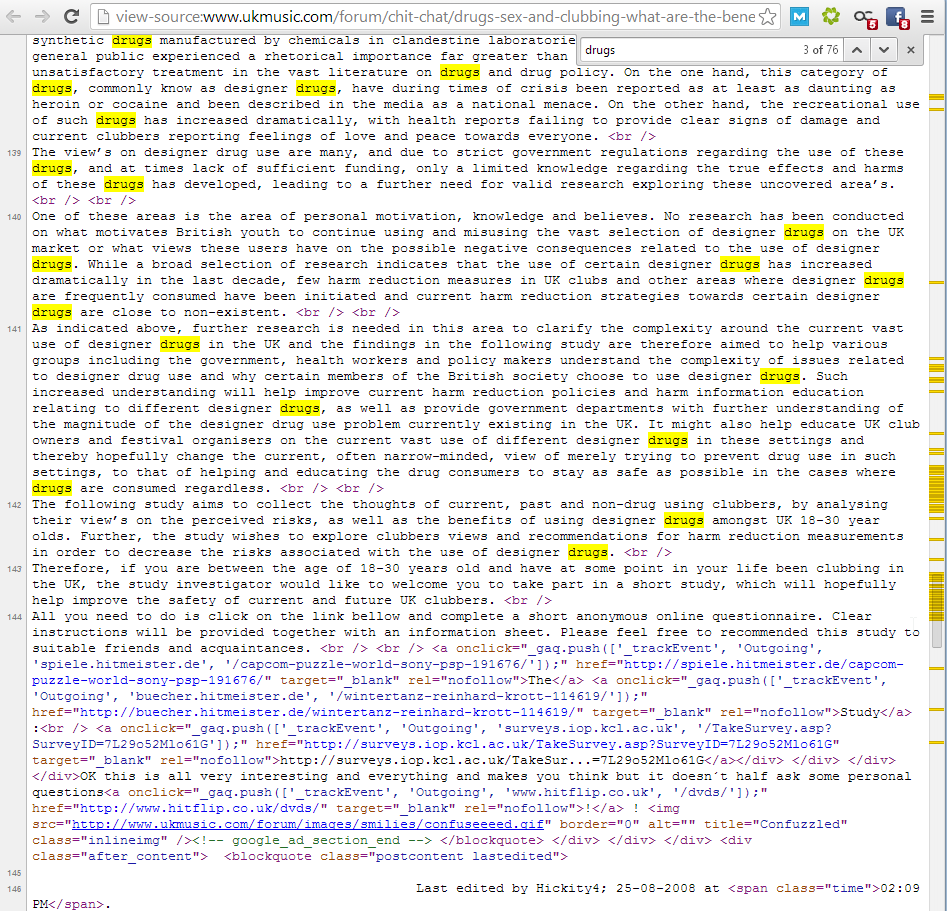 http://www.ukmusic.com/forum/chit-chat/drugs-sex-and-clubbing-what-are-the-benefits-and-what-are-the-risks-52017.html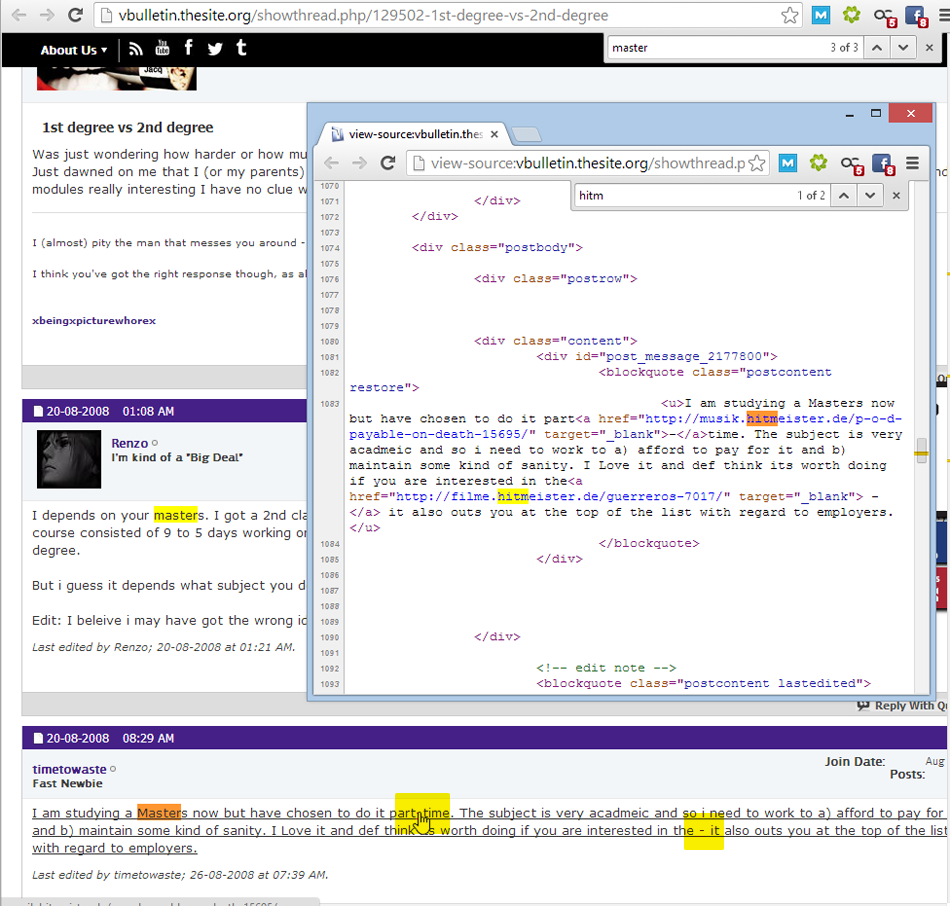 http://vbulletin.thesite.org/showthread.php/129502-1st-degree-vs-2nd-degree
Is There an Unnatural Deep Link Ratio?
Yes, compared to our niche competitors, Hitmeister had more deep links than others.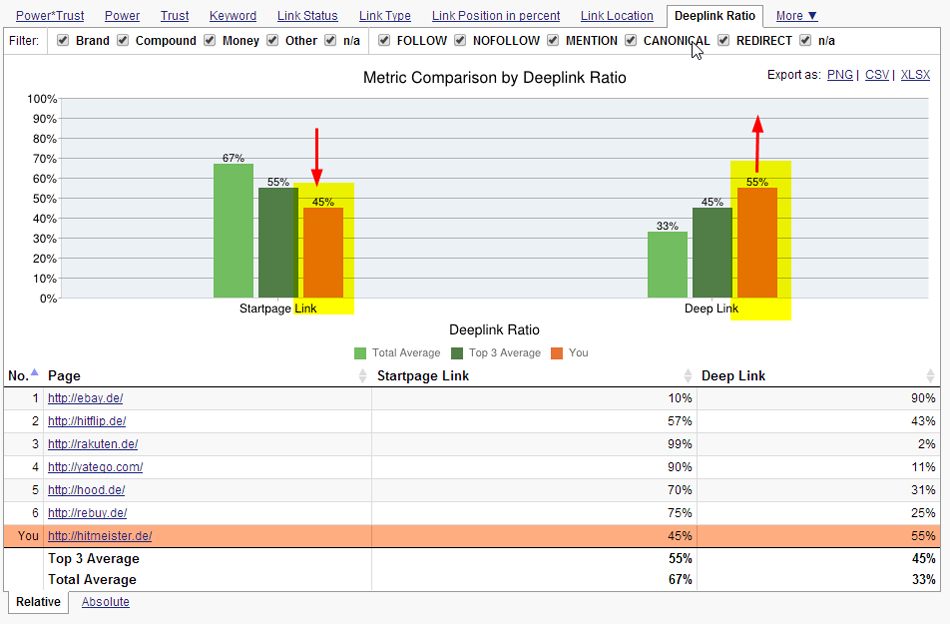 Did the Websites Have an Unnatural Link Status Ratio?
Yes, instead of 7% they had 32% percent no-follow links.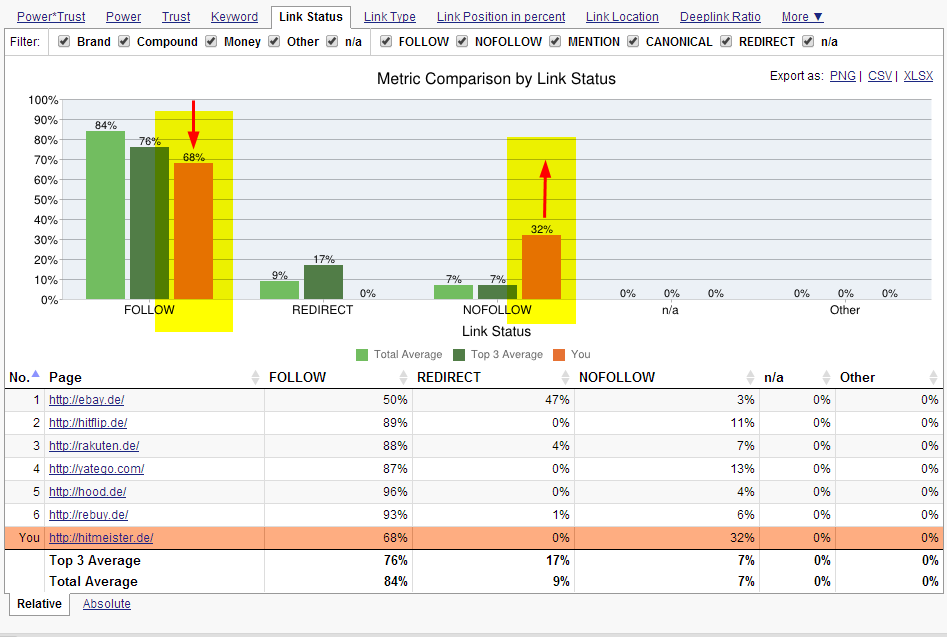 Did the Websites Have a High Link Detox Risk?
Yes, the calculated link risk score is high, as can be seen in the following chart: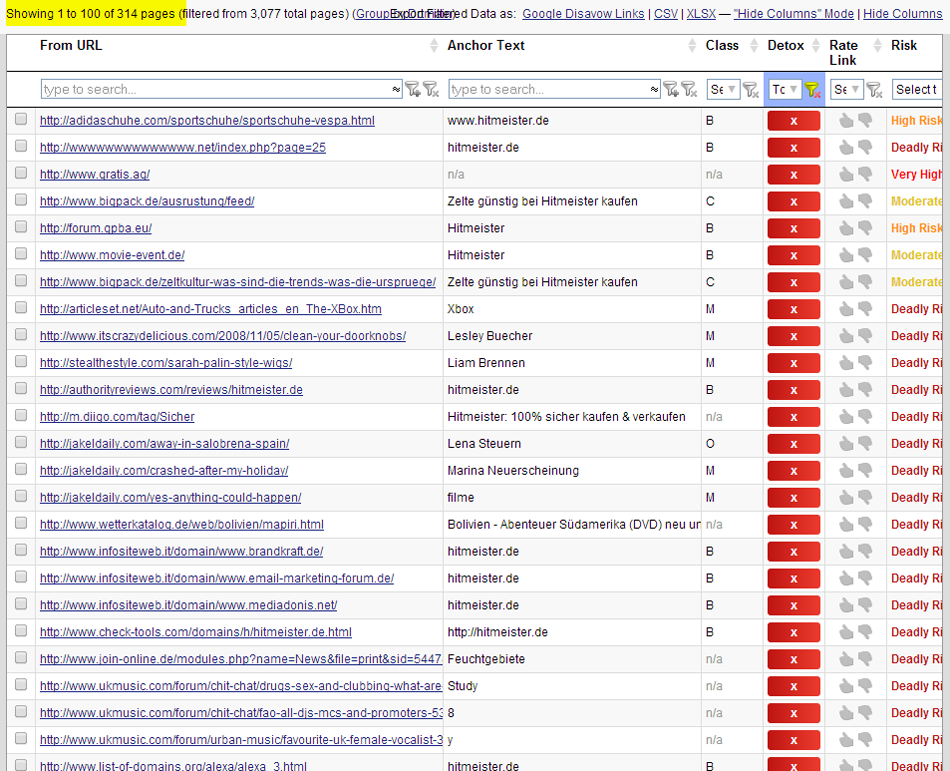 Toxicity Distribution on Hitmeister.de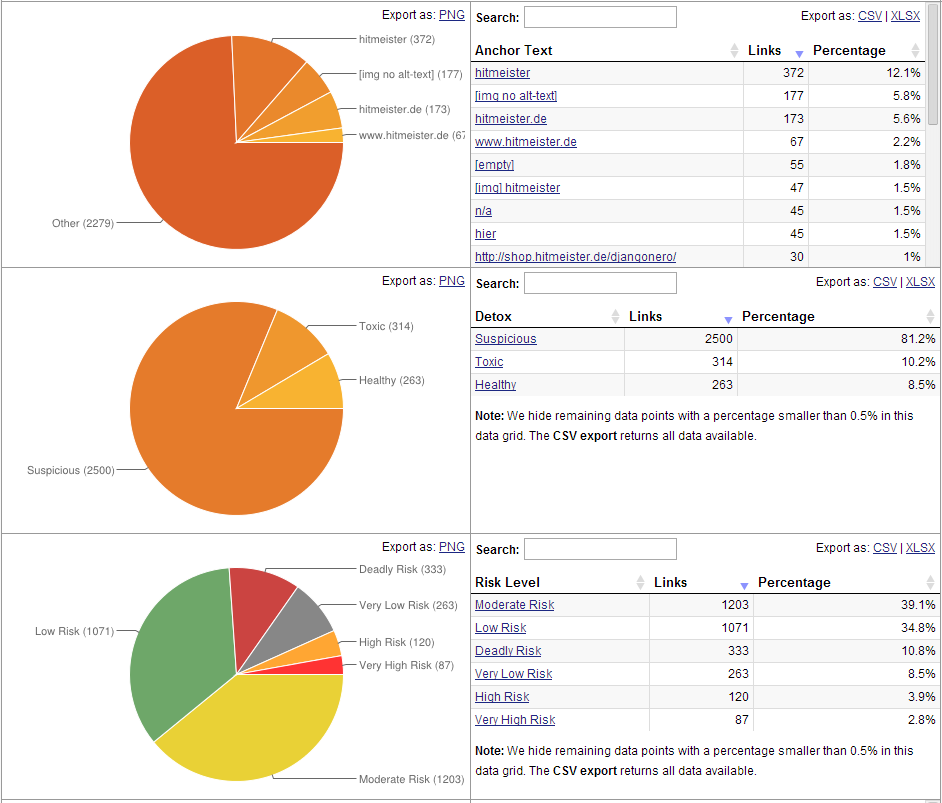 Footprint Distribution

Rule
Links
Percentage
SUSP31
Anchor text placement looks suspicious
1,133
16%
SUSP23
Domain has the same website footprints as other linking domains – possible link network.
1,006
14.2%
SUSP9
Domain has the same DNS as other linking domains – possible Link Network.
823
11.6%
SUSP20
High Risk score associated with URL
750
10.6%
SUSP14
Page has no PageRank™ but at least some weak links.
573
8.1%
SUSP1
Page has no CEMPER Power*Trust™ and CEMPER Power*Trust™ Domain < 5 – a page without external links on a weak domain.
425
6%
SUSP22
Domain has the same Website Footprints as other linking domains – possible Link Network.
353
5%
SUSP30
Link with Anchor Text classified as Brand, Money or Compound coming from a potentially Spammy Forum.
333
4.7%
TOX3
The Link Detox Genesis™ algorithm classified this link as highly unnatural. We recommend removal or disavow.
287
4%
SUSP8
Domain has the same Class-C as other linking domains – possible Link Network.
247
3.5%
SUSP19
Old domain with no homepage PageRank™
219
3.1%
SUSP24
Domain has the same Website Footprints as other linking domains – possible Link Network.
215
3%
SUSP7
Domain has the same IP as other linking domains – possible Link Network.
172
2.4%
SUSP4
Domain's homepage has CEMPER TitleRank-home™ 30+, CEMPER Power*Trust™ Domain < 5 and CEMPER Power*Trust™ < 5.
145
2%
SUSP2
Domain has no CEMPER Power*Trust™ Domain – probably a new or very weak domain, or a penalty.
120
1.7%
SUSP10
Domain has Link Velocity Trend < -70% – probably part of an Expired Domain link network or a domain that the public has lost interest in.
102
1.4%
SUSP3
Page has more than 10 backlinks from 1 Class-C, CEMPER Power*Trust™ Domain < 5 and CEMPER Power*Trust™ < 5 – possible Link Network.
43
0.6%
SUSP5
Domain's Theme is listed as suspicious (Hacking, Suspicious or Pornography).
39
0.5%
SUSP11
Sitewide Footer Link detected – a typical way how paid links or "friend"-links are artificially placed.
35
0.5%
Did the Websites Have a High Link Competitive DTOX Risk?
From the CDTOX overview table we see that eBay lifts the level for Power and Trust and that Rebuy and Rakuten appear to be weak in Trust. Hitmeister had a Power of 5 and good Trust of 6.

The comparison to average Link Detox Risk shows us that Hitmeister and the sister portal Hitflip.de have the highest link risk. Still, their link risk appears to be moderate.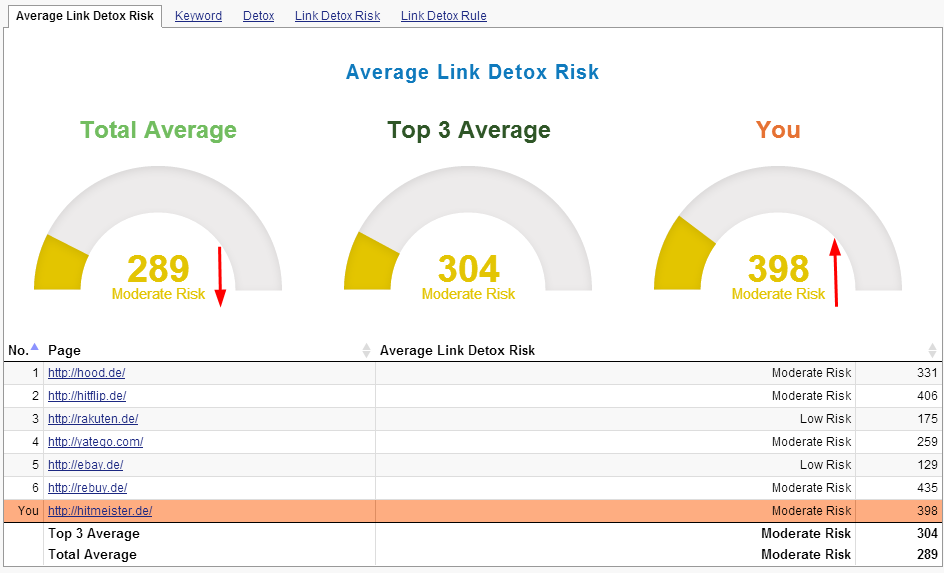 A negative aspect becomes clear: Hitmeister has the highest Money-Keyword rate. Compared to the total average, their Money keyword factor is 2x higher than any other portal.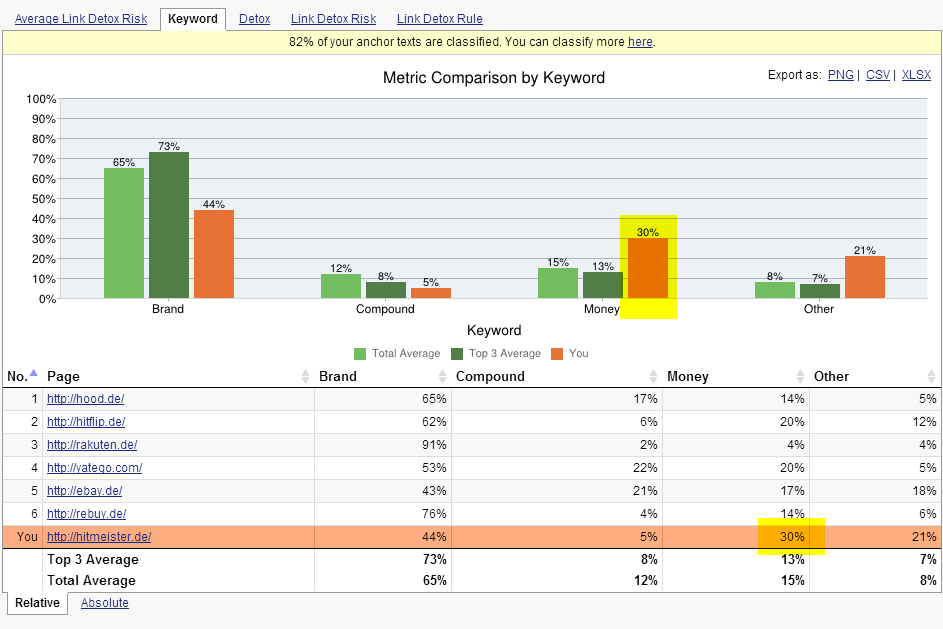 Looking at link health status, we see that Hitmeister is evenly balanced and blends into its environment.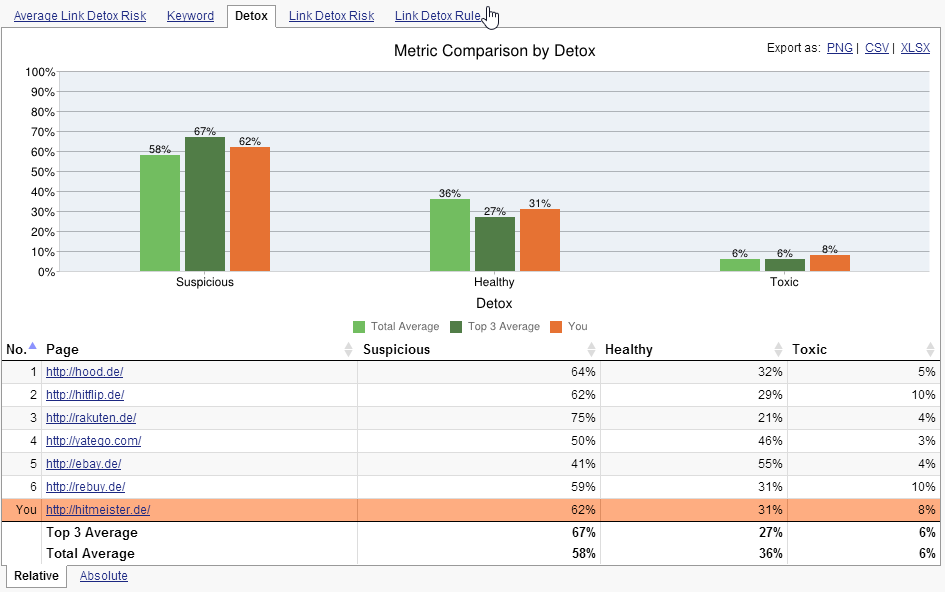 The Link Detox Risk breakdown finally shows where Hitmeister has the biggest issues. There are several link sources that provide increased Moderate, High, Very high and Deadly risk.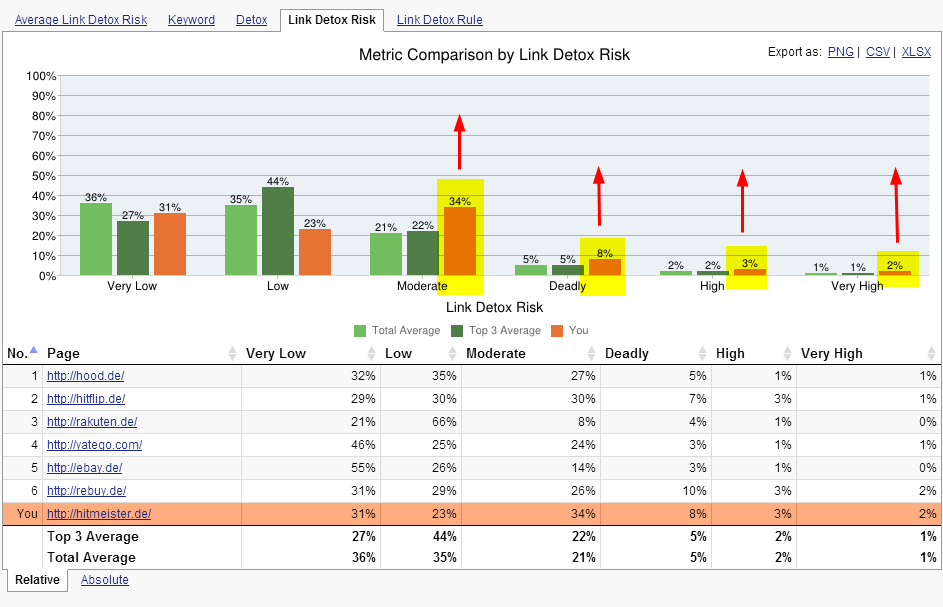 Results Analysis
| | | |
| --- | --- | --- |
| ID | Task | Result |
| 1. | Anchor Text Analysis | Yes, overdone |
| 2. | Power & Trust Balance Analysis | Yes P*T out of industry |
| 3. | Sitewide Links Analysis | Yes, too many SWLinks |
| 4. | Paid Links Analysis | Yes, Paid Links |
| 5. | Power*Trust Ratio Analysis | Yes, peak at PT 8-12 |
| 6. | Redirect Analysis | No |
| 7. | Link Growth Analysis | No |
| 8. | Link Network Analysis | Yes, some link baits created network |
| 9. | Country Ratio Analysis | No |
| 10. | Deep Link Ratio Analysis | No |
| 11. | Link Status Ratio Analysis | No, this was standard |
| 12. | Link Detox Risk Analysis | Yes, high risk |
| 13. | Competitive Link Detox Risk Analysis against competition | No, moderate risk |
Conclusion
The amount of hard Money keyword jumps is destabilizing the whole Hitmeister.de portal from an SEO perspective.
Even though their team added a Brand reference in the anchor texts, the pattern gets too obvious. Their site is additionally weakened by their many sitewide footer links.
Aggressive marketing resulted in an unnatural Follow/No-Follow status compared to the industry, and an unnaturally high deeplink ratio.
The biggest issues are international links from foreign networks and cheap links from press networks and link lists.
Money-rich keyword links from blogs and forums, as well as several link networks, also impacted Hitmeister. This is confirmed by the Link Detox analysis that rated link networks' footprints and suspicious Money anchors as highly dangerous.
This case study was written by Guntram Bechtold of StarsMedia IT Management KG, and proud user of Link Research Tools and Link Detox.
A word from Christoph C. Cemper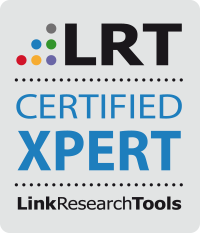 This analysis was conducted and written by our new Certified LRT Xpert, Guntram Bechtold.

Guntram demonstrated his expertise in doing a deep dive on why Hitmeister lost half of their search visibility. It's the second of five studies he's doing for his Xpert certification.

He did a great job investigating the possible causes and isolating the penalized tactics in his case study. Therefore, I'm very happy to certify Guntram Bechtold as the latest Certified LRT Xpert by approving and publishing his research on our site.

Our goal is to provide our user community and clients with quality service and knowledge. Our Certified LRT Professionals and Xperts are key to achieving this goal.

I look forward to Guntram's future work, and I personally recommend working with him whenever you get the opportunity.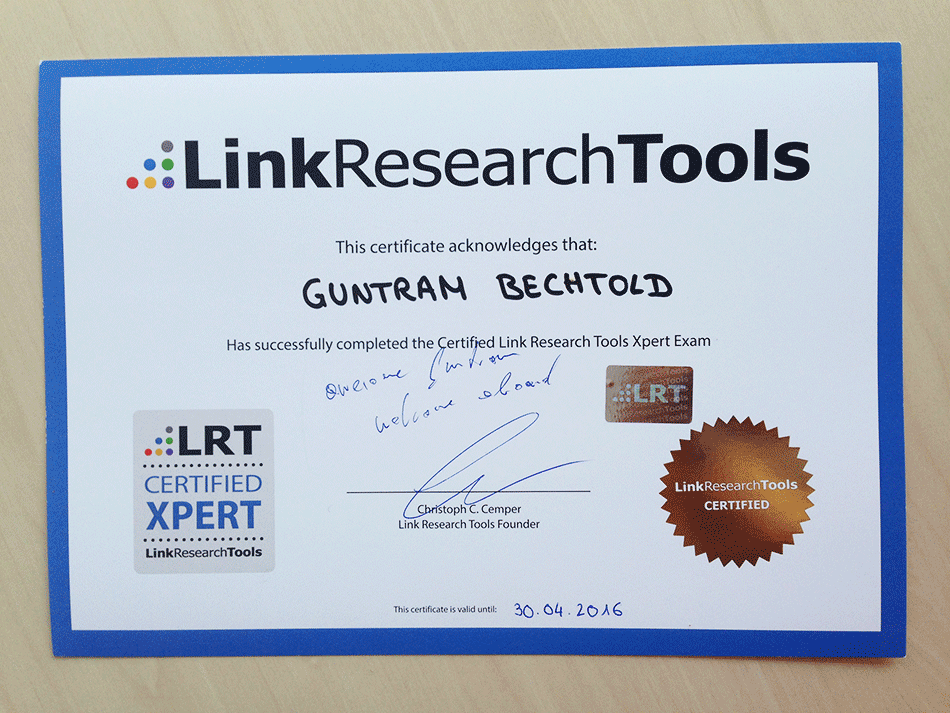 4 Comments